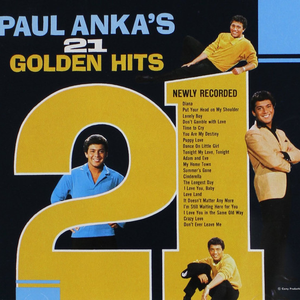 Paul Albert Anka (born July 30, 1941, in Ottawa, Ontario, Canada) is a Lebanese-…
Read Full Bio ↴
Paul Albert Anka (born July 30, 1941, in Ottawa, Ontario, Canada) is a Lebanese-Canadian singer and songwriter.

He began singing as a child, first starting in the St Elijah Syrian Orthodox Church choir in Ottawa. As a student at Ottawa's Fisher Park High School he was part of a trio called the Bobby Soxers.

Encouraged by his parents, at age 14 he recorded his first single, I Confess. In 1957 he went to New York City where he auditioned for ABC, singing a lovestruck verse he had written to a former babysitter, Diana Ayoub. The song, Diana, brought Anka instant stardom as it rocketed to number one on the charts. Diana is one of the best selling 45s in music history. He followed up with four songs that made it into the Top 20 in 1958, making him one of the biggest teen idols of the time. He toured Britain and then, with Buddy Holly, toured Australia.

His talent went beyond singing, writing Buddy Holly's giant hit, It Doesn't Matter Anymore, the theme for Johnny Carson's Tonight Show, Tom Jones' biggest hit record, She's A Lady, and the English lyrics for My Way, Frank Sinatra's signature song and sung by many well known artists, including Greta Keller, for whom the words were very fitting.

In the 1960s, Anka would begin acting in motion pictures as well as writing songs for them, most notably the theme for the hit movie The Longest Day. From his movie work, he wrote and recorded his monster hit, Lonely Boy. He then went on to become one of the first pop singers to perform at the Las Vegas casinos.

After more than ten years without a hit record, in 1974 he teamed up with Odia Coates to record the number 1 hit, Having My Baby. They would record two more duets that both made it into the Top 10. In 1975, he wrote a jingle for Kodak called The Times of Your Life. The jingle became so popular, he recorded it as a full song, The Times of Your Life, and it became a hit a year later.

By the 1970s, Anka's career centered around adult contemporary and big-band standards, played regularly in Las Vegas. On September 6, 1990, he became a naturalized citizen of the United States. He returned to his home town to buy a part of the Ottawa Senators hockey team.

In 1999 he visited Lebanon for sell-out performances at the Forum de Beyrouth (The Beirut Forum).

Paul Anka was elected to the Canadian Music Hall of Fame in 1980. He has a star on the Hollywood Walk of Fame at 6840 Hollywood Blvd. In 1991, the Government of France honored him with the title "Chevalier in the Order of Arts and Letters". He was appointed an officer of the Order of Canada in 2005.

On the WB show Gilmore Girls, Lorelai named her new dog Paul Anka. He also made a guest appearance as himself in the episode "The Real Paul Anka", which aired April 11, 2006.

Paul Anka recently did a live session on Live @ The Orange Lounge playing songs from his new cover-CD Rock Swings.

Notable rap artist Jay-Z featured his vocals on the track I Did it my Way on The Blueprint 2: The Gift & the Curse in 2002.

He became infamous amongst musicians (and more recently to internet users) for a mid-70's after-show tirade which was secretly recorded by a "snake we later fired" (Anka: Fresh Air interview). The diatribe, in which Anka berates his crew and band members, has spawned a number of in-joke references and quotations, the main ones being: "The guys get shirts", "Where's Joe?", and "Slice like a hammer."
Don't Gamble with Love
Paul Anka Lyrics
Jump to: Overall Meaning ↴ Line by Line Meaning ↴
Don't gamble with love
It's only for fools
So play by the rules
Don't gamble with love
Oh don't gamble with love
You will lose it for sure
There'll be no cure
When you gamble with love
You can gamble your house, gamble your car
Gamble your hopes just as far
As the stars up above
But don't you gamble with love
Don't gamble with love
It's only for fools
So play by the rules
Don't gamble with love
[Repeat]
Overall Meaning
In Paul Anka's song Don't Gamble with Love, the lyrics serve as a warning to listeners not to take love for granted and treat it as a game or a risk to be taken. The song is a plea for caution when it comes to matters of the heart. Anka cautions listeners that love is not something to be gambled with, and that the stakes are simply too high.
The lyrics emphasize that love is not something that can be replaced or easily regained once lost. Anka urges listeners to be mindful of this and always play by the rules. He warns that those who gamble with love will find themselves losing more than just material possessions such as their house or car. They will also lose the intangible things like hope, joy, and companionship. The song is straightforward and emotional, with Anka's sincere delivery driving home the importance of treating love with respect and care.
In summary, the lyrics of Don't Gamble with Love urge listeners to be cautious when it comes to matters of love, to play by the rules, and to avoid risking their hearts on uncertain outcomes. It's a poignant song that speaks to the universal human experience of treasuring love and seeking to preserve it.

Line by Line Meaning
Don't gamble with love
Do not take risks with love
It's only for fools
Only fools take risks with love
So play by the rules
Therefore, follow the guidelines and expectations of love
Don't gamble with love
Do not take risks with love
Oh don't gamble with love
I strongly advise against taking risks with love
You will lose it for sure
If you take risks with love, you are bound to lose it
There'll be no cure
You will not find a remedy to mend the damage caused by taking risks with love
When you gamble with love
If you decide to take risks with love
You can gamble your house, gamble your car
You might risk losing your prized possessions like your home or your car
Gamble your hopes just as far
You can also put your dreams and aspirations at stake
As the stars up above
You can bet as high as the stars in the sky
But don't you gamble with love
But it is never worth taking risks with love
Don't gamble with love
Do not take risks with love
It's only for fools
Only fools take risks with love
So play by the rules
Therefore, follow the guidelines and expectations of love
Don't gamble with love
Do not take risks with love
Lyrics © Kanjian Music, Sony/ATV Music Publishing LLC, Warner Chappell Music, Inc.
Written by: PAUL ANKA

Lyrics Licensed & Provided by LyricFind
To comment on or correct specific content,
highlight it
Genre not found
Artist not found
Album not found
Search results not found
Song not found