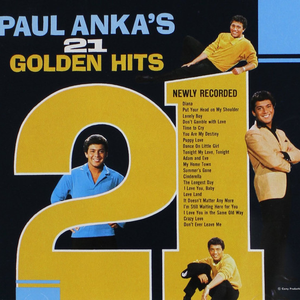 Paul Albert Anka (born July 30, 1941, in Ottawa, Ontario, Canada) is a Lebanese-…
Read Full Bio ↴
Paul Albert Anka (born July 30, 1941, in Ottawa, Ontario, Canada) is a Lebanese-Canadian singer and songwriter.

He began singing as a child, first starting in the St Elijah Syrian Orthodox Church choir in Ottawa. As a student at Ottawa's Fisher Park High School he was part of a trio called the Bobby Soxers.

Encouraged by his parents, at age 14 he recorded his first single, I Confess. In 1957 he went to New York City where he auditioned for ABC, singing a lovestruck verse he had written to a former babysitter, Diana Ayoub. The song, Diana, brought Anka instant stardom as it rocketed to number one on the charts. Diana is one of the best selling 45s in music history. He followed up with four songs that made it into the Top 20 in 1958, making him one of the biggest teen idols of the time. He toured Britain and then, with Buddy Holly, toured Australia.

His talent went beyond singing, writing Buddy Holly's giant hit, It Doesn't Matter Anymore, the theme for Johnny Carson's Tonight Show, Tom Jones' biggest hit record, She's A Lady, and the English lyrics for My Way, Frank Sinatra's signature song and sung by many well known artists, including Greta Keller, for whom the words were very fitting.

In the 1960s, Anka would begin acting in motion pictures as well as writing songs for them, most notably the theme for the hit movie The Longest Day. From his movie work, he wrote and recorded his monster hit, Lonely Boy. He then went on to become one of the first pop singers to perform at the Las Vegas casinos.

After more than ten years without a hit record, in 1974 he teamed up with Odia Coates to record the number 1 hit, Having My Baby. They would record two more duets that both made it into the Top 10. In 1975, he wrote a jingle for Kodak called The Times of Your Life. The jingle became so popular, he recorded it as a full song, The Times of Your Life, and it became a hit a year later.

By the 1970s, Anka's career centered around adult contemporary and big-band standards, played regularly in Las Vegas. On September 6, 1990, he became a naturalized citizen of the United States. He returned to his home town to buy a part of the Ottawa Senators hockey team.

In 1999 he visited Lebanon for sell-out performances at the Forum de Beyrouth (The Beirut Forum).

Paul Anka was elected to the Canadian Music Hall of Fame in 1980. He has a star on the Hollywood Walk of Fame at 6840 Hollywood Blvd. In 1991, the Government of France honored him with the title "Chevalier in the Order of Arts and Letters". He was appointed an officer of the Order of Canada in 2005.

On the WB show Gilmore Girls, Lorelai named her new dog Paul Anka. He also made a guest appearance as himself in the episode "The Real Paul Anka", which aired April 11, 2006.

Paul Anka recently did a live session on Live @ The Orange Lounge playing songs from his new cover-CD Rock Swings.

Notable rap artist Jay-Z featured his vocals on the track I Did it my Way on The Blueprint 2: The Gift & the Curse in 2002.

He became infamous amongst musicians (and more recently to internet users) for a mid-70's after-show tirade which was secretly recorded by a "snake we later fired" (Anka: Fresh Air interview). The diatribe, in which Anka berates his crew and band members, has spawned a number of in-joke references and quotations, the main ones being: "The guys get shirts", "Where's Joe?", and "Slice like a hammer."
My Home Town
Paul Anka Lyrics
Jump to: Overall Meaning ↴ Line by Line Meaning ↴
I took a little trip to my home town
I only stopped to look around
And as I walked along the thorough-fare
There was music playing ev'rywhere
The music came from within my heart
How did it happen how did it start
I only know that I fell in love
I guess the answer lies up above
Oh what a feeling
My heart was reeling
The bells were ringing
The birds were singing
And so the music keep goes on and on
And through the night until the break of dawn
I hear a bird up in the tree
He sings a pretty little melody
Oh what a feeling
My heart was reeling
The bells were ringing
The birds were singing
And so the music keep goes on and on
And through the night until the break of dawn
I hear a bird up in the tree
He sings a pretty little melody
Ya-ya-ya-ya...
Overall Meaning
In these lyrics from Paul Anka's song "My Home Town," the singer describes taking a trip back to the town where he grew up. As he walks around, he hears music everywhere, and realizes that the music is coming from within his own heart. He's not sure how this happened, but he knows that he's fallen in love. The music continues all night, and even a bird in a nearby tree sings a pretty melody.
The song is a nostalgic tribute to the place where the singer grew up. He is overwhelmed by the sights and sounds of his home town, and the music that he hears seems to represent the joy and emotion that he feels in returning to this place. The lyrics suggest that music has a power to evoke memories and emotions, and that the simple pleasure of a pretty melody can bring us back to cherished moments from the past.

Line by Line Meaning
I took a little trip to my home town
I visited the town where I grew up
I only stopped to look around
I took a brief break from my journey down memory lane
And as I walked along the thorough-fare
I strolled down the main street
There was music playing ev'rywhere
The sounds of my past experiences filled the air
The music came from within my heart
The stirring of personal memories evoked music and emotions inside me
How did it happen how did it start
I cannot explain how my memories invoke such strong feelings
I only know that I fell in love
My trip down memory lane made me realize how much I cherish my home and town
I guess the answer lies up above
I cannot find an explanation in this earthly realm
Oh what a feeling
I experienced intense emotions
My heart was reeling
My heart was overwhelmed with emotions
The bells were ringing
The sounds of church bells accentuated the emotions I felt
The birds were singing
The sweet tweets of birds added to the sentimental experience
And so the music keep goes on and on
The memories and emotions persist
And through the night until the break of dawn
The experience persisted through the night
I hear a bird up in the tree
I heard a bird singing a particular tune
He sings a pretty little melody
The bird's tune was pleasing to my ears
Ya-ya-ya-ya...
The bird kept singing its tune
Lyrics © BMG Rights Management, Universal Music Publishing Group
Written by: Paul Anka

Lyrics Licensed & Provided by LyricFind
To comment on or correct specific content,
highlight it
Genre not found
Artist not found
Album not found
Search results not found
Song not found