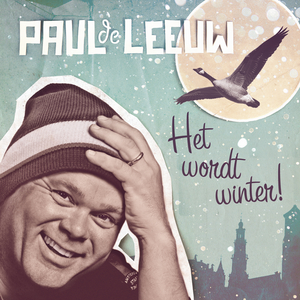 Het wordt winter/Midden in de winternacht
Paul de Leeuw (born March 26, 1962 in Rotterdam) is a Dutch television comedian,…
Read Full Bio ↴
Paul de Leeuw (born March 26, 1962 in Rotterdam) is a Dutch television comedian, singer and actor.

De Leeuw gained national fame in the late eighties and early nineties with television shows for the public broadcasting company VARA. Though satire was only a part of these shows and much of its humour was essentially harmless he came into publicity with satire about Dutch show business personalities who were often ridiculed.

Besides, many obscure musical acts were featured in his shows, many of which managed to gain national fame after they had been in De Leeuw's programme (e.g. Twarres and AIDS suffering singer Rene Klijn). VARA has since continued his shows apart from a few interruptions, often with considerable success.

In the early nineties, Paul de Leeuw also had some shows celebrating the new year. In the 1993-1994 show he ridiculed the new commercial television channel RTL 5 by announcing another new channel, "RTL 6" (RTL six, beter dan niks (at least better than nothing)). This led to a trial by the RTL company, who demanded that De Leeuw withdraw his joke.

He and his partner, Stephan Nuger, have adopted two children: son Kas (adopted in October 2001) and son Tobey (adopted in December 2002).

Paul de Leeuw has had many hit singles in The Netherlands. He is most famous for: Vlieg met me mee (#2), Ik wil niet dat je liegt / Waarheen, waarvoor (#1), and 'k Heb je lief (#3). Since the beginning of his television and singing career he released albums and singles, always becoming a big success.
In 2006, he recorded the song "Mijn Houten Hart" (My Wooden Heart) with Raffaela, which was later released as a single and peaked at #18 in the Dutch Singles Top 100, becoming one of his smallest hits.

Eurovision Song Contest 2006 incident

De Leeuw is, despite being famous for a long time in the Netherlands, best-known internationally for presenting the results of the Dutch televote in the Eurovision Song Contest 2006. De Leeuw was supposed to present the televote by simply thanking the presenters, performers and fans, before giving the result but instead the openly gay De Leeuw gave his mobile number to the male presenter Sakis Rouvas live on-air, and made other comments which somewhat lengthened the Dutch results.

De Leeuw also made a reference to gay culture when he remarked that Rouvas and his female co-presenter Maria Menounos reminded him of Will & Grace. As the results were live and required for the contest to continue, De Leeuw could not be cut off until he finished giving the voting results.

De Leeuw's actions resulted in negative comments from the commentators, with the BBC's Terry Wogan calling the act "pathetic" and asking "Who selected this eejit?" during the United Kingdom coverage of the contest. Other commentators, like the Portuguese Eladio Climaco, didn't translate properly the gay remarks and said he was saying that they really look like Greeks. Parts of the dialogue were also shown on the German comedy show TV total.

The dialogue between De Leeuw and Rouvas

Rouvas: Hello Netherlands! Paul...

De Leeuw: Hello Greece, kalisperma everybody! [note that sperma means sperm in many languages, at least both in Dutch and Greek]

Rouvas: Kalispera Paul. [kalispera means 'Good evening', which was supposed to be said]

De Leeuw: You look like Will... [stops, likely due to the cheering of the crowd behind him] You look like Will & Grace, you two. So here are the votes, the Dutch votes. Let's come. [In an extremely high tempo] One, Ukreene (sic), two, Russia, Germany, three, Ireland, four, Greece, five, Lithuania, six, Finland, seven points! [resumes normal tempo]] Now the eight points. Are you ready Chaci, tzatziki, cichaci?

Rouvas: Yes, haha.

De Leeuw: Are you ready? Eight points... I like your blouse... The eight points are for Bosnia-Hoshegovina (sic). Yeah.

Rouvas: Bosnie-Herzegovine, huit points.

De Leeuw: Yes, I say. And the ten points, Zhacki, Zhicka, Chucka, are from (sic) Armenia!

Rouvas: Armenie, dix points.

De Leeuw: Ok, and Chacki, do you have my mobile number now or after twelve points?

Rouvas: Give it to me now. I bet it's 69 69 69. [In Greece, mobile numbers always begin with 69, but the rest of the 69's are a sexual innuendo, since Rouvas did not seem to like Paul's lines.]

De Leeuw: Ok, 00... [interrupted by Rouvas' remark] no no no no no... I'm not the French guy! [Probably refers that Rouvas was once interviewed for a French magazine, in which the interviewer assumed that Rouvas was gay and directed his questions accordingly.] Its 00 31 6 24 74 44 32 10 dial 1. Twelve points goes to, I'm very proud to say, Turkey! Twelve points.

Rouvas: Turquie, douze points.
Het wordt winter/Midden in de winternacht
Paul de Leeuw Lyrics
We have lyrics for these tracks by Paul de Leeuw:
'k Heb je lief
Ik weet niet of je zit te wachten op een vriendelijk…
'k Wacht Op Jou
denkend aan een mooie tijd niet lang geleden waar onze lief…
't Is Of De Wereld Vergaat
De zon komt op Jij vult mijn dromen Een rozenknop Jij vul…
Aan De Andere Kant Van De Heuvels
Het gras zal altijd groener zijn, aan de andere kant van…
Afscheid
Eigenlijk ben ik wel tevreden, 'k heb me niet zo…
Alle Tijd
Tijd gaat snel en dat is dat En wat ons niet…
Alleen Maar De Zon
Het was een voordeelprijsvan firma Hollyday Een Spaanse zom…
Als ik je verliezen moet
Als ik je verliezen moet Wil ik kiezen hoe dat gaat 't…
Als Ik Vrijen Wil
Er zijn zo van die dagen, dan krijg ik het van…
Bejaarden
Wie klagen altijd steen en been En wie zijn zo vaak…
Bello
Eliza had een hond Die zij uit moest laten Zij liep met…
Benny Neyman
Het was op de Akropolis Dat ik jou heb genomen Het was…
Beton
En toen... Bleek alles maar een visioen Van een of andere ge…
Blijf (tot de zon je komt halen)
Je maakt de dagen zo licht om te dragen En de…
Blijf Bij Mij
Mijn blik dwaalt af Ik denk aan jou Ik heb je al…
Blote jongens in het park
Ze lopen nonchalant Of ze liggen in het gras Hangend aan de…
Boerenlul
Je wist nog niet hoe dingen kunnen lopen Je wist nog…
Bordeaux
beslagen ruiten de hemel strooit lauwe druppels op de heg …
Dans Met Mij
Dit is het koudste jaargetijen in de chaos zitten wij En…
Dat Soort Volk
Meneer, meneer, de oudste zoon Dat is een vet secreet, Spu…
Dat Wat Overblijft
Als het ooit een keer overgaat Kom zeg het dan Als het…
De Belofte
maak de belofte waar en geef me nu heel je lichaam…
De Bruid
Ik heb vannacht geslapen met de bruid Die me gisteren gewoo…
De grote copyrette
wat moeten we vinden van al het gedonder? nog maar een…
De Hit
Hallo boppers Hallo boppers Start maar Lalalalalalala …
De Ideale Mix
Zeg even onder ons We zijn nu toch onder elkaar Dat ze…
De Kleine Dingen
Ja boppers, dit is dan weer een liedje van Saskia…
De Laatste Dans
Straks gaan de lichten uit Dit is de laatste kans In heel…
De Mallemolen
in de mallemolen van het leven draai je allemaal je eigen…
De Oude Muzikant
Door de straten van Parijs Klinkt nog steeds diezelfde wijs…
De Rosse Buurt
Hallo boppers Wist u dat er in de stad een buurt…
De Schreeuw Van De Leeuw
De leeuw, hij schreeuwt niet maar brult De leeuw, hij praat…
De steen
Ik heb een steen verlegd In een rivier op aarde Het water…
De Troubadour
Hij zat zo bordevol muziek Hij zong voor groot en klein…
de Zondag
Je kon lopen door de stad van 's morgens vroeg…
Dement
Voor ik in mijn auto stap kijk ik nog een…
Diep in mijn hart
Wat een ander van je zegt Kan mij niet schelen Laat ze…
Diner
Beautiful, the girl's cooking in the diner today Oh, she won…
Do Re Mi
Songtekst Do re mi door Paul de Leeuw G=Grunter, Pu=Publi…
Droomland
Heerlijk land van mijn dromen ergens hier ver vandaan Waar i…
Duizel Mij
Ergens diep in mij zit een leegte een woestijn zonder…
Een Slapende Stad
Een slapende stadik weet niet meer waar 't is achteraf raar…
Een Slapende Stad - Live 1999
Een slapende stad, ik weet niet meer waar 't Is achteraf…
Even Zoenen
ik ben de sores zat het gemekker en geneuzel ik voel de…
Flink Zijn
Tien uur, zondagmorgen En ik kijk naar je gezicht Nu nog l…
Ga Niet Weg
Blijf als je 't liefst wilt vluchten Blijf als je wordt…
Geen liedje
(incompleet) Ik ben onder de indruk van de dingen die je…
Geen Liedje - Live 1999
Ik ben onder de indruk van de dingen die je…
Geen moment gedacht
Toen ik opgelucht de deur achter je dicht deed Toen ik…
Gelukkigst
Ik besef dat 'k er vaak heel erg naast zit, Want…
Giddy Up Go
Ja tik af Die mop die vertel ik zo nog effe 't…
Honderd Procent
altijd wil je praten want woorden hebben zin je aarzelt wan…
Honderd Woorden
Zit hier heel alleen op de bank Denk aan wat je…
Ik Ben Zo Blij Dat Ik Een Vrouw Ben
Ze vragen me wel eens Annie, hoe komt het toch dat…
Ik Denk Niets Maar Ben Stil
Je bent een leuke jongen Met ook nog wat verstand Je hebt…
Ik Doe Wat Ik Doe
Nou doe je jas uit en warm maar eerst je…
Ik Ga Niet Met Je Mee
ik zie je daar, je staat daar maar je blijft maar…
Ik Geef Een Feestje
Bob: zeg An, vertel me waar je 't feestje geeft en zeg…
Ik Heb Een Euromast
Hallo Boppers Het is weer feest, het is weer carnaval Me…
Ik heb je lief
'k weet niet of je zit te wachten op een…
Ik Heb Je Nodig
Als ik werkelijk moet zeggen wie of what jij vor…
Ik Mis Je
Leeg is je stoelIn het stille huis En het gras in…
Ik wil niet dat je liegt
De liefde die 'k me tussen ons had voorgesteld was eeuwig,…
Ik Zou Wel Eens Willen Weten
Ik zou wel eens willen weten Waarom zijn de bergen zo…
Improvisatie medley
Vogeltje, wat zing je vroeg Is de nacht niet lang genoeg Nee…
In The Ghetto
Als de sneeuw valt Op 'n koude Rotterdamse morgen Een arme b…
In Vuur En Vlam
Ik zou je willen zeggen Dat mijn liefde wat bekoelt is En…
Ja Jij
In het leven zijn er niet veel dingen zeker Word ik…
Jaloezie
ik moet mezelf leren jouw vrij te laten ondanks de piraten…
Je bent m'n maatje
Refr.: Tot aan het gaatje Ben jij mijn maatje Lekker…
Je Hoort Bij Mij
Je hoort bij mij, met elk gebaar, met ieder woord, bij…
Jij Alleen
Guarir non è possibile La malattia di vivere Sapessi com…
Jij Brengt Alsmaar Bloemen
Jij koopt nooit meer bloemen Je schrijft ook nooit meer bri…
Jouw kracht
Ik moet altijd even stilstaan als ik aankom op een…
KL 204
De snelweg Utrecht - Amsterdam rijd ik op bij Vinkenveen n…
Kleine Kokette Katinka
Samen:elke morgen om half negen Komen wij Katinka tegen Ro…
Knuffellied
Denkend aan een mooie tijd, niet lang geleden Waar onze lie…
Kom Kees
Kom kees het is maar tijdelijk't zal wel weer overgaan Kom…
Kom Wat Dichterbij
kom wat dichter bij me je armen om me heen ook al…
Kopa Koopavond
't was op kopa, kopa koopavond ik had geen zin in…
L'Oiseau Et L'Enfant
Comme un enfant aux yeux de lumièreQui voit passer au…
Lachen Dat Kan Ik Niet
Sprookjes kennen soms geen happy end, ook al ben je dat,…
Leegte
nooit meer slapenloze nachten met het kussen op mijn hoofd …
Liefde Brengt De Ommekeer
Liefde brengt de ommekeer In wat je houdt en wat je…
Liefdesbriefjes
Ik mis je kleine liefdesbriefjes Op tafel waarin je mij sch…
Lieverd
Ik was een schuchtere naieverd Van de liefde wist ik niets E…
Medeleven
Morgen is geen morgen meer, als jij er niet bent, 'k voel…
Medley kinderliedjes
Kijk het beertje Pippeloentje Heeft geen sok en geen schoent…
Mijn Hoofd Weer Op Je Schouder
Het leek zo mooi Het sprak vanzelf Jij en ik En zo moest…
Mijn Houten Hart
Mijn hart is niet van steen Een geval van zuiver hout Was…
Moe
Oh, ik vind de mensen vaak zo mat Nooit een…
Mr. Blue
Winter sounds are crying, like the old man is slowly…
Naar Het Zuiden
La no sul Debaixo dum ceu e um mar azul Tem um…
Niet Een Zoals Jij
als ik met jouw 's morgens wakker word dan ben jij…
Niets meer
Ik zie geen tranen in je ogen Ik voel geen warmte…
Onder De Appelboom
Ik kwam thuis, het was een uur of acht En…
Oog En Oor
Draaf maar doorrommel maar aan Oogkleppen op Niet te versl…
Opeens Zie Ik Me Staan
En opeens zie ik mij staan Als een volwassen man Niet lang…
Oude Liefde
Oh we draaiden maar Rondjes rondjes om elkaar De richting di…
Ouverture
Ik ben happyoh, zo happy Ik ben happy met alles En blij Met…
Paradijs bij het dashboardlicht
Paul:ohh.. ik herinnder het me allemaal nog als de dag…
Perhaps Love
Perhaps love is like a resting place A shelter from the…
Pubers
Ze staan te klippen in een groepjebij het winkelcentrum Zuid…
Samen
Samen, samen. Ik was onzeker in 't begin, ik slikte elke m…
Samen Zijn
Vriendje, mag ik even met je praten Want het verwart me Wa…
Sorry
Wat moet ik nou weer doen om het goed te…
Storm En Wind
Als in een droom Ik voelde mijn hart Mijn hart dat bonkte …
Tegen Alle Verwachtingen In
Tegen alle verwachtingen in Had ik je nodig toen Tegen alle …
Tranen Van Geluk
Deze wereld is zo prachtig Hij ontroerd me elke dag In mij…
Tweestrijd
Ik heb gescholden en gezwegen Toen hij vertelde dat hij van…
Urks Klompendansje
Zij heet Alie, zeg maar Aal En is een Urker visvrouw Ze…
Vleugels Van Mijn Vlucht
't is vast heel eenzaam in mijn schaduw en nooit eens…
Vlieg Met Me Mee
Soms zijn er momenten dat ik aan je denk Ook al…
Voel Wat Ik Voel Voor Jou
Jouw leven is bijzonder, soms verward De wereld oordeelt mee…
Vogeltje Wat Zing Je Vroeg
Vogeltje, wat zing je vroeg Is de nacht niet lang genoeg Nee…
Voor De Leeuwen
Zoals jij toen naar me toe liep Of ik naar jou…
Voorbij
Vrienden, hebben mij zo vaak gezegd, jij?. Jij blijft niet …
Voorbij / Ik Heb Je Lief
'k weet niet of je zit te wachten op een vriendelijk…
Vrij
ga aan de kant en laat me door 'k heb geen…
Waarheen Waarvoor
Annie: waarheen lijdt de weg die wij moeten gaan waarvoor…
Waarom Huil Je Nou
Lekker uitzicht heb je hier Leuk die bomen En die bankjes …
Waarom huil je nou?
Waarom huil je nou? Lekker uitzicht heb je hier Leuk die b…
Wacht Nog Wat
Ik zag je wel staan met je donkere ogen Met je…
Wat Een Mooie Dag
Mijn kinderen gaan naar school. Ik smeer wat brood, ik doe…
Weg Van Hier
Ik ga maar naar een stad ver weg Waar de muren…
Wie Oh Wie
Aan alles komt een einde Ook deze nacht heeft zijn tijd…
Zal De Muziek Voor Altijd Spelen
zal de muziek voor altijd spelen hoe blijft het goed van…
Zeg Het Mij
Zeg het mij, aarzel niet en praat, zeg om wie het gaat, v…
Zo Puur Kan Liefde Zijn
Ik ben geen mens die hoge eisen stelt Of iemand die…
Zomaar Een Dag
's Morgens word ik wakker, Met zo'n onbestemd gevoel, Dan …
Zomer Zonder Jou
Om je nu te schrijven dat ik hier zo eenzaam…
Zonder Jou
Bijna altijd ruzie met elkaar Het werd me allemaal teveel We…
Zonder jou (met Simone Kleinsma)
Simone: Bijna altijd ruzie met elkaar Het werd me allemaal t…
The lyrics are frequently found in the comments by searching or by filtering for lyric videos
Genre not found
Artist not found
Album not found
Search results not found
Song not found