Jump to: Overall Meaning | Line by Line Meaning
Sunday drive past your own hall of fame
It's closed on weekdays, shut for good
Pick out no one when you're talking
Thoughts like rattlesnakes were walking
No one has a clue
The parting shots
The thin caught fault line
Dancing across the frigid air shafts
A spastic grass, a criminal's child
Count to ten and read until the lights begin to bleed
Lights, 'til you actually see the rays
And your thoughts, they start turning
Just lessons that you're learning
No one has a clue
The gauzy thoughts of those dirty Scots
Wrestling with the elements up on the trail high
I need to know where does it go?
How do I get there and what will I find?
Fun, fun, fun, fun for the summertime blues
It's gonna set you free
Fun, fun, fun, fun for the summertime blues
Overall Meaning
The opening lines of Pavement's song "Black Out" introduce a sense of disillusionment and loneliness. The speaker is driving past their own "hall of fame," only to find it closed and deserted. This sense of emptiness is compounded by the realization that they have no one to confide in; their inner thoughts are like "rattlesnakes were walking." The party is over, and the thin caught fault line of reality is exposed.
The second verse introduces a sense of chaos and confusion. The speaker perceives that "no one has a clue," signaling a breakdown in communication and understanding. The spastic rats and criminal chatter further create an atmosphere of disorder, and the counting to ten and reading is an attempt to maintain control. However, ultimately, the lights begin to "bleed," and the speaker's thoughts start to turn.
The final verse takes a more introspective turn, with the speaker reflecting on the "gauzy thoughts" of the "sturdy Scots" who "wrestle with the elements." There is a sense of wanderlust and longing for adventure, as the speaker wonders "where does it go" and "what will I find." The chorus serves as a reminder that despite this sense of uncertainty and confusion, "no one has a clue" - perhaps implying that we are all stumbling through life without a clear sense of direction or purpose.

Line by Line Meaning
Sunday drive past your own hall of fame
You are reminiscing about the past and all of your accomplishments that are memorialized, but currently you are just driving by without stopping.
It's closed on week days shut for good
The hall of fame is only open on the weekends, so you cannot even visit to look back on your successes or find validation.
You've got no one when you're talking
When you speak, there is no one that truly listens and understands what you are saying.
Thoughts like rattlesnakes were walking
Your thoughts feel dangerous and unpredictable, like venomous snakes slithering around in your mind.
No one has a clue
Nobody can comprehend or relate to the thoughts that are consuming you.
The party's shot
The good times are over and you feel like you missed out or were never really part of the fun in the first place.
The thin caught fault line dancing
Something is not quite right and you can feel it, like a small misalignment in the tectonic plates that could cause a seismic shift.
Across the frigid air shack
You are experiencing a sense of coldness and detachment from the world around you, as if you are trapped in a shack of loneliness.
The spastic rats,
Your thoughts are frenzied and chaotic, like rats running wild in a frenzy.
The criminals chat
The negative thoughts in your mind are conspiring together, almost as if they are criminals hatching a plan.
Count to ten and read
Try to calm yourself down and distract your thoughts by counting and reading something else.
Until the lights begin to bleed lights
Keep yourself occupied until evening comes and the lights become fuzzy or blurry with a sense of exhaustion and weariness.
Until you actually see the rays
You need the light of a new day to break through your darkness and provide hope and positivity.
And your thoughts then start to turn and
Once the light shows you a new way of thinking, you will begin to shift your perspective and focus more on the positive.
Those lessons that you're learning
You are gaining knowledge and insight from your struggles and pains.
No one has a clue
Despite learning and growing, nobody truly understands the battles that you face or the triumphs you earn.
The gauzy thoughts of the sturdy Scots
Your thoughts are dreamy and hazy, like a Scottish mist that is hard to see through but still feels strong and grounded.
Wrestle with the elements
You are struggling with the uncontrollable forces around you, like a wrestler in a ring who must find a way to unite strength and strategy.
Up on the trail high
You are searching for a higher path or purpose than what is currently in front of you.
I need to know where does it go
You are yearning for clarity and direction in your life, to know where you should be headed and what you should be striving for.
How do I get there and what will I find
You want to map out a plan for reaching your goals and hope that the journey itself will bring growth and fulfillment.
Fun for the summertime blues
Even amidst your struggles and challenges, there can be moments of joy and lightheartedness during the summer season.
Lyrics © WORDS & MUSIC A DIV OF BIG DEAL MUSIC LLC
Written by: Stephen Joseph Malkmus

Lyrics Licensed & Provided by LyricFind
To comment on or correct specific content,
highlight it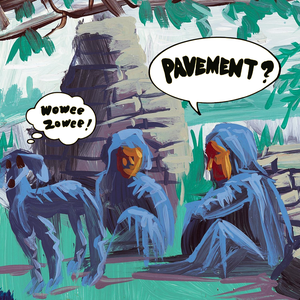 Pavement is an American indie rock band that formed in Stockton, CA, in 1989. For most of the period to 1999, the band consisted of Stephen Malkmus (vocals, guitar), Scott "Spiral Stairs" Kannberg (guitar, vocals), Mark Ibold (bass), Steve West (drums) and Bob Nastanovich (percussion, vocals). During that period, and since, they have frequently been described as one of the most influential bands to emerge from the American underground of the '90s.
Read Full Bio
Pavement is an American indie rock band that formed in Stockton, CA, in 1989. For most of the period to 1999, the band consisted of Stephen Malkmus (vocals, guitar), Scott "Spiral Stairs" Kannberg (guitar, vocals), Mark Ibold (bass), Steve West (drums) and Bob Nastanovich (percussion, vocals). During that period, and since, they have frequently been described as one of the most influential bands to emerge from the American underground of the '90s. While their split in 1999 was reportedly rather acrimonious, they undertook a well-received reunion tour during 2010.
Pavement formed in Stockton, California, in 1989 as a studio project of guitarists and vocalists Stephen Malkmus and Scott Kannberg, known originally only as "S.M." and "Spiral Stairs", respectively. Their debut EPs were extremely lo-fi releases titled Slay Tracks (1933-1969), Demolition Plot J-7, and Perfect Sound Forever. They were recorded at Louder Than You Think, the home studio of infamous Stockton local and former hippie Gary Young. The eccentric and aging hipster also provided drums. Upon first hearing the duo's songs, Young was quoted as saying, "this Malkmus idiot is a complete songwriting genius".
Pavement's most obvious influence during this time was English rock band The Fall, although Kannberg stated in a 1992 interview that he preferred The Replacements to The Fall. The Fall's primary member, Mark E. Smith, would often angrily claim through the years that Pavement was a "rip-off" of his band and that they didn't "have an original idea in their heads". However, some of the other members of The Fall actually enjoyed Pavement.
Around 1992 Pavement became a full-time band, with the addition of bassist Mark Ibold - who had been one of the band's first fans - and extra percussionist Bob Nastanovich (a fellow museum security guard along with Malkmus and David Berman, of Silver Jews) to help Young keep time. Their debut album, Slanted and Enchanted, was released commercially in 1992 after being circulated among critics and tastemakers for nearly a year, and became an instant indie classic. Though the percussive influence of The Fall was still pervasive (as was that of English post punks, Swell Maps), many of the songs also exhibited a strong sense of melody. The following year, the band released the EP, Watery, Domestic, which represented a balance between their earlier and later styles.
Gary Young's departure and Crooked Rain, Crooked Rain
The tour for Slanted & Enchanted gave Gary Young a chance to showcase his bizarre live behavior. He would act out by giving away cabbage and mashed potatoes to fans at the door of the venue, doing handstands, running around the venue and stage while the rest of the band was playing and drunkenly falling off his drum stool. His bizarre drug- and alcohol-fueled personality had grated on the rest of the band through several years of touring and recording and they could no longer take it. At the end of the tour, Young left Pavement. The final straw came when Young allegedly pulled a gun on Malkmus. (Malkmus later stated that this was not true: while Young had bought a gun, he never pulled it on Malkmus). The group soon after had a meeting in a hotel room in Copenhagen during which Malkmus, Kannberg and Ibold remained silent while Nastanovich (Young's best friend at the time) argued with the drummer and informed him that his antics were unnecessary. According to the band, Gary Young quit and was replaced by Steve West.
With an improved recording quality and more original songwriting, they released Crooked Rain, Crooked Rain in 1994. The record was far more indebted to the classic rock tradition than their more obscure debut. The single, "Cut Your Hair" was the band's closest brush with the mainstream, and briefly enjoyed airplay on alternative rock radio and MTV.
Another single, "Range Life", was infamous chiefly for lyrics that criticized alt-rock superstars The Smashing Pumpkins and Stone Temple Pilots. Malkmus has insisted over the years that the line is meant to be light-hearted and timely, sung from the point of view of the aging hippie character in the song - later live versions of the track had the singer substituting Spice Girls, The Counting Crows, or countless others for "Stone Temple Pilots". Billy Corgan, leader of The Smashing Pumpkins, threatened to drop his band from the 1994 Lollapalooza Festival if Pavement was allowed to play. The Smashing Pumpkins were headlining Lollapalooza that year. Corgan and Malkmus would trade barbs through the press for several years after.
Wowee Zowee and Brighten the Corners
Pavement's next album was the eclectic, inscrutable Wowee Zowee (1995). In eighteen tracks, the band covered a wide range of styles including punk, country and balladry, and largely dispensed with conventional song structures. The album was not widely admired at the time of release but is now generally embraced by fans. On the Slow Century DVD, Malkmus attributed his odd choice of singles to his pot smoking, stating that "I was smoking a lot of grass back then but to me they sounded like hits." Although Malkmus has said in recent interviews that the album is the last "classic Pavement record", Kannberg has voiced regrets about Wowee Zowee. "We made some mistakes on that record... we were kind of pressured into putting out a record a little faster than we were ready to. I mean, I'm totally into the record. It's just if we had another six months to think about it, it would've been much different." During the tour for the album, Nastonovich stated on the Slow Century DVD, the band would often not work out a setlist before shows, opting for drug and alcohol fueled jams over hit singles.
Wowee Zowee was followed up by the EP, Pacific Trim, which was recorded with only Malkmus and drummers Nastanovich and Steve West. Their studio time was originally reserved for a Silver Jews recording, but frontman David Berman walked out in frustration and the trio decided not to waste prepaid recording time.
1997's Brighten the Corners, a shorter, mellower and more focused record than the previous album, was produced by Mitch Easter. In style it resembled Crooked Rain, Crooked Rain and contained two of the band's best known singles in "Stereo" and "Shady Lane". It was the only Pavement album to include a lyric sheet. The album sold better than its predecessors, but Pavement remained a cult band. It was at about this time that the band started to fragment, with its members focusing more on other musical projects or on raising families.
Terror Twilight and breakup
In 1999, the band released its final album, Terror Twilight. Bob Nastanovich came up with the title, and has revealed the meaning of it in several interviews: "Twilight Terror is the short span between sunset and dusk; this is considered the most dangerous time in traffic, because half of the people switch on the headlights, and the other half doesn't. It's when most accidents happen." During an interview on the Slow Century documentary DVD, he said that the band was having trouble coming up with names for the record until he put forth Terror Twilight. One of the final contenders was Farewell Horizontal (also the name of a 1989 science fiction novel by K.W. Jeter), and Nastanovich said, "There was no way I was going to be on the Farewell Horizontal tour for the next year."
Malkmus wrote the entirety of the record, and the recording of the music only featured minor contributions from the rest of the band. The music on the record is by far the gentlest and most emotionally direct in the band's discography, though the oddball Captain Beefheart homage "Platform Blues" is a nod to their more obscure roots. Its comparatively pristine production was helmed by Nigel Godrich, best known for his work with Radiohead and Beck.
The group released one last EP, titled Major Leagues. It features three Malkmus songs, two original Spiral Stairs songs and two covers: "The Killing Moon" by Echo and the Bunnymen and "The Classical" by The Fall. Stephen Malkmus sings on both of the cover songs.
After completing a world tour in London in 1999, the band announced that they were going on hiatus, which eventually revealed itself as an unofficial break-up. Nastanovich later said that it was a somewhat civil dissolution. "There was too much exhaustion for heavy emotion."
Slow Century and Perfect Sound Forever
In 2002, Slow Century, a documentary by Lance Bangs coupled with all of the band's music videos, was released as a 2 DVD set. Included was extensive footage, both professionally shot and taped by fans on camcorders, from the band's earliest shows in 1989 forward. The three final songs from the band's last show ever ("Stop Breathin'", "Conduit for Sale" and "Here") are presented at the end of the documentary. Also on the DVD is a hidden easter egg clip from the same show, wherein Malkmus apparently jokingly talks about how the handcuffs attached to his microphone stand "represent what it's like being in a band all these years." A bonus disc with a complete concert in Seattle, Washington, from the early part of the Terror Twilight tour was included on the second disc, as well as several songs from their second to last show.
2004 saw the publication of "Perfect Sound Forever: The Story of Pavement", a biography on the band written by Rob Jovanovic. Most reviews of the book rated it poorly, saying that it contained much of the same information as the Slow Century DVD and expanded very little on it.
Post-Pavement projects
* Stephen Malkmus has gone on to enjoy success as a solo artist combining his intricate guitar playing with a progressive rock influence. He has released four albums, Stephen Malkmus (2001), Pig Lib (2003), Face the Truth (2005), and Real Emotional Trash (2008) each garnering mainly warm reviews from critics and fans alike. Malkmus' new group has been known to treat audiences to Pavement songs every once in a while (On May 24, 2003, while touring in Milwaukee, Wisconsin with his new band The Jicks, Malkmus opened the show by saying, "This is off our first record". The band then proceeded to play an evening's worth of Pavement songs. This show has been dubbed by fans as The Milwaukee Show). He is a revolving member of the group Silver Jews, led by David Berman.
* Scott Kannberg went on to form a musical group named Preston School of Industry, not to be confused with the Ione, California reform school nor the Pavement tune of the same name. They have released two albums with Matador Records, All this Sounds Gas (2001), and Monsoon (2004). The latter album boasts studio contributions from members of The Minus 5 and Wilco. Preston School of Industry has remained apparently inactive since the end of their September 2004 Australian tour.
*Mark Ibold has been reported to be working behind the bar at a restaurant called Great Jones Cafe in New York, New York. In early 2005, rumors began to spread on the internet that he had a new group called Cam'Ron's Foreskin. In the summer of 2006, Ibold joined Sonic Youth as their touring bass player for their Rather Ripped tour. He became a full time member of Sonic Youth and contributed to/co-wrote (as Sonic Youth albums are group efforts) on the new album The Eternal.
* Steve West lives in Lexington, Virginia. He has two children and works as a stonemason. He has released 3 albums as Marble Valley.
* Bob Nastanovich has a home in Louisville, Kentucky and produces a website called "Lonely on the Rail" which combines his passions for horse racing and writing. He tour managed for The Jicks during their first tour. Since then, Nastanovich has been a jockey agent for Greta Kuntzweiler. When asked if he was in contact with his former band members, he said, "West - yes, Malkmus - yes, Ibold - rarely, Kannberg - never". He accompanied Malkmus on drums for two songs during a solo acoustic set at the 2007 Pitchfork Music Festival.
* Gary Young has continued recording bands at his Stockton studio. He also has a new group, Gary Young's Hospital, with which he records and plays concerts. Young also invented the Universal Microphone Shock Mount, "an innovative approach to keeping your microphones isolated from stand vibrations."
Reunion
There is frequent speculation about the possibility of a Pavement reunion. In a 2006 Pitchfork interview, Scott Kannberg discussed the possibility of a reunion for the band's 20th anniversary in 2009. In a 2008 Entertainment Weekly article, Kannberg echoed the possibility of a 2009 reunion, and mentioned Matador Records' 20th anniversary. Mark Ibold was amiable to the idea; Malkmus, however, stated: "something small in 10 years like the Zeppelin thing sounds good to me."
On September 16, 2009 it was confirmed that Pavement will reunite for a show at Central Park's SummerStage on September 21, 2010.
Official statements by the band, label, venue and promoter were released on September 17, 2009 confirming the reunion. The announcement included one concert in Central Park and the promise of a tour, but said that the reunion may only be a one-off event. It said, "Please be advised this tour is not a prelude to additional jaunts and/or a permanent reunion. The band held rehearsal at Audio Cinema in Portland, Oregon. The band performed several shows throughout 2010.

There is another band with the same name:

2) Pavement was a British reggae-soul-ska band active in the late-60s. They released their eponymous album in 1969.
Genre not found
Artist not found
Album not found
Search results not found
Song not found