Motion Suggests
Pavement Lyrics
Jump to: Overall Meaning | Line by Line Meaning
I traced my family line
It ends up where the
Window-passing grainy days
Forgetting she's away
Here's the straight and narrow
Brought my wheelbarrow
And it's filled with the lies
And the dirt and the hurt
But I won't need someone to let me be
I won't need someone to let me be
Up up the counting thrones
And the voice could soothe your
Captivate the senses like a ginger ale rain
Those who've got the mirror
Curse the tainted pharaohs
Take off!
Respect fun, you might learn how it runs
But I won't need someone to let me be
No I won't need someone to let me be [x2]
No I won't need someone to let me go
Let me breathe
Overall Meaning
The lyrics to Pavement's "Motion Suggests" are enigmatic and open to interpretation. The song seems to deal with themes of isolation, loss, and the search for meaning. The narrator describes tracing their family line, an act that brings them face to face with the passage of time and the ephemeral nature of life. They confront the "grainy days" of memory and the pain of "forgetting she's away," perhaps referring to a loved one who has passed on.
Despite this sense of loss, the narrator seems determined to forge ahead. They speak of the "straight and narrow," a phrase often associated with conformity or rigidity, but here it seems to represent a path of self-discovery and honesty. The narrator has brought their wheelbarrow, filled with the "lies and dirt and hurt" of their past, but they don't need anyone to let them be themselves.
The latter half of the song takes a more surreal turn, with references to "counting thrones" and a voice that can soothe. It's unclear what these phrases mean, but they seem to suggest some sort of spiritual quest or awakening. The line "respect fun, you might learn how it runs" feels like a mantra or guiding principle for the narrator.
Overall, "Motion Suggests" is a song that encourages introspection and self-examination. It's about confronting the pain of the past and the uncertainty of the future, but also about finding joy and meaning in the present moment.

Line by Line Meaning
I traced my family line
I followed the path of my family history
It ends up where the
It leads to the present
Window-passing grainy days
Days seen through a window, with a low-quality grainy appearance
Forgetting she's away
Forgetting that someone important is absent
Here's the straight and narrow
Here is the proper and honest way
Brought my wheelbarrow
Brought my tools and equipment
And it's filled with the lies
And it's filled with deceitful information
And the dirt and the hurt
And the unpleasant and painful things
But I won't need someone to let me be
I won't require permission to be myself
Up up the counting thrones
The thrones for numerous counts
And the voice could soothe your
And the voice could pleasantly calm you
Captivate the senses like a ginger ale rain
A feeling that captures and excites like a rain of ginger ale
Those who've got the mirror
Those who have a mirror
Curse the tainted pharaohs
Disparage the corrupted leaders
Take off!
Let's go!
Respect fun, you might learn how it runs
Appreciate and understand how enjoyment functions
No I won't need someone to let me go
I won't require permission to leave
Let me breathe
Allow me to take in air freely
Lyrics © WORDS & MUSIC A DIV OF BIG DEAL MUSIC LLC
Written by: STEPHEN MALKMUS

Lyrics Licensed & Provided by LyricFind
To comment on or correct specific content,
highlight it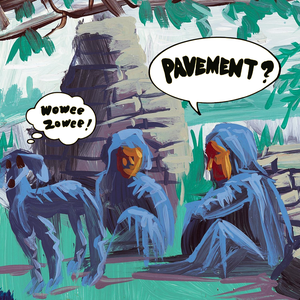 According to Stephen Malkmus, the correct title of this track is actually Motion Suggests Itself, but due to an error in the artwork for the original album, it was known under this title for some ten years. The Wowee Zowee: Sordid Sentinels Edition finally corrected the error.
Genre not found
Artist not found
Album not found
Search results not found
Song not found