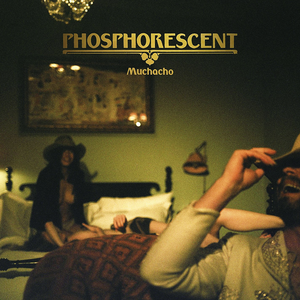 Phosphorescent is the solo project of American musician and songwriter Matthew H…
Read Full Bio ↴
Phosphorescent is the solo project of American musician and songwriter Matthew Houck (born 1980 in Alabama). Houck began recording and performing under this nom de plume in 2001 in Athens, Georgia, USA. He is currently based in Brooklyn, New York.

Before recording under the name Phosphorescent, Houck traveled the world playing under the moniker Fillup Shack and, in 2000, self-released a limited pressing of the album "Hipolit". In 2001 Houck changed his recording name to Phosphorescent, and, in 2003, released the full-length album "A Hundred Times or More". Interestingly, in the liner notes of the album, Fillup Shack is credited with the drum recordings. The following year, he released the EP "The Weight of Flight".

Phosphorescent rose to wider critical acclaim after releasing "Aw Come Aw Wry" in August 2005 and "Pride" in October 2007. The latter was named the 12th best album of 2007 by Stylus Magazine and received a 8.0 rating from indie website Pitchfork Media. In 2009, inspired by Willie Nelson's tribute album to Lefty Frizzell entitled "To Lefty From Willie", Houck crafted a tribute album to Nelson himself entitled "To Willie" which was released through Dead Oceans. Phosphorescent released "Here's to Taking It Easy" in 2010 and "Muchacho" in 2013.

Official site
Jump to: Overall Meaning ↴ Line by Line Meaning ↴
Give me ten long limbs, I'll hold
Lazy rolling things of gold
Dress me down in a New York crowd
Lay me down an bawl me out
Tell me everything's been sold
Tell me everything. I'll go
Pressed apart those skins still hold
This can't be what you want
This can't be what you want
There's a charm, there's a blade
There's a lot in the way
There's a child, there's a grave
There's a lot in the way
There's a colt, there's a cane
There's a lot in the way
There's a heart, there's a chain
There's a lot in the way
Cut my heart but do it fast
We don't want that hurt to last
Take that violence from your brow
Shake it down and hold it out
Tell me anything's my home
Tell me anything. I'll go
Pressed apart those skins still hold
This can't be what you want
It can't be what you want
There's a charm, there's a blade
There's a lot in the way
There's a heart, there's a grave
There's a lot in the way
There's a colt, there's a cane
There's a lot in the way
There's a child, there's a chain
There's a lot in the way
There's a mark, there's a stain
There's a lot in the way
There's a phone, there's a flame
There's a lot in the way
There's a fawn, there's a fang
There's a child in the rain
There's a charm, there's a blade
There's a lot in the way
Overall Meaning
The lyrics to Phosphorescent's "A Charm / A Blade" are full of imagery that is both beautiful and unsettling. The first verse describes someone with "ten long limbs" holding "lazy rolling things of gold," which could be interpreted as material possessions or perhaps even drugs. They are in a New York crowd, feeling out of place and vulnerable. The second verse talks about everything being sold, perhaps a commentary on the emptiness of consumerism. The lines "Pressed apart those skins still hold/This can't be what you want" suggest a struggle with identity and a sense of self.
The chorus is a repetition of the phrase "there's a lot in the way," which could mean anything from physical obstacles to emotional barriers. The objects listed (charm, blade, child, grave, colt, cane, heart, chain) are all significant in their own right but their purpose in this song is open to interpretation. The second half of the chorus introduces more objects, including a mark, a stain, a phone, and a flame. It creates a sense of chaos and confusion, reinforcing the idea that there is a lot standing between the singer and their desires.
The final verse talks about cutting the heart but doing it quickly, hoping to avoid prolonged pain. The line "Tell me anything's my home" could be a desperate plea for stability or a recognition that home is wherever one chooses to find it. The song ends with a repetition of the chorus, leaving the meaning of the objects and imagery up to the listener's interpretation.

Line by Line Meaning
Give me ten long limbs, I'll hold
If you give me the tools, I'll do my work
Lazy rolling things of gold
The precious things in life come easily
Dress me down in a New York crowd
I am not afraid to be myself even in a crowd
Lay me down an bawl me out
I am vulnerable and open to criticism
Tell me everything's been sold
The world has lost its value and meaning
Tell me everything. I'll go
I am searching for answers and will leave if necessary
Pressed apart those skins still hold
Underneath it all, the truth remains
This can't be what you want
This is not the goal or desire
There's a charm, there's a blade
In life there is beauty and danger
There's a lot in the way
There are obstacles to overcome
There's a child, there's a grave
Life is both new and fleeting
There's a colt, there's a cane
There is both youth and aging
There's a heart, there's a chain
There is both love and oppression
Cut my heart but do it fast
If I must be hurt, let it be quick
We don't want that hurt to last
Time heals all wounds
Take that violence from your brow
Rid yourself of anger and aggression
Shake it down and hold it out
Let go of negativity and move forward
Tell me anything's my home
I am open to new experiences and influences
Pressed apart those skins still hold
Despite changes, certain aspects remain unchanged
This can't be what you want
The present situation is unsatisfactory
There's a mark, there's a stain
Actions have lasting consequences
There's a phone, there's a flame
Both communication and destruction are powerful
There's a fawn, there's a fang
Life is both gentle and fierce
There's a child in the rain
Innocence can be exposed to harsh realities
Lyrics © Warner Chappell Music, Inc.
Written by: MATTHEW HOUCK

Lyrics Licensed & Provided by LyricFind
To comment on or correct specific content,
highlight it
Genre not found
Artist not found
Album not found
Search results not found
Song not found