El Besito
Plena Libre
No se que tiene tu boca
Que me tiene loco
Seran tus besos
Son tan melosos.
Cuando me besas
Mulatico me pongo
Con esa nena
yo tengo tremendo coco.
Y es que tu hechizo
Pa'mi eso es clase aparte
Dame un besito muy dulce
Donde tu sabes.
-En la mejilla mami-
Coro
Dame un besito
De esos bien dulce
Dame un besito mami
Donde te guste.
Damelo de coco, de china o de tamarindo
Damelo del sabor que a ti te guste
En mi auto siempre voy
Oye pensando en tus besos
Y cuando no tengo sabor
Yo me como hasta las luces.
Coro
1x
En la escuela de tus besos
Cosita buena
Hay negra linda
Quiero que me maricules.
Coro
1x
Panderos
-Y siempre velando al guardia-
Panderos
- Camina Plena Libre-
Coro
1x
Ay mama me vuelvo loco
®Si tu me lo das de coco
Negrita me desesperas
®Cuando me lo das de pera
a mi me gusta negrita
®cuando me lo das de pina
es que me encanta mulata
®cuando me lo das de parcha
tus besos llenan mi vida
®cuando me lo das de china
tu eres mi cosa buena
®cuando tu bailas mi plena.
-Dame tus besitos si-
Coro
1x
En Eneroy Febrero, Marzo y Abril
Todito el ano yo tengo
Besos pa'ti.
Coro
1x
-Besitos pa'ti mami-
(pita)
Contributed by Hailey N. Suggest a correction in the comments below.
To comment on specific lyrics,
highlight them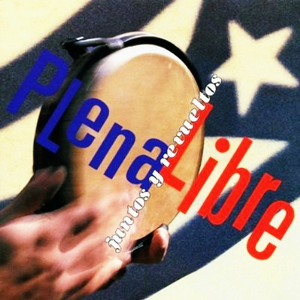 Founded in San Juan by bass player/composer Gary Núñez, Plena Libre is well into a 15-year voyage that has seen the orchestra re-invent the sound of Puerto Rico's plena and bomba traditions. During that time, Gary and his group have recorded 12 stellar albums which have garnered four Grammy nominations. In taking their unparalleled live show to the world, the group has spread the gospel of their unique Afro-Rican sound on international jazz festival stages from Montreal to Milan and Denmark to Veracruz.
Read Full Bio
Founded in San Juan by bass player/composer Gary Núñez, Plena Libre is well into a 15-year voyage that has seen the orchestra re-invent the sound of Puerto Rico's plena and bomba traditions. During that time, Gary and his group have recorded 12 stellar albums which have garnered four Grammy nominations. In taking their unparalleled live show to the world, the group has spread the gospel of their unique Afro-Rican sound on international jazz festival stages from Montreal to Milan and Denmark to Veracruz. Plena Libre has heated up performing arts venues like D.C.'s Kennedy Center and New York's Lincoln Center and has run all the way to obscure outposts such as Lake Okoboji, Iowa.

Captivating and moving audiences over the course of a 24-year, 14-album career, this fine-tuned Puerto Rican-based ensemble of virtuoso musicians has only gotten better with age, as evidenced by their four recent Grammy nominations and world-wide touring schedule.
Led by founder and bassist Gary Nuñez, Plena Libre is recognized for taking the once dormant, Puerto Rican plena style of music and reclaiming it for a new generation of listeners to enjoy. The group became instantly popular in Puerto Rico, with National Geographic crediting Plena Libre among other Puerto Rican acts in "spearheading the Latin invasion of American popular music. Plena Libre features three vocalists singing in captivating three and four-part harmonies which complement the group's danceable, Afro-Rican compositions. The group's use of call-and-response, percussion and polyrhythms keeps each show feeling groovy and fresh.
With an aggressive, tight, yet sensitive style, which balances the traditional with the contemporary, the global and the local, Plena Libre creates a brand of music and live performance that is both profoundly Puerto Rican and universally appealing. Filtering the sounds of various Afro-Caribbean forms like merengue and cumbia, and Afro-Cuban like mambo and yes, salsa if you ask nicely through a unique set of artistic sensibilities, this versatile collection of expert performers create a celebratory spectacle and engaging sonic ecstasy. Thrilling audiences around the world, from the Fez Festival (in Morocco) to the Playboy Jazz Festival, Plena Libre is a train that just keeps picking up steam as it charges ahead in unexpected and exciting directions.

Plena Libre Members
Gary Nuñez - Music Director, Bassist and Founder
Emanuel Santana - Singer/Hand Drums
Victor Velez - Singer/Hand Drums
Luisga Nuñez - Chorus/Percussion
Rafael Falu - Requinto
Luis rivera - Singer/Percussion
Genre not found
Artist not found
Album not found
Search results not found
Song not found