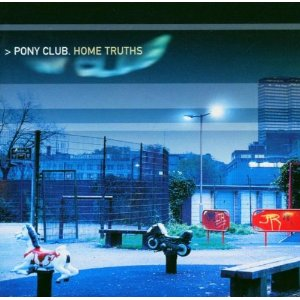 Signed to the Setanta label, you could be forgiven for thinking that Dublin's Mark Cullen is the next Neil Hannon. Pony Club are actually quite a different beast though; Cullen has a similar ear for a great melody but his style is aggressive and confrontational. 'CCTV' is typical - buzzsaw punk guitars and gritty lyrics railing against modern cliches ("I'm watching Hilfiger glamourise violence, in every run down satellite highrise"). With more in common with Babybird
Read Full Bio
Signed to the Setanta label, you could be forgiven for thinking that Dublin's Mark Cullen is the next Neil Hannon. Pony Club are actually quite a different beast though; Cullen has a similar ear for a great melody but his style is aggressive and confrontational. 'CCTV' is typical - buzzsaw punk guitars and gritty lyrics railing against modern cliches ("I'm watching Hilfiger glamourise violence, in every run down satellite highrise"). With more in common with Babybird, Cullen's barbed lyrics are masked by sweet, contemporary tunes ('Fuck With My Heart', 'Stop', 'Millions Like Us'). He can play the wounded torch singer a la Marc Almond just as well with the self-pitying yet admirable 'Single'. Whereas 'Tenderness', 'Flakey Wife' and 'Happy Families' are simply great sounding songs with chart potential. All of which makes 'Home Truths' a very special fully-formed album, even more so as it's a debut.

Pony Club homepage
Genre not found
Artist not found
Album not found
Search results not found
Song not found
We have lyrics for 'Tenderness' by these artists:



All Star United Hush baby, don't cry Just try to remember the time When al…
An Pierlé You can't retreat when life goes wrong You can't imagine wh…
An Pierlé & White Velvet You can't retreat When life goes wrong You can't imagine w…
Big Kitty i like kissing after midnight and walking through the leaves…
Choir! Choir! Choir! Oh she may be weary Them young girls they do get…
Deb Talan We did not ask how things were defined Some pieces were…
Diana King Just a little tenderness At the end of the day Is all…
Diana Ross Tenderness is the best Tenderness I confess Tenderness is th…
Embraze Tenderness is greed Yearning is remorse Love me so that I ca…
G.Y.K. 見つめるのは ワイングラス 耳障りだ おまえの声 まわりでほら いちゃついてる 二人連れに 間違われちゃ いやだ ooh…
Galactic don't know who to turn to Looks don't look like…
General Public Aah, ah, ah, oh Aah, aah, aah, oh I don't know where…
Jay Som Tell me Did you fall in at first glance? Do you think…
Laura Branigan don't know who to turn to Looks don't look like…
Laurika Rauch For a little tenderness I'd give you diamonds Which the devi…
LOLAWOLF I'm laying in the place is do Quiet talk and the…
Marianne Faithfull I've noticed how few emotions stand the test of time. Feelin…
My Personal Murderer Oh my Angel don't u leave me You're only heaven in…
Nina Hynes Give me some tenderness In need of gentleness…
Oh Mercy Walked for forty minutes in Auckland rain Don't matter where…
Parquet Courts We've come to replace your clock's old stubborn hands We are…
Paul Giamatti & Arnold McCuller Oh she may be weary Them young girls they do get…
Paul Simon What can I do What can I do Much of what you…
Peter Hammill Nothing I can say, but this much I can do: if…
Pyrael Out of the chaos comes the lonely one. Ridiculed, abused and…
Sam Cooke Be nice to her Whenever you can And as you cross the…
SG Wannabe Nae nuneul bogo inni ajik moreugenni chu-eogi heureuryeo ha…
Steppenwolf She tried to show me hw to love I bit her…
The Donnies The Amys I don't know when to start or when to stop My…
南央美 心に咲く風は今も まだ 消えない もう一度だけ 聴きたかった あの 優しい歌を 晴れた空を見上げ 涙こぼれる 夢が砕け…



We have lyrics for these tracks by Pony Club:



Single I, I can stay in, cause I'm single, and it's raining I, I ca…

The lyrics can frequently be found in the comments below, by filtering for lyric videos or browsing the comments in the different videos below.