New Yitty
Prodigy Lyrics
KILLA!
[Prodigy:]
Yeah, look here man
Every time the ball drop on New Years Eve
We toast to more money, we smoke to more cheese
Burn this one for beating my case
Then pop me another bottle and keep celebrating
When I'm always waiting for niggas to front
So I keep me a banger, catch a stunt if you want
Be like Super Dave, you fucked up
Flat out on the concrete they peeled you up like the cartoons
But this ain't fake, nah this is gon' hurt
And you gon' feel pain
I'm the results of slavery and poverty
You had the drugs and guns to equal to P
Watch how every time the drama pop off I'm on top
The niggas try that with' me and get shot
Ayo my donuts, dunn I got dumb out money
Wild paper, you niggas better run now from me
[Chorus x2: Prodigy]
New Yitty, my hand's never gritty
I'll send the young boy to destroy every living
Think outside, do inside the place
I'll just do it my self, can never be too safe out here in
[Prodigy:]
Yeah, yeah, every time I'm around my G
You know P drop that fire, ah I drop heat
Too hot to handle; too cold to hold
This two-hundred thousand on my wrist bone
This is .22 long right by the hipbone
And I got the bullets with the x's and o's
On the tips I'll shoot you in the lips
Speaking on my name just so you could get a spin
(KILLA!) Couple spins, this nigga is wack
You's a ugly dipshit, the black Craig Mack
I'm a handsome shooter, I'll simple clutch the ruger
And blow your bummer clout rot face to Bermuda
I'm a mobster, with' the two B's front to O
You pull my foul, all you gon' see is gold
And platinum music, homey go make a hit
With 15 minutes of fame consider it a gift
[Chorus x2: Prodigy]
Contributed by Aaliyah R. Suggest a correction in the comments below.
To comment on specific lyrics,
highlight them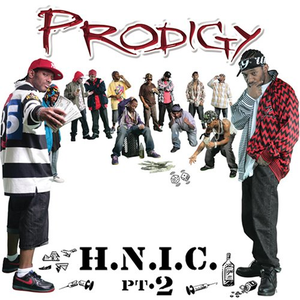 Prodigy is the name of more than one artist. For the electronic group, please correct your tags to The Prodigy.

1) rapper from Mobb Deep
2) group fronted by Todd Duane and Lale Larsen
3) 90s teenage rapper
4) 70s powerpop from Minnesota
5) US progressive/power metal
6) lounge jazz, alias of Miki Litvak
7) 90s US metal
8) US rapper in The Dominion

1) Albert Johnson (born November 2, 1974 in Bradford, Brooklyn, New York and died on June 20, 2017 in Las Vegas), better known by his stage name Prodigy, was a member of the hip hop duo Mobb Deep.
Read Full Bio
Prodigy is the name of more than one artist. For the electronic group, please correct your tags to The Prodigy.

1) rapper from Mobb Deep
2) group fronted by Todd Duane and Lale Larsen
3) 90s teenage rapper
4) 70s powerpop from Minnesota
5) US progressive/power metal
6) lounge jazz, alias of Miki Litvak
7) 90s US metal
8) US rapper in The Dominion

1) Albert Johnson (born November 2, 1974 in Bradford, Brooklyn, New York and died on June 20, 2017 in Las Vegas), better known by his stage name Prodigy, was a member of the hip hop duo Mobb Deep. Prodigy worked as a solo artist since the early 2000s. He was born to parents of Ethiopian and Jamaican descent. Prodigy was born with sickle cell anemia and suffered from the disease throughout his life. Propelled to awareness partially by fellow Queens, New York rapper Nas, who took a similar approach lyrically on his championed "Illmatic" album from 1994, as well as with the aid of a successful single, "Shook Ones Pt. 2," Mobb Deep suddenly found themselves developing a quickly growing cult. A year later, in 1996, Prodigy and Havoc released "Hell on Earth"; debuting at number six on SoundScan, the album found them fully realizing their approach, dropping both evocative beats and cinematic rhymes that communicated the dark side of New York's urban landscape. Thanks to a grim video for "Hell on Earth (Front Lines)" and theatrical Scarface-like photos inside the CD booklet picturing the duo with guns and a mound of cocaine, Mobb Deep had created an elaborate image for themselves that took hardcore gangsta rap to a new level for East Coast hip hop. Their next release, "Murda Muzik", was heavily bootlegged while still in its demo stage, leaking rough versions of the nearly 30 songs the duo had recorded onto the streets and over the internet.

Months after the bootlegs leaked and after several pushed-back street dates, "Murda Muzik" was formally released, debuting at number three on the Billboard charts and quickly going platinum on the strength of "Quiet Storm," a song that epitomized the Mobb Deep style. The album was welcomed by critics, who again lauded the group's lucid cinematics, driven primarily by Havoc's production. In late 2000, Prodigy finally released his long-rumoured solo album, "H.N.I.C.", which saw the more lyrically gifted member of the group collaborating with outside producers such as The Alchemist and Rockwilder on tracks that didn't depart far from the trademark sullen Mobb Deep style. Their follow-up, "Infamy", was the duo's last album for Loud, distributed by Columbia Records and was, for some, a disappointment lyrically and musically, while others praised it as amongst the best rap albums of the year. Loud was absorbed by its new distributor shortly afterwards.

Mobb Deep then signed with Jive, under a unique deal that gave the duo its own imprint, Infamous Records, and released "Amerika'z Nightmare", a very uneven effort, which featured production by The Alchemist and Lil' Jon. However, despite a successful single that featured a Thomas Dolby sample. The duo was not happy with Jive, and were let go at its request. The duo took a hiatus afterwards and came back in 2006, signing to 50 Cent's Interscope/Universal-distributed G-Unit imprint. Their well-hyped "Blood Money" was a failure from the money side when compared to fellow label mates like 50 Cent, Young Buck and Lloyd Banks. Some accused the duo of selling out, with their beats and rhymes not up-to-par with previous efforts on Loud.

He completed work on his third solo album "H.N.I.C. Part 2", which was previewed on his official mixtape "The Return of the Mac" on the independent label Koch Records. The mixtape single and mixtape video are called "Mac 10 Handle," and it shows Prodigy once again reverting to his trademark braids that he had prior to the release of Mobb Deep's 2004 "Amerika'z Nightmare" album; different from the short fade he had from 2004 to 2006. "H.N.I.C. Pt. 2 was released through Voxonic Inc., of which Prodigy is an equity holder.

www.hnic2.com/
Genre not found
Artist not found
Album not found
Search results not found
Song not found