We have waited for so long
To occur this day
There are those who fly away to a distant place
But I think I'll stay
And I wouldn't have it any other way
In this solace I see
A light piercing the darkness
Coming on the winds
Of imagery
When all I know is crumbling
I am becoming something more than humanity could ever allow me to be
I remember a day when
My dreams of escape
Seemed so far away
Let's go back in time, you and I
To my
Initiation to your false empire
You greased, you aimed
And then you spit
While I
Once again pushed away my conscience
Yet always, it seems
I cannot fathom the plateau
Without first the pit
Against the goads there can be no pleading
Because every thought reaps an action
And for you, my former captor
All the earthly wisdom and wealth
Cannot erase your susceptibility
To brutal mortality
And the funny thing about justice
Is that it always comes when you least expect it
So friends it won't be long
Seems I stole your smile, right from wrong
So forever now we'll find
Our peace inside this
We'll find our solace in your silence
And though I once desired your twisted sense of fame
I know, I know that in myself I'm nothing
Nothing
Nothing
Nothing but the words of the "meaningless"
You have given me all I'll ever need
The nerve, the greed, the lust, the lust, the lust, the lust for justice
And now I will never rest
Until the meaningless become your silence
And you're
Over
Over
Over
Out!
Out!
Out!
Out!
Now I mean to thank you once again, with this
My, my, my goodbye kiss
You broke my heart
But something tells me that I won't, that I won't, and I won't miss it
And on this very day
And on this very hill
While the heavens are hushed
In anticipation, beckoning
We'll have ourselves a reckoning
And all of the oppressed will greet you
And you're
Over
Over
Over
Out!
Over
Over
Over
Lyrics © BMG Rights Management
Written by: Alexander Albert, Andrew Schwab, Randy Torres, Steven Dail

Lyrics Licensed & Provided by LyricFind
To comment on specific lyrics,
highlight them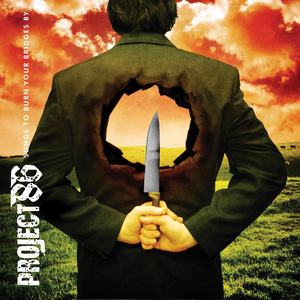 Project 86 is a christian hard rock band from Orange County, CA, USA


In 1998, Project 86 released its self-titled debut on BEC Recordings, a division of Tooth & Nail Records, and was immediately labeled "rapcore" due to strong similarities to acts such as Rage Against the Machine. Though Schwab's vocals could barely be called rapping, it was a convenient label due to the popularity of that genre of music at the time. The album and a supporting tour opening for P.
Read Full Bio
Project 86 is a christian hard rock band from Orange County, CA, USA


In 1998, Project 86 released its self-titled debut on BEC Recordings, a division of Tooth & Nail Records, and was immediately labeled "rapcore" due to strong similarities to acts such as Rage Against the Machine. Though Schwab's vocals could barely be called rapping, it was a convenient label due to the popularity of that genre of music at the time. The album and a supporting tour opening for P.O.D. and Blindside on the Warriors Tour stirred a lot of hype for the band and their sophomore album was excitedly anticipated.

Project (as the band is often referred to by its fans) released Drawing Black Lines in early 2000 to very strong aclaim and the album is widely considered to be the band's defining work. In support of Drawing Black Lines, Project 86 toured extensively with the addition of a second live guitarist (Cory Edelman, formerly of No Innocent Victim), headlining with supporting bands such as Living Sacrifice and Stavesacre and also opening for P.O.D. and Linkin Park. Perhaps more importantly, influential modern shock rocker Marilyn Manson took interest in the band and had the song "P.S.", originally released on Drawing Black Lines, added to the Blair Witch 2 soundtrack. Probably due to this interest, Project 86 became a higher priority for Atlantic. DBL was slated to be re-released with new artwork and three new songs, but in actuality it was only a bare bones repackaging of the exact same album. However, Atlantic did pour over half a million into Project's next musical foray, entitled Truthless Heroes (2002), which, though proving to be the band's most popular outing yet, was released amidst great turmoil.

Over the course of recording Truthless Heroes (which took around a year to complete) Project 86 had increasing difficulty with its management, as well as both record labels (Tooth & Nail still had rights to release their music to the Christian market). This wore the band down immensely, but by the time the album was finished, the difficulty seemed to have worked out in Project's favor - Atlantic bought all of Tooth & Nail's remaining rights to the band and released "Hollow Again", the first single from the album, on mainstream radio. Word came out that the band would be shooting a video for the song shortly, but it never materialized as Atlantic ran into troubles of its own and liquidated some of its assets - including Project 86. In 2003, finding themselves cut loose by both label and management, Project started its own independent label.

Also during this time, the members of Project 86 became outspoken concerning the Contemporary Christian Music scene, siding with other similar acts such as Stavesacre and MXPX in saying that they wanted to distance themselves from the label and the idealogical restrictions that the CCM label automatically places on bands. A Truthless Heroes website containing links to various underground news organizations, as well as edgy visual art pages that decried the dehumanizing effect of pornography, surfaced and generated much controversy among the band's fans.

Project 86's fourth album, Songs To Burn Your Bridges By, was released independently in the fall of 2003 and went on to sell quite well despite being sold only at shows and online. Come 2004, the band mended relations with and re-signed to Tooth & Nail Records and Songs To Burn Your Bridges By was re-issued with three new songs and completely new artwork.

In February 2005, Project 86 announced that they were working on a new album. The title was later announced as ...And The Rest Will Follow. The band spent several weeks in the studio with Garth Richardson over the summer recording the material, and then began releasing a new song every Monday on their purevolume site. The album was released on September 27, 2005, and sold 8,000 copies in its first week, more than any other Project 86 album. A release tour began September 23, with Spoken, Number One Gun, Mourning September, and The Fold.

On January 6th, 2006, Project 86 appeared live on G4's Attack of the Show!, performing "My Will Be A Dead Man" and "The Spy Hunter". This was the band's first appearance on mainstream cable television.

In other recent news, announced March 28th, 2007, on the band's website: "Recently, Alex Albert officially left Project 86. After many years as the drummer for the band, it was time for him to move on to pursue other interests. Alex parted the band on friendly terms, and Project 86 wishes him the best in this new chapter in his life. Thanks for all your years of comraderie, Alex, and you are in our prayers!"

From www.project86.com:
Project 86 has been riding high since the release of their 6th studio album "Rival Factions" in June, 2007. The record grabbed P86 their highest career Billboard debut at 123 and their 1 single "Evil -A Chorus of Resistance" has topped rock charts for the last several months. The new record has garnered extensive critical praise with glowing reviews in AP, Infuze, All Music Guide, Sputnik, The OC Register, etc. The guys were also featured in Outburn and CCM, and graced the July cover of HM Magazine. Add the recent tapping to have their music used on the upcoming film "The Seeker-The Dark Is Rising" video blog series on MTV.com and its clear the guys in P86 have much to celebrate.

"The Kane Mutiny-EP" was released on Nov. 27 2007, making it the first EP that Project 86 ever released.

Then, after almost a year of no new music, Project 86 released the "This Time Of Year EP", a christmas album with 5 tracks on it.

On April 24, 2009, Project 86 Announced that their seventh studio release would be entitled "Picket Fence Cartel." On May 20, 2009, they uploaded two songs from Picket Fence Cartel, "Destroyer" and "Dark Angel Dragnet" to their MySpace page, for streaming play. They also added the song from 'Picket Fence Cartel' called A John Hancock with the safety off on June 4, 2009. The album was released on July 14, 2009.


After fulfilling their last agreement with T&N, in December 2011 the band announced a Kickstarter campaign via their official website and Facebook page, stating that "the fans are now our record label." Their eighth studio release, Wait for the Siren, was released on August 21, 2012.

Featuring all star guest appearances by: Bruce Fitzhugh (Living Sacrifice), Rocky Gray (Evanescence), Brian "Head" Welch (Korn, Love and Death), Andrew Welch (Disciple), Blake Martin (A Plea for Purging) and The Wedding. The new album was produced by Steve Wilson and Andrew Schwab and engineered/mixed by Steve Blackmon.
Described as Andrew Schwab's opus the record promises to be a fresh take on the P86 sound. Schwab said, "On this record I was really able to take the reins of the creative process in a direction I was passionate about. I was able to write songs that pushed me to grow as an artist. It was also insanely fun to have so many of my friends involved in the process and at this point in the game that is what its about. I am really looking forward to people hearing this album." With concert goers noting the new energy of the songs and new band members Scott Davis on drums, Dustin Lowry on guitar and Mikee "Norman" Williams on bass it seems P86 has benefited from a back to basics reinvention.



2. Also, in the early 90's, house producers Howie How & Little Carlos released 12"s on seminal labels R&S Records and Nu Groove Records, under the name "Project 86". They are otherwise totally unrelated. See also the following link for detail on this collaboration: http://www.discogs.com/artist/Project+86
Genre not found
Artist not found
Album not found
Search results not found
Song not found