This Is Hardcore
Pulp Lyrics
You are hardcore, you make me hard
You name the drama and I'll play the part
It seems I saw you in some teenage wet dream
I like your get-up, if you know what I mean
I want it bad
I want it now
Oh, can't you see I'm ready now?
I've seen all the pictures, I've studied them forever
I want to make a movie, so let's star in it together
Don't make a move till I say "action"
Oh, here comes the hardcore life
Put your money where your mouth is tonight
Leave your make-up on and I'll leave on the light
Come over here, babe, and talk in the mic
Oh yeah, I hear you now
It's gonna be one hell of a night
You can't be a spectator, oh no
You got to take these dreams and make them whole
Oh, this is hardcore
There is no way back for you
Oh, this is hardcore
This is me on top of you
And I can't believe it took me this long
That it took me this long
This is the eye of the storm
It's what men in stained raincoats pay for
But in here it is pure, yeah
This is the end of the line
I've seen the storyline played out so many times before
Oh, that goes in there
Then that goes in there
Then that goes in there
Then that goes in there
And then it's over
Oh, what a hell of a show
But what I want to know
What exactly do you do for an encore?
'Cause this is hardcore
Lyrics © BMG Rights Management, Universal Music Publishing Group, Kobalt Music Publishing Ltd.
Written by: Candida Doyle, Jarvis Branson Cocker, Mark Andrew Webber, Nick Banks, Peter Thomas, Stephen Patrick Mackey

Lyrics Licensed & Provided by LyricFind
To comment on specific lyrics,
highlight them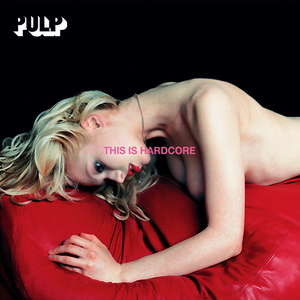 "This Is Hardcore" is a song by British alternative rock band Pulp, and was released as the second single from their 1998 album This Is Hardcore. It was released on March 16, 1998 and charted at #12 in the UK Singles Chart (see 1998 in British music). It utilizes a sample of "Bolero on the Moon Rocks" by the Peter Thomas Sound Orchestra.
Genre not found
Artist not found
Album not found
Search results not found
Song not found