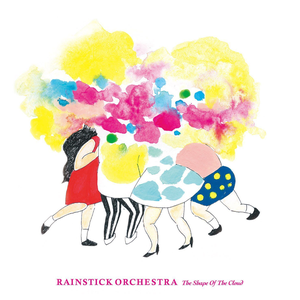 Baku Tsunoda (28) and Naomichi Tanaka (31) have been working together as the Rainstick Orchestra since 2001. They met when they were both DJing in a club in Tokyo and, as they lived near to each other, they began hanging out and trying to improve their musical skills by working together.

By day, Baku is an Editorial Designer and Naomichi is a Systems Engineer. But it's music that drives them both. While Naomichi cites an early love of the music of Manchester as a formative influence as well as time playing in punk bands
Read Full Bio
Baku Tsunoda (28) and Naomichi Tanaka (31) have been working together as the Rainstick Orchestra since 2001. They met when they were both DJing in a club in Tokyo and, as they lived near to each other, they began hanging out and trying to improve their musical skills by working together.

By day, Baku is an Editorial Designer and Naomichi is a Systems Engineer. But it's music that drives them both. While Naomichi cites an early love of the music of Manchester as a formative influence as well as time playing in punk bands, Baku started out playing guitar and piano in both a Yellow Magic Orchestra covers band and a session group who played in the style of Maceo Parker and Funkadelic.

What they create together, using guitars, piano, bass & sequencers, is a delicate 'systems music' that gives a nod to the minimalism of Cage and Reich as well as echoing forms such as techno and jazz. Unsurprisingly, they both subscribe to the idea that music is "borderless".
Genre not found
Artist not found
Album not found
Search results not found
Song not found
We have lyrics for 'Stretch' by these artists:



50 Cent I take grams of coke, Mix it with lactose, that's what…
50 Cent (Before I Self Destruct) I take grams of coke, Mix it with lactose, that's what…
50 Cent; Fifty Cent I take grams of coke, Mix it with lactose, that's what…
Ajda Pekkan Stretch me up Maceracı ruhum var benim Kendimi tanıyorum…
bitch and animal I am on the road to somewhere out there I don't…
Cog He stands alone In a world made of steel Chances were low …
Common Kings Don't need no trainin' girl you see Im the only workout…
Curved Air Stretched a mile this morning when I got me out…
Freesscape Something's hanging round the corner and I think its got…
Hungry Lucy When the feeling comes And you see inside yourself The imp…
Ian hunter I tried, but I could never, I tried but I…
Manboy I am alone In here Nothing is said or done today Plenty …
Red Hot Chili Peppers Stretching out your tightness Good enough to make you grow …
Ryan Montbleau Band Take me under and make me understand. Block my lungs off…
Scaterd Few (Stretching till the end of time) Has anybody seen my despe…
Tamela Mann I've come to get my blessing I've gotta get my breakthrough …
Travis Greene I'm stretching out From where I am, to where He's taking me …

The lyrics can frequently be found in the comments below, by filtering for lyric videos or browsing the comments in the different videos below.