Instrumental
Lyrics Licensed & Provided by LyricFind
To comment on specific lyrics,
highlight them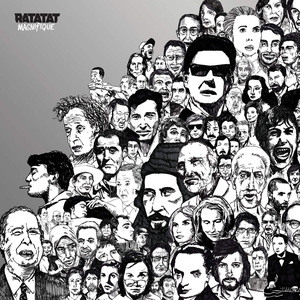 Ratatat, from Brooklyn, New York, United States is an electronic music duo: guitarist Mike Stroud and synthesizer driver and producer Evan Mast (E*Vax).

Stroud and Mast originally met as students at Skidmore College, but did not work together musically until 2001, when their project was named Cherry (later the name of the final song on their debut album). Written and recorded in the bedroom of Mast's Crown Heights, Brooklyn apartment, the band's debut album Ratatat for XL Recordings was released in 2004.
Read Full Bio
Ratatat, from Brooklyn, New York, United States is an electronic music duo: guitarist Mike Stroud and synthesizer driver and producer Evan Mast (E*Vax).

Stroud and Mast originally met as students at Skidmore College, but did not work together musically until 2001, when their project was named Cherry (later the name of the final song on their debut album). Written and recorded in the bedroom of Mast's Crown Heights, Brooklyn apartment, the band's debut album Ratatat for XL Recordings was released in 2004. This album is entirely instrumental, except for excerpts of dialogue at the ends of some tracks. Ratatat has toured with bands such as Interpol, Clinic, Junior Boys, The Killers, The Faint, Daft Punk, The Shins and most recently Björk.

Ratatat have been known to remix other artists' songs, most notably on their limited 2004 release Ratatat Remixes Mixtape Vol 1, which garnered the attention of Rolling Stone. In 2005, the band remixed a track for Swedish band Shout Out Louds and The Knife.

In August 2006, Ratatat released a second album Classics, from which the single Wildcat was taken.

In October 2006, a demo album from Ratatat entitled 9 Beats was leaked online. This set of tracks does not appear on any official discography listings. The tracks consist of short instrumental electronic musical pieces and demos for their next mixtape.
This release was followed by another remix album, Ratatat Remixes Mixtape Vol 2 which was released in 2007. This album featured 14 new remixes featuring: Bun B, Biggie Smalls, Jay-Z, Slim Thug, Devin the Dude, Young Jeezy, T.I., Beanie Sigel, Pimp C, Ludacris, Young Buck, Saigon, Juvenile, Z-ro, Memphis Bleek, Kanye West and exclusive tracks from Despot and Beans.

A third album, LP3, was released on July 8th, 2008.

In late April 2010, Ratatat's fourth album, LP4 was leaked online. The originally announced release date was June 8th, 2010.

Both musicians have had experience with other projects, such as Mast's E*Vax and Carpet Musics and Stroud's stage work with Ben Kweller and Florida's alternative rock band Dashboard Confessional.

The track Seventeen Years was featured in the 2008 movie Cloverfield.

The track Loud Pipes was featured in MLB 07: The Show for Playstation 2, Playstation 3, and Playstation Portable.

For merchandise visit, http://www.ratatatmusic.com
Genre not found
Artist not found
Album not found
Search results not found
Song not found