High On You
Ray J Lyrics
So high
So high
Girl let me say that
I like everything that you do
Can't hide from the feeling
That I get when I get next to you
Girl for me the only thing on my mind
Is to know that you're for real
And when I imagine your pretty smile
It only confirms what I feel
And I am
[Chorus]
High on you
So high on you
And I can only hope that you feel it too
I'm high on you
So high on you
Tell me you feel it too
Now this might sound crazy
But I dream about you all the time (all the time)
Cause you are my baby
Cause you are my my baby
And to me you're a perfect sunshine, yeah
Girl I cherish the moments alone with you
And the loveliness of your embrace
And when I imagine your pretty smile
It only takes my breath away
[Chorus]
So high on you baby
So high on you girl
Let me show you baby
And I'll give you the world
I'm high on you so high on you
Tell me you feel it too
Lyrics © Sony/ATV Music Publishing LLC, BMG RIGHTS MANAGEMENT US, LLC
Written by: JAMEY HEATH, MIKELYN RODERICK

Lyrics Licensed & Provided by LyricFind
To comment on specific lyrics,
highlight them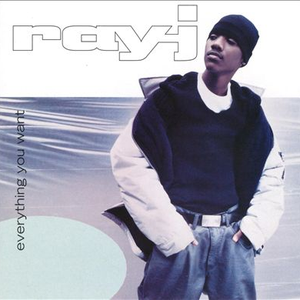 William Ray Norwood, Jr. (born January 17, 1981), better known by his stage name Ray J, is an American singer, songwriter, record producer, actor, and rapper. He is the son of gospel singer Willie Norwood and the younger brother of Contemporary R&B singer Brandy.

He was signed with Elektra in 1995 by Darryl Williams. In 1997, he performed in a television special with his sister, but despite the mainstream attention, he was dropped by Elektra soon after.
Read Full Bio
William Ray Norwood, Jr. (born January 17, 1981), better known by his stage name Ray J, is an American singer, songwriter, record producer, actor, and rapper. He is the son of gospel singer Willie Norwood and the younger brother of Contemporary R&B singer Brandy.

He was signed with Elektra in 1995 by Darryl Williams. In 1997, he performed in a television special with his sister, but despite the mainstream attention, he was dropped by Elektra soon after. His easygoing image and boyish looks appealed to the producers of Brandy's television show, Moesha, scoring him a role on the popular UPN series starting in 1999. He also started producing, putting together the music for several commercials and a few of the demos for his second record. In 1997 he also released his debut album Everything You Want, recorded the year before, which spawned two singles. "Let It Go" was the lead single of the smash soundtrack for Set It Off (Brandy also appeared on the soundtrack; and her song "Missing You" with Tamia, Chaka Khan and Gladys Knight peaked also at number 25). It peaked number 25 in the U.S. and number 11 in New Zealand. The second single peaked at number 54 on the U.S. R&B chart.

After appearing on the last episode of Moesha in 2001, Norwood stepped back into the studio and recorded "Another Day In Paradise" with Brandy, which was a Top Ten success in Austria, UK, Germany, Sweden, Switzerland, Belgium, Norway, Ireland, the Netherlands and number 11 in Australia and France. The song was the lead single of the R&B/Hip Hop tribute Urban Renewal, in which he co-produced and performed songs. Norwood also worked with The Neptunes, Rodney Jerkins and Lil' Kim, and several other hitmaking producers and singers for his second studio album This Ain't A Game, a Hip hop-oriented record that featured more of his rapping than his debut. The album was released in 2001, but despite a strong promotional push from new label Atlantic Records, it wasn't a breakthrough success. The lead single "Wait A Minute" appeared in the lower half of the charts in Germany, Switzerland, the Netherlands and Great Britain. The second single did even worse peaking on the R&B/Hip hop chart only.

In 2002 he appeared in the video for his sister's smash-hit "What About Us", which was produced by Jerkins, and was released as her third album, Full Moon's lead single during the first quarter of 2002 (see 2002 in music). While "What About Us?" entered the Top 20 on the majority of the charts it appeared on, it reached the Top 10 in Australia, Denmark, New Zealand, Norway, the Philippines, the UK, and the United States.

After a two year break, Norwood returned to recording studios, adding the finishing touches on his third studio album Raydiation with help from producers such as Rodney Jerkins, Timbaland, and R. Kelly. A joint venture by Sanctuary Records and Ray-J's own label, independent Knockout Entertainment, the album was finally released on September 27, 2005 in North America after several delays, debuting at number forty-eight on the Billboard 200 chart, selling 18,321 copies in the first week. Boosted by the album's lead single "One Wish," a top 20 success in Ireland, New Zealand, the UK, the U.S.. Raydiation eventually sold over 400,000 copies domestically.[2]

In 2005, Norwood joined the cast of UPN's One On One,[3] where he played the character of D-Mack for the final season.

More recently, Knockout Entertainment announced a multi-million dollar album deal with Koch Records and Shaquille O'Neal's "Deja 34" entertainment company.[2] The first album for this deal is Norwood's upcoming fourth album All I Feel, which featuresThe Game, and remixes with Manny and Gil (MP Productions) among others. It was released on April 1st,2008.[4] The album's first single is "Sexy Can I" featuring rapper Yung Berg peaked at number three on the Top Singles (Hot 100) for six weeks. A video for the track, directed by R. Malcolm Jones, was shot in December 2007
Genre not found
Artist not found
Album not found
Search results not found
Song not found