Meant To Be Dub
Rebelution Lyrics
Jump to: Overall Meaning | Line by Line Meaning
I can see the sun come up
Time to get away from here
Time to make a new plan up again
Water never felt this good
Air it never felt so pure
It's time to make a new plan up again
Well it was true when I said it
I'd rather forget it
Well the past don't matter now
You think I owe you, but I gotta go
You see the past don't matter now
And it feels like life is taking over
It feels like it's meant to be
And it feels like life is taking over
It feels like it's meant to be
'Cause I can see the sun rise on my way
I can see the road rise to meet me
I can feel the earth underneath my feet
And I can see the stars on top of me
And I say don't ever come down, come down
I need your light now, right now
Don't ever come down, come down
I need your light now, right now
Now that I have come so far
I'm never looking back, no
Its time to make a new plan up again
Things have never looked so clear
I'm never looking back, no
Time to make a new plan up again
'Cause I can see the sun rise on my way
I can see the road rise to meet me
I can feel the earth underneath my feet
And I can see the stars on top of me
And I say don't ever come down, come down
I need your light now, right now
Don't ever come down, come down
I need your light now, right now
And it feels like life is taking over
It feels like it's meant to be
And it feels like life is taking over
It feels like it's meant to be
Well it was true when I said it
I'd rather forget it
Well the past don't matter now
You think I owe you, but I gotta go
You see the past don't matter now
And it feels like life is taking over
It feels like it's meant to be
And it feels like life is taking over
It feels like it's meant to be
Overall Meaning
The lyrics of "Meant to Be" by Rebelution feat. Jacob Hemphill are about moving forward and making new plans even if it means leaving the past behind. The song talks about the freedom and clarity that comes with letting go of the past and embracing new beginnings. The verses describe the beauty of nature and being present in the moment while the chorus expresses the feeling that life is taking over and things are meant to be.
The lines "Well it was true when I said it, I'd rather forget it" show that the narrator acknowledges the past but is determined to move on. The repeated line "don't ever come down, come down, I need your light now, right now" is a cry for help and guidance through the uncertainties of starting anew. The overall message is about trusting the journey and having faith that everything happens for a reason.
The song also features a reggae influence in its sound, with smooth guitar riffs and upbeat drums that create a relaxed yet energized atmosphere. The vocals of both Rebelution and Jacob Hemphill complement each other and add depth to the song's message of hope and renewal.

Line by Line Meaning
I can see the sun come up
A new day is beginning and it's time to start fresh
Time to get away from here
Leaving the past behind and moving on
Time to make a new plan up again
Making new goals and plans for the future
Water never felt this good
Embracing the present moment and feeling alive
Air it never felt so pure
Feeling refreshed and free
Well it was true when I said it
Standing by one's words and taking accountability
I'd rather forget it
Not wanting the past to weigh down on the present
Well the past don't matter now
Moving on from past mistakes and not dwelling on them
You think I owe you, but I gotta go
Rejecting feelings of obligation and choosing to prioritize personal growth
And it feels like life is taking over
Experiencing change and growth that is out of one's control
It feels like it's meant to be
Trusting the journey and believing in destiny
I can see the sun rise on my way
Feeling excited and hopeful for the future
I can see the road rise to meet me
Believing in one's ability to overcome obstacles and reach goals
I can feel the earth underneath my feet
Feeling grounded and connected to the natural world
And I can see the stars on top of me
Feeling awed and inspired by the vastness of the universe
And I say don't ever come down, come down
Not wanting to lose the feeling of hope and optimism
I need your light now, right now
Craving positivity and hope in the present moment
Now that I have come so far
Reflecting on personal growth and progress
I'm never looking back, no
Choosing to focus on the present and future rather than dwelling on the past
Things have never looked so clear
Understanding one's path and feeling clarity moving forward
Lyrics © Sony/ATV Music Publishing LLC, Warner/Chappell Music, Inc.
Written by: SARAH ANNE DAVIDSON, BRIAN WHITE, KAREN WILLIAMS

Lyrics Licensed & Provided by LyricFind
To comment on or correct specific content,
highlight it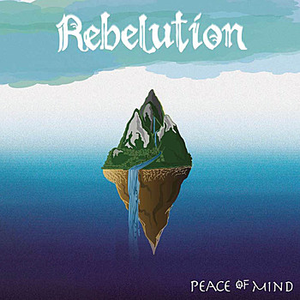 On Jan 10th, 2012 the Santa Barbara, CA based band Rebelution released "Peace of Mind" through their own label 87 Music in partnership with Controlled Substance Sound Labs. Peace of Mind was released as a multi-length triple album which includes Peace of Mind: Acoustic as well as Peace of Mind: Dub. Marking the highest chart debut of Rebelution's career, Peace of Mind debuted at #13 on the Billboard Top 200, #1 Reggae and #1 Independent albums as well as #4 on the iTunes overall album chart.
Read Full Bio
On Jan 10th, 2012 the Santa Barbara, CA based band Rebelution released "Peace of Mind" through their own label 87 Music in partnership with Controlled Substance Sound Labs. Peace of Mind was released as a multi-length triple album which includes Peace of Mind: Acoustic as well as Peace of Mind: Dub. Marking the highest chart debut of Rebelution's career, Peace of Mind debuted at #13 on the Billboard Top 200, #1 Reggae and #1 Independent albums as well as #4 on the iTunes overall album chart. The band previously had four top 10 albums on the Reggae chart and their 2009 release Bright Side of Life debuted at No. 54 on the Top 200 and #1 Reggae.

Rebelution kicked off their "Peace of Mind Tour" the day after the release, selling out shows at Philly's The Electric Factory, The Hollywood Palladium, Denver's The Fillmore, The Fox Theater in Oakland and Hard Rock in Orlando, FL. The tour made stops in a total of 42 cities across the country.

Summer 2012 was spent supporting O.A.R on their Amphitheatre tour, headlining four amphitheaters in Florida as well as festival performances at Outside Lands, Hangout, Forecastle, Summer Camp, Summer Set, The Allman Bro's Peach Festival and two performances at Red Rocks Amphitheatre. After completing a Fall tour of the East and South East, Rebelution will be headlining The Hollywood Palladium on New Years Eve, heading to New Zealand for the Raggamuffins Festival in February and headlining their annual Winter Greens Tour around the USA in Feb - May 2013.

Peace of Mind marks the first time Rebelution has expanded beyond their usual self-production enlisting producers Michael Goldwasser (Easy Star All-Stars), Amp Live (Zion-I), Yeti Beats (Kool Keith, George Clinton), Keith Armstrong and Errol Brown (Stephen, Ziggy, Damian, and Bob Marley). The album builds upon the band's signature style while venturing into new musical genres from the lush strings incorporated into the gentle "Route Around" to the driving guitar and synths throughout "Lady In White".

Rebelution has developed into a front-runner for grassroots, independent and tour driven music groups. Originally formed in 2004, members Eric Rachmany (vocals / guitar), Rory Carey (keyboards), Wesley Finley (drums), and Marley D. Williams (bass) met in college, while residing in Isla Vista, a popular beachside community in Santa Barbara. It was there that the seeds to Rebelution's future were planted creating inspiring and engaging music that would leave their listeners with the sense that they have the power to make this world a better place. The band continuously tours across the country, ventured to South America and Europe, and has previously performed at Bonnaroo, Lollapalooza and Austin City Limits among others.

Contact:
Management: Silverback Artist Management / Raise Up Music
Dean Raise – dean@raiseupentertainment.com
Jon Phillips – Jon@silverbackmusic.net

Booking – Paradigm Agency
Aaron Pinkus – apinkus@paradigmagency.com

Jamie Simone
PFA Media
jsimone@pfamedia.net
212-334-6116
Genre not found
Artist not found
Album not found
Search results not found
Song not found