I was not created
In the likeness of a fraud
Your hell is something scary
I prefer a loving god
We are not the center
Of this funny universe
And what is something worse
I do not serve
In fear of such a curse
Shallow be thy game
Two thousand years look in the mirror
You play the game of shame
And tell your people live in fear
A rival to the way you see
The bible let him be
I'm a threat to your survival
And your control company
You'll never burn me
You'll never burn me
I'll be your heretic
You can't contain me
I am the power free
Truth belongs to everybody
To anyone who's listenin'
You're not born into sin
The guilt they try and give you
Puke it in the nearest bin
Missionary madness
Sweep up culture with a broom
Trashing ancient ways
Is par for the course
It's fucking rude
To think that you're above
The laws of nature is a joke
Purple sashes feeding masses
Smoke on which to choke
I might be a monkey
When it comes to being holy
Fundamental hatred
Get down on your knees and
You'll never burn me
You'll never burn me
I'll be your heretic
You can't contain me
I am the power free
Truth belongs to everybody
Lyrics © MoeBeToBlame
Written by: MICHAEL BALZARY, ANTHONY KIEDIS, DAVID MICHAEL NAVARRO, CHAD SMITH

Lyrics Licensed & Provided by LyricFind
To comment on specific lyrics,
highlight them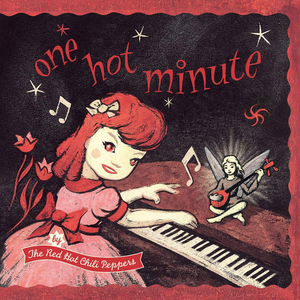 "Shallow Be Thy Game" is a song by the Red Hot Chili Peppers from their 1995 album One Hot Minute. It was released as a single only in Australia, bearing the same photograph on the front cover as the "Coffee Shop" single released in the rest of the world.
The song speaks against missionaries pushing their ideas on people who don't want them, and the song's name itself is a derogatory pun on the Christian phrase "Hallowed be thy Name" from the Lord's Prayer.

The original working title for "Shallow Be Thy Game" was called "Epic."
Genre not found
Artist not found
Album not found
Search results not found
Song not found