Jump to: Overall Meaning | Line by Line Meaning
I was not created
In the likeness of a fraud
Your hell is something scary
I prefer a loving god
We are not the center
Of this funny universe
And what is something worse
I do not serve
In fear of such a curse
Shallow be thy game
Two thousand years look in the mirror
You play the game of shame
And tell your people live in fear
A rival to the way you see
The bible let him be
I'm a threat to your survival
And your control company
You'll never burn me
You'll never burn me
I'll be your heretic
You can't contain me
I am the power free
Truth belongs to everybody
To anyone who's listenin'
You're not born into sin
The guilt they try and give you
Puke it in the nearest bin
Missionary madness
Sweep up culture with a broom
Trashing ancient ways
Is par for the course
It's fucking rude
To think that you're above
The laws of nature is a joke
Purple sashes feeding masses
Smoke on which to choke
I might be a monkey
When it comes to being holy
Fundamental hatred
Get down on your knees and
You'll never burn me
You'll never burn me
I'll be your heretic
You can't contain me
I am the power free
Truth belongs to everybody
Overall Meaning
The lyrics to Red Hot Chili Peppers' song "Shallow Be Thy Game" convey a sense of rebellion against organized religion and the notion of being born into sin. The chorus speaks of rejecting the control that religion attempts to exert over individuals, with the lines "You play the game of shame / And tell your people live in fear" highlighting the fear tactics often used by religious institutions. The song suggests that there is something fundamentally wrong with the way religion operates, referring to it as "missionary madness" that seeks to sweep up culture with a broom and trashes ancient ways. The lines "The guilt they try and give you / Puke it in the nearest bin" are an emphatic rejection of the idea that humans are inherently sinful, with the speaker encouraging listeners to reject the guilt and fear that religion attempts to instill in them.
The second verse takes on the idea that religion is the one true path, suggesting that there are other ways of looking at the world that are just as valid. The line "A rival to the way you see / The bible let him be" highlights the idea that religion does not have a monopoly on truth, and that there are other ways of navigating the world that can be just as valid. The song is a call to reject religious dogma and embrace a more open-minded approach to spirituality and morality, with the speaker asserting their right to think freely and reject the narrow-minded worldview that religion can seek to impose.

Line by Line Meaning
I was not created
I was not made in the likeness of a fraud.
In the likeness of a fraud
In the likeness of someone who is deceitful or dishonest.
Your hell is something scary
The concept of your hell is terrifying.
I prefer a loving god
I believe in a kind and compassionate god.
We are not the center
Humans are not the most important thing in the universe.
Of this funny universe
Of this strange, peculiar cosmos.
And what is something worse
And what is even worse.
I do not serve
I do not worship or follow blindly.
In fear of such a curse
Out of fear of a supposed divine punishment.
Shallow be thy game
Your beliefs and convictions are superficial and shallow.
Two thousand years look in the mirror
Reflect on two millennia of religious dogma.
You play the game of shame
You use guilt and fear to control people.
And tell your people live in fear
And you instruct your followers to exist in a constant state of terror.
A rival to the way you see
A challenger to your religious worldview.
The Bible let him be
Let him interpret the Bible in his own way.
I'm a threat to your survival
I pose a danger to your survival as an institution.
And your control company
And your organization that seeks to control people.
You'll never burn me
You will never silence me or destroy me.
I'll be your heretic
I will be seen as a dissenter or outsider to your beliefs.
You can't contain me
You cannot limit or restrict me.
I am the power free
I am a free agent who possesses power.
Truth belongs to everybody
The truth is accessible and relevant to all individuals.
To anyone who's listenin'
To anyone who is paying attention.
You're not born into sin
You are not inherently sinful from birth.
The guilt they try and give you
The feelings of shame and blame that they try to impose on you.
Puke it in the nearest bin
Get rid of it and reject those negative emotions.
Missionary madness
The irrational and harmful zeal of religious converters.
Sweep up culture with a broom
The destruction of cultural traditions and practices in the name of religious purity.
Trashing ancient ways
Disrespecting and disregarding time-honored customs and beliefs.
Is par for the course
Is typical or expected behavior from religious zealots.
It's fucking rude
It is exceedingly disrespectful.
To think that you're above
To believe that you are greater or more important than.
The laws of nature is a joke
Is a ridiculous and misguided notion.
Purple sashes feeding masses
Elaborate and luxurious clothing worn by religious leaders who exploit their followers.
Smoke on which to choke
The deceptive and suffocating ideologies that they spread.
I might be a monkey
I may be seen as crude or primitive.
When it comes to being holy
But being sanctified is not my priority.
Fundamental hatred
The intense aversion to those who do not conform to strict religious doctrine.
Get down on your knees and
Bow down and surrender.
Lyrics © MoeBeToBlame
Written by: MICHAEL BALZARY, ANTHONY KIEDIS, DAVID MICHAEL NAVARRO, CHAD SMITH

Lyrics Licensed & Provided by LyricFind
To comment on or correct specific content,
highlight it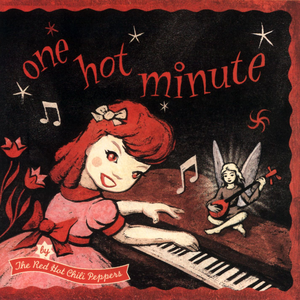 "Shallow Be Thy Game" is a song by the Red Hot Chili Peppers from their 1995 album One Hot Minute. It was released as a single only in Australia, bearing the same photograph on the front cover as the "Coffee Shop" single released in the rest of the world.
The song speaks against missionaries pushing their ideas on people who don't want them, and the song's name itself is a derogatory pun on the Christian phrase "Hallowed be thy Name" from the Lord's Prayer.

The original working title for "Shallow Be Thy Game" was called "Epic."
Genre not found
Artist not found
Album not found
Search results not found
Song not found