Was gonna call my friends and get'em all together
I was gonna go and start a band
But everything I want to do has already been done.
Why would I want to go and do it again?
Everybody, plays guitar.
She's so cute (if you know what I mean)
She's the cutest little girl that I've ever seen
Maybe she'll like me if I play guitar
Maybe she'll like me if I'm the lead singer yea
Oh yea! there's so many bands, and we all look the same
I just saw them, up on stage and I don't
Remember how good they played.
He can't sing,
But I'd pay just to see her face, yea, yea, yea, yea
Everybody's in a band yea, yea, yea
Have you heard of my band? oh, oh, oh
We try to be different
But I guess that's nothing new.
Lyrics © Universal Music Publishing Group
Written by: AARON BARRETT, TAVIS JEREMY WERTS

Lyrics Licensed & Provided by LyricFind
To comment on specific lyrics,
highlight them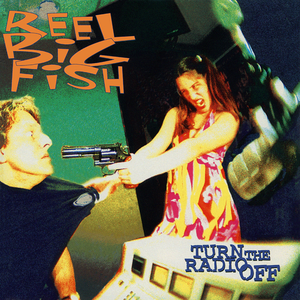 Reel Big Fish ("RBF") is a ska punk band from Huntington Beach, California, United States who broke into the mainstream in the mid to late 1990s, formed in 1992.

Their debut album, "Everything Sucks" (1995), was an underground hit and led to a deal with Mojo Records (see also Mojo), an indie label. "Turn the Radio Off" (1996) established the band in the underground music scene, and they began touring throughout the USA. After the single "Sell Out" began breaking into the mainstream, including MTV, the album made an appearance on the charts.
Read Full Bio
Reel Big Fish ("RBF") is a ska punk band from Huntington Beach, California, United States who broke into the mainstream in the mid to late 1990s, formed in 1992.

Their debut album, "Everything Sucks" (1995), was an underground hit and led to a deal with Mojo Records (see also Mojo), an indie label. "Turn the Radio Off" (1996) established the band in the underground music scene, and they began touring throughout the USA. After the single "Sell Out" began breaking into the mainstream, including MTV, the album made an appearance on the charts. The ska revival was short-lived, however, and "Why Do They Rock So Hard?" (1998) did not lead the group to the mainstream.

Reel Big Fish released "Cheer Up" (2002) which began a movement into harder rock and pop sounds, with much less ska than the previous albums. The song "Where Have You Been?" was aimed at a wider audience, trying to drop the less popular ska sound, but was met with little mainstream success, despite the video. Their second most recent studio album was "We're Not Happy Until You're Not Happy" (2005).

They recently released "Our Live Album is Better Than Your Live Album" (2006) which includes 2 discs worth or their own tunes and a few covers of popular songs along with a DVD. They have worked on the soundtrack to BASEketball, which included a cover of A-Ha's Take On Me.

In 2006, they split from Jive records, who produced a "Best of" album against the will of the band, who could not prevent the release. The band has made a campaign to try and stop people buying the album.

Their 7th album "Monkeys For Nothing and the Chimps For Free" (2007) includes some songs that were previously recorded and released on other albums. It was also the first album with the band's new label, Rock Ridge Records.

In 2009, they released "Fame, Fortune, and Fornication" an album composed of covers of older songs, including "Won't Back Down" by Tom Petty, and "Nothin' But a Good Time" by Poison.

In 2012, Reel Big Fish released "Candy Coated Fury", which is their second album on Rock Ridge Records. This album was met with heavy amounts of criticism from fans and reviewers alike. PunkNews.org gave the album a 2/10.

in 2014, they released "Happy Skalidays", a holiday themed EP.

Their current release is 2018's "Life Sucks... Let's Dance!", which gained generally positive reviews from fans and critics.

Current members:

Aaron Barrett - guitar, lead vocals (1992–present)
Dan Regan - trombone, backing vocals (1994–present)
John Christianson - trumpet, backing vocals (2004–present)
Ryland Steen - drums (2005–present)
Derek Gibbs - bass guitar (2007–present)

Past members:

Ben Guzman - vocals (1992–1994)
Zach Gilltrap - keyboards/synthesizers (1992–1994)
Lisa Smith - guitar (1992–1994)
Eric Vismantes - trumpet (1994)
Stephan Reed - saxophone (1994)
Robert Quimby - trombone (1994–1995)
Adam Polakoff - saxophone (1994–1995)
Grant Barry - trombone (1995–1998)
Andrew Gonzales - drums (1992–1998)
Tavis Werts - trumpet (1994–2001)
Carlos de la Garza - drums (1999–2003)
Tyler Jones - trumpet (2001–2004)
Justin Ferreira - drums (2003–2005)
Matt Wong - bass, backing vocals (1992–2007)
Scott Klopfenstein - trumpet, guitar, keyboards, backing vocals (1995–2011)
Genre not found
Artist not found
Album not found
Search results not found
Song not found