I sprang from my chair,
I was annoyed since I'd sat opposite You all the morning
I have heard you say, there are no data
I could hardly keep from smiling at you.
In my atmosphere, gazing at the dial
If I remember, you made enquiries.
Why, of course, I know you're right on both points
But how in "the name" did you get these facts?
Was it not guesswork based on my habits?
"No, I never guess" was all that you said.
More suggestive facts: your brother is careless,
So hence the cocaine
Where is the mystery? That is wonderful,
You can say for sure
It was on the impulse
You said nothing more
Medical Man
Contributed by Katherine F. Suggest a correction in the comments below.
To comment on specific lyrics,
highlight them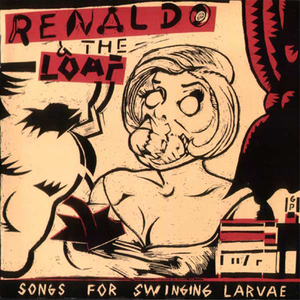 Renaldo & the Loaf is a musical duo from Portsmouth, England, initially active in the late seventies and most of the eighties, consisting of a pathologist (David Janssen or "Ted The Loaf") and an architect (Brian Poole or "Renaldo Malpractice", most often simply "Renaldo M").

Of all the groups that the Residents signed to their Ralph Records, Renaldo & the Loaf were the closest to their label heads in sound. Twisted, high-pitched vocals, child-like melodies
Read Full Bio
Renaldo & the Loaf is a musical duo from Portsmouth, England, initially active in the late seventies and most of the eighties, consisting of a pathologist (David Janssen or "Ted The Loaf") and an architect (Brian Poole or "Renaldo Malpractice", most often simply "Renaldo M").

Of all the groups that the Residents signed to their Ralph Records, Renaldo & the Loaf were the closest to their label heads in sound. Twisted, high-pitched vocals, child-like melodies, an atmosphere of menace and unease with a stripped-down approach to instrumentation characterised their output.

By their own assertion, they achieved their unique sound in part by striving to get unnatural synthesizer-like sounds using only what instruments they had available (acoustic ones.) To that end they routinely used muffled and de-tuned instruments, and often to striking effect, tape loops/manipulation. The two released four full-length albums, one collection, various songs on compilation albums, and several self-produced demos. They were "discovered" by The Residents when Brian dropped off a tape at Ralph Records headquarters in San Francisco, during a visit to the US. After being signed to Ralph, they collaborated with The Residents on Title in Limbo.

By 1989, the collaboration had lost its steam, and the duo disbanded after recording a sea shanty, "Haul on the Bowline," which appeared only on a Ralph various artists release. Brian Poole ("Renaldo") contributed to sporadic recordings in the 1990s. In 2006 upon the launch of the new Renaldo & the Loaf web site, the duo were reunited for the first time in the better part of two decades.

In October of 2016 they released their first studio album in 29 years, entitled "Gurdy Hurding". Vienna Label Klanggalerie has since re-issued all their albums. In June 2018 Renaldo & The Loaf played their very first genuine live show at Klanggalerie's 25th anniversary in Vienna, documented in the album "Long Time Coming."

External Links:
Website
Renaldo & the Loaf Myspace
The Loaf's Myspace
Renaldo's Myspace
Genre not found
Artist not found
Album not found
Search results not found
Song not found