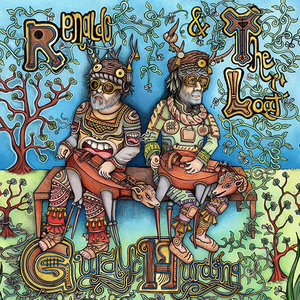 Renaldo & the Loaf is a musical duo from Portsmouth, England, initially active in the late seventies and most of the eighties, consisting of a pathologist (David Janssen or "Ted The Loaf") and an architect (Brian Poole or "Renaldo Malpractice", most often simply "Renaldo M").

Of all the groups that the Residents signed to their Ralph Records, Renaldo & the Loaf were the closest to their label heads in sound. Twisted, high-pitched vocals, child-like melodies
Read Full Bio
Renaldo & the Loaf is a musical duo from Portsmouth, England, initially active in the late seventies and most of the eighties, consisting of a pathologist (David Janssen or "Ted The Loaf") and an architect (Brian Poole or "Renaldo Malpractice", most often simply "Renaldo M").

Of all the groups that the Residents signed to their Ralph Records, Renaldo & the Loaf were the closest to their label heads in sound. Twisted, high-pitched vocals, child-like melodies, an atmosphere of menace and unease with a stripped-down approach to instrumentation characterised their output.

By their own assertion, they achieved their unique sound in part by striving to get unnatural synthesizer-like sounds using only what instruments they had available (acoustic ones.) To that end they routinely used muffled and de-tuned instruments, and often to striking effect, tape loops/manipulation. The two released four full-length albums, one collection, various songs on compilation albums, and several self-produced demos. They were "discovered" by The Residents when Brian dropped off a tape at Ralph Records headquarters in San Francisco, during a visit to the US. After being signed to Ralph, they collaborated with The Residents on Title in Limbo.

By 1989, the collaboration had lost its steam, and the duo disbanded after recording a sea shanty, "Haul on the Bowline," which appeared only on a Ralph various artists release. Brian Poole ("Renaldo") contributed to sporadic recordings in the 1990s. In 2006 upon the launch of the new Renaldo & the Loaf web site, the duo were reunited for the first time in the better part of two decades.

In October of 2016 they released their first studio album in 29 years, entitled "Gurdy Hurding". Vienna Label Klanggalerie has since re-issued all their albums. In June 2018 Renaldo & The Loaf played their very first genuine live show at Klanggalerie's 25th anniversary in Vienna, documented in the album "Long Time Coming."

External Links:
Website
Renaldo & the Loaf Myspace
The Loaf's Myspace
Renaldo's Myspace
Genre not found
Artist not found
Album not found
Search results not found
Song not found
We have lyrics for 'Optimism' by these artists:



ANIMA! And I'm here again Caught my head in a place somewhere…
Jana Horn Asking you what′s on your mind Can't tell if you′re quiet…
Morgan McKie Am I losing my mind? Am I going crazy? The only memories…



We have lyrics for these tracks by Renaldo & the Loaf:



A Critical Dance your leg's too long your skull's too strong suppose your n…
A Medical Man I sprang from my chair, I was annoyed since I'd sat…
A Sob Story He gets around in a wheelchair Sometimes I push to show…
A Street Called Straight On a street called Straight they dress in black and…
B.P.M. Bet you didn't know today Bet you didn't know today Bet yo…
Bearded Cats We're in a bar, playing guitar Playing to the clientele If…
Dichotomy Rag Ooo eee! Who wants to be A dichotomy And paradoxically U…
Green Candle Cigarettes in secret societies Special hides in tin pan all…
Hambu Hodo He fat o san di o su He on sho way…
Here's to the oblong boys If trivia seems the main concern And uncertainty sets the h…
Honest Joe's Indian Home on the range Homer's deranged Joe's got a goat Joe…
Is Guava a Donut Excuse me Excuse me, could you tell me please Excuse me sir …
Kinbolton Gnome Song See the man in the garden, The one with the balding…
Like Some Kous-Kous Western joey hit the desert when the sun was high with the…
Lime Jelly Grass ?stcaf eseht teg uoy did "eman eht" ni woh tuB Stniop…
Lonely Rosa rosa, o lonely rosa she keeps her mind out of all…
Nelda Danced at Daybreak oft thought i'd never say is night something like a day? s…
Ow! Stew The Red Shoe Boom boom, Crash crash Ratatatat He knew it by heart a…
Spratt's Medium You used to hold the chair too high What'll I do,…
Ted's Reverie Lights out, Ted's asleep Ooh! deep, deep, deep Indulging i…
The Bathroom Song Bathroom mirror's upside down Ceiling has a crack. Tap w…
The Bread Song The thought of fresh bread drives me crazy Brown, crisp rol…
The Elbow is Taboo He want to see it He want to smell it He want…
There's a Cap on the Lawn there are two men at our window they are rendering the…
Vitamin Song his eyes are glazed, his cheeks are thin he's not been…

We have lyrics for these tracks by Renaldo:

Is Guava a Donut? Excuse me Excuse me, could you tell me please Excuse me sir …

The lyrics can frequently be found in the comments below or by filtering for lyric videos.