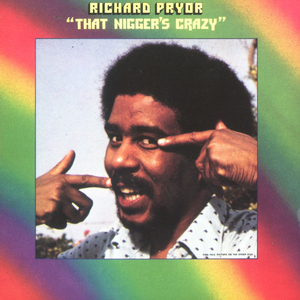 Richard Franklin Lennox Thomas Pryor III (December 1, 1940 – December 10, 2005) was an American comedian, actor, and writer.

Pryor was a storyteller known for unflinching examinations of racism and customs in modern life, and was well-known for his frequent use of colorful language, vulgarities, and racial epithets as "nigga", "honky," "cracker," and "motherfucker." He reached a broad audience with his trenchant observations, although public opinion of his act was often divided.
Read Full Bio
Richard Franklin Lennox Thomas Pryor III (December 1, 1940 – December 10, 2005) was an American comedian, actor, and writer.

Pryor was a storyteller known for unflinching examinations of racism and customs in modern life, and was well-known for his frequent use of colorful language, vulgarities, and racial epithets as "nigga", "honky," "cracker," and "motherfucker." He reached a broad audience with his trenchant observations, although public opinion of his act was often divided. He is commonly regarded as the most important stand up comedian of his time: Jerry Seinfeld called Pryor "The Picasso of our profession";[1] Whoopi Goldberg cited him as her biggest influence, stating "The major influence was Richard - I want to say those things he's saying."

His body of work includes such concert movies and recordings as Richard Pryor: Live and Smokin' (1971), That Nigger's Crazy (1974), ...Is It Something I Said? (1975), Bicentennial Nigger (1976), Richard Pryor: Live in Concert (1979), Richard Pryor: Live on the Sunset Strip (1982) and Richard Pryor: Here and Now. He also starred in numerous films as an actor, usually in comedies such as Silver Streak, but occasionally in dramatic roles, such as Paul Schrader's film Blue Collar. He also collaborated on many projects with actor Gene Wilder. He won an Emmy Award in 1973, and five Grammy Awards in 1974, 1975, 1976, 1981, and 1982. In 1974, he also won two American Academy of Humor awards and the Writers Guild of America Award. In 2004, Pryor was voted the greatest stand-up of all time by Comedy Central.

Biography

Early life and career

Born on December 1, 1940 in Peoria, Illinois, Pryor grew up in his grandmother's brothel, where his mother, Gertrude L. Thomas, practiced prostitution. His father, LeRoy "Buck" Pryor (a.k.a. Buck Carter) was a former bartender, boxer, and World War II veteran who worked as his wife's pimp. After his mother deserted him when he was 10, he was raised primarily by his grandmother, Marie Carter. As a small child, Pryor was molested by a neighbor and a priest.[2]

He was expelled from school at age 14, and began working various odd jobs. His first professional performance was playing drums at a night club. From 1958 to 1960, Pryor served in the U.S. Army but spent virtually that entire stint in an army prison. According to a 1999 profile about Pryor in The New Yorker, Pryor was incarcerated for an incident that occurred while stationed in Germany. Annoyed that a white soldier was a bit too amused at the racially charged sections of Douglas Sirk's movie Imitation of Life, Pryor and some other black soldiers beat and stabbed the white soldier (not fatally).[3]

In 1963, Pryor moved to New York City and began performing regularly in clubs alongside performers such as Bob Dylan and Woody Allen. On one of his first nights he opened for singer and pianist Nina Simone at the Village Gate. Simone about this:
" He shook like he had malaria, he was so nervous. I couldn't bear to watch him shiver, so I put my arms around him there in the dark and rocked him like a baby until he calmed down. the next night was the same, and the next, and I rocked him each time.[4] "

Inspired by Bill Cosby, Pryor began as a middlebrow comic far less controversial than what was to come. Soon, he began appearing regularly on television variety shows such as The Ed Sullivan Show and The Tonight Show. His popularity led him to become a rather successful comic in Las Vegas. The first five tracks on the 2005 compilation CD Evolution/Revolution: The Early Years (1966-1974), recorded in 1966 and 1967, capture Pryor in this era.

In September 1967, Pryor had what he called in his autobiography Pryor Convictions an "epiphany" when he walked onto the stage at the Aladdin Hotel in Las Vegas (with Dean Martin in the audience), looked at the sold-out crowd, said over the microphone "What the fuck am I doing here!?", and walked off the stage. Afterward, Pryor began working at least mild profanity into his act, including the word "nigger". His first comedy recording, the eponymous 1968 debut release on the Dove/Reprise label, captures this particular period, tracking the evolution of Pryor's routine. It was around this time that his parents died-his mother in 1967 and his father in 1968.

What he thought was his first child was a girl named Renee. Years later however, he found out that this was not his child. In 1960, he married Patricia Price and they had one child together, Richard Jr. (his first child and first son) They divorced in 1961. In 1967, his second child and first daughter, Elizabeth Ann, was born to his girlfriend Maxine Anderson. Later that year, he married Shelly Bonus. In 1969, his third child and second daughter Rain Pryor was born. Pryor and Bonus divorced later that year.

Mainstream success

In 1969, Pryor moved to Berkeley, California, where he immersed himself in the counterculture and rubbed elbows with the likes of Huey P. Newton and Ishmael Reed. He signed with the comedy-centric independent record label Laff Records in 1970 and recorded his second album in 1971, Craps (After Hours). In 1972, the relatively unknown comedian appeared in his first film, a documentary entitled Wattstax, where he riffed on the tragic-comic absurdities of race relations in Watts and the nation. Not long afterward, Pryor sought a deal with a larger label, and after some time, signed with Stax Records. His third, breakthrough album, That Nigger's Crazy, was released in 1974 and, Laff, who claimed ownership of Pryor's recording rights, almost succeeded in getting an injunction to prevent the album from being sold. Negotiations led to Pryor's release from his Laff contract. In return for this concession, Laff was enabled to release previously unissued material, recorded between 1968 and 1973, at will.

During the legal battle, Stax briefly closed its doors. It was at this time that Pryor returned to Reprise/Warner Bros. Records, which re-released That Nigger's Crazy immediately after ...Is It Something I Said?, his first album with his new label. With every successful album Pryor recorded for Warner Bros. (or later, his concert films and his 1980 free-basing accident), Laff would quickly publish an album of older material to capitalize on Pryor's growing fame — a practice the label would continue until 1983.

In the 1970s, he wrote for such television shows as Sanford and Son, The Flip Wilson Show and a Lily Tomlin special, for which he shared an Emmy Award. Pryor also made an attempt to break into mainstream television during this period. In 1974 he was arrested for income tax evasion and served 10 days in jail. He was a guest host on the first season of Saturday Night Live, and his "racist word association" skit with Chevy Chase is frequently cited by TV critics as one of the funniest and most daring skits in SNL history (this sketch was replayed on the season 31 episode hosted by Alec Baldwin, which first aired on the day Pryor died). The Richard Pryor Show premiered on NBC in 1977 but after only four shows, the series was cancelled. Television was not ready for the show's controversial subject matter, and Pryor was not ready to alter the content of his material to meet the demands of network censors. During the short-lived series, he portrayed the first African-American President of the United States and in another skit, used costumes and visual distortion to appear nude.

In 1977, he married actress Deborah McGuire and they divorced in 1978. He soon began dating Jennifer Lee and they married in 1981. They divorced the following year.

Very successful and towards the height of his success, Pryor visited Africa in 1979. Upon returning to the United States, Pryor swore he would never use the word "nigger" in his stand-up comedy routine again. (His favorite epithet, "motherfucker", remains a term of endearment on his official website.)

In 1983, Pryor signed a five-year contract with Columbia Pictures for $40,000,000.[5]

Pryor appeared in several popular films, including Lady Sings the Blues; The Mack; Uptown Saturday Night; Silver Streak; Which Way Is Up?; Car Wash; Superman III (which earned Pryor $4,000,000); Brewster's Millions; Stir Crazy; Jo Jo Dancer, Your Life Is Calling; Moving; and See No Evil, Hear No Evil. He also took part in The Toy, one of Jackie Gleason's last projects. Though he made four films with Gene Wilder, the two comic actors were never as close as many thought according to Wilder's autobiography.

Pryor also co-wrote Blazing Saddles directed by Mel Brooks and starring Gene Wilder. Pryor was to play the lead role of Bart, but the film's production studio would not insure him, and Mel Brooks chose Cleavon Little instead. Before his infamous 1980 free-basing accident, Pryor was about to start filming Mel Brooks' History of the World, Part I, but was replaced at the last minute by Gregory Hines. Pryor was also originally considered for the role of Billy Ray Valentine on Trading Places (1983), before Eddie Murphy ultimately won the part.

Despite a reputation for profanity, Pryor briefly hosted a children's show on CBS in 1984 called Pryor's Place. Like Sesame Street, Pryor's Place featured a cast of puppets, hanging out and having fun in a surprisingly friendly inner city environment along with several children and characters portrayed by Pryor himself. However, Pryor's Place frequently dealt with more sobering issues than Sesame Street. It was cancelled shortly after its debut, despite the efforts of famed puppeteers Sid and Marty Krofft and a theme song by Ray Parker Jr. of Ghostbusters fame to ensure its success.

Pryor co-hosted the Academy Awards twice, and was also nominated for an Emmy for a guest role on the television series, Chicago Hope.

The freebasing incident and its aftermath

On June 9, 1980, Pryor set himself on fire while freebasing cocaine. He ran down Parthenia Street from his Northridge, California home until subdued by police, with burns over 50 percent of his body. Pryor spent six weeks in recovery at the Grossman Burn Center at Sherman Oaks Hospital. Pryor made this part of his heralded "final" stand up show Richard Pryor: Live on the Sunset Strip (1982). After joking that the incident was actually caused when he dunked a cookie into a glass containing two different types of milk, he gave a poignant yet funny account of his accident and recovery, then poked fun at people who told jokes about it by waving a lit match and saying "What's this? It's Richard Pryor running down the street." Interviewed in 2005, his wife Jennifer Lee Pryor said that Pryor poured high-proof rum over his body and torched himself in a drug psychosis.[citation needed] His daughter, Rain Pryor also stated this in an interview in People Magazine.[6] In a TV interview with Barbara Walters during his recovery, Pryor said that he tried to commit suicide. He claimed that his managers and lawyers created the "accident" lie in the belief that it would be less damning than a suicide attempt[citation needed]. Regardless of the incident's origins, Pryor continued his tradition of mining comedy out of the most intensely personal events. One of his jokes about this subject was
" When you're running down the street on fire, people get out of your way. "

Fellow comedian George Carlin made reference to this incident during his Carnegie Hall performance in 1983:
" An update on the comedian health sweepstakes. I currently lead Richard Pryor in heart attacks 2 to 1. But Richard still leads me 1 to nothing in burning yourself up. See, it happened like this. First Richard had a heart attack. Then I had a heart attack. Then Richard burned himself up. And I said, 'Fuck that. I'm having another heart attack!' "

He did not stay away from stand-up comedy very long though — in 1983 he filmed and released a new concert film and accompanying album, Here And Now, which he directed himself. He then wrote and directed a fictionalized account of his life, Jo Jo Dancer, Your Life Is Calling. Interestingly, Jo Jo Dancer depicted a suicide attempt by the main character in which he douses himself in rum and ignites himself.

In 1984, his fourth child and second son, Steven, was born to his girlfriend Flynn Belaine. Pryor married Belaine in October 1986. They divorced in July 1987. Before their divorce was final, Belaine conceived Kelsey Pryor. Meanwhile, another of Richard's girlfriends, Geraldine Mason gave birth to Franklin Mason in April 1987 (his fifth child and third son). Six months later (October 1987), Belaine gave birth to Kelsey Pryor (Richard's sixth child and third daughter).

Fight with multiple sclerosis

In 1991, Pryor announced that he had been suffering from multiple sclerosis since 1986. In response to giving up drugs after being diagnosed with multiple sclerosis, he said:
" God gave me this M.S. shit to save my life. "

In 1992, he gave some final live performances, excerpts of which appear on the ...And It's Deep Too! box set. He continued to make occasional film appearances, pairing with Gene Wilder one last time in the unsuccessful 1991 comedy, Another You (in which his physical deterioration was noted by many critics). His final film appearance was a small role in the David Lynch film Lost Highway in 1997; by then, Pryor was wheelchair bound.

Marriages

Richard Pryor was married seven times to five different women:

1. Patricia Price (1961 - 1967) (divorced) 1 child Richard Pryor Jr.
2. Shelly Bonus (1967 - 1969) (divorced) 1 child Rain Pryor
3. Deborah McGuire (22 September 1977 - 1979) (divorced)
4. Jennifer Lee (August 1981 - October 1982) (divorced)
5. Flynn Belaine (October 1986 - July 1987) (divorced) 1 child
6. Flynn Belaine (1 April 1990 - July 1991) (divorced) 1 child
7. Jennifer Lee (June 2001 - 10 December 2005) (his death)

Each of his marriages was characterised by accusations of domestic violence and spousal abuse except for his relationship with Belaine (with whom there were no allegations of physical abuse); most of the allegations of abuse were connected to Pryor's drug use. The exception to this rule was the Patricia Price who was married to Pryor before his rise to stardom. Deborah McGuire accused him of shooting her car with a .357 Magnum[citation needed] , but later dropped the charges (even though this was mentioned during one of Pryor's standup routines, Live in Concert). Lee accused him of beating and attempting to strangle her during their first marriage[citation needed], and did not share his home after they remarried. During his relationship with actress Pam Grier, Pryor proposed to actress Deborah McGuire (1977).

He had six children: Richard Jr, Elizabeth, Rain, Steven, Franklin and Kelsey.

Later life

In 1998, Pryor became the first performer to win the inaugural Mark Twain Prize for American Humor from the John F. Kennedy Center for the Performing Arts. According to Former Kennedy Center President Lawrence J. Wilker,
" Richard Pryor was selected as the first recipient of the new Mark Twain Prize because as a stand-up comic, writer, and actor, he struck a chord, and a nerve, with America, forcing it to look at large social questions of race and the more tragicomic aspects of the human condition. Though uncompromising in his wit, Pryor, like Twain, projects a generosity of spirit that unites us. They were both trenchant social critics who spoke the truth, however outrageous. "

In 2000, Rhino Records remastered all of Pryor's Reprise and Warner Bros. albums for inclusion in the box set ...And It's Deep Too! The Complete Warner Bros. Recordings (1968-1992).

In 2001, he remarried Jennifer Lee who also had become his manager.

In 2002, Pryor and his wife/manager Jennifer Lee Pryor, won the legal rights to all of the Laff material; almost 40 hours of reel-to-reel analog tape. After going through the tapes and getting Richard's blessing, Jennifer Lee Pryor gave Rhino Records access to the Laff tapes in 2004. These tapes, including the entire Craps album, form the basis of the double-CD release Evolution/Revolution: The Early Years (1966-1974).

In 2003, a television documentary, Richard Pryor: I Ain't Dead Yet, #*%$#@!!, came out. It consisted of archival footage of Pryor's performances and testimonials from fellow comedians such as Dave Chappelle, Wanda Sykes and Denis Leary of the influence Pryor had on comedy.

In 2004, Pryor was voted #1 on Comedy Central's list of the 100 Greatest Stand-ups of All Time. In a 2005 British poll to find The Comedian's Comedian, Pryor was voted the 10th greatest comedy act ever by fellow comedians and comedy insiders.

His final performance was at the Circle Star Theater in San Carlos, California.

In his later years, Richard Pryor became a wheelchair user due to multiple sclerosis (M.S., which he said stood for "More Shit"). In late-2004, his sister claimed that Pryor lost his voice. However, on January 9, 2005, Pryor himself via Jennifer Lee, who placed all Pryor's quotes on his website rebutted this statement in a post on his official website,[8] citing Richard: "Sick of hearing this shit about me not talking... not true... good days, bad days... but I still am a talkin' motherfucker!"

Pryor was posthumously awarded the Grammy Lifetime Achievement Award in 2006.

Death

Pryor died of cardiac arrest at the age of 65 in Encino, California. He was pronounced dead at a local hospital at 7:58 a.m. Pacific Standard Time on December 10, 2005 just 9 days after his 65th birthday. He was brought to the hospital after his wife's attempts to resuscitate him failed. His wife was quoted as saying, "At the end, there was a smile on his face."

******************************

Taken from Wikipedia, where the rest of the public biography can be read.
Genre not found
Artist not found
Album not found
Search results not found
Song not found
Niggers Vs. The Police
Richard Pryor Lyrics
We have lyrics for these tracks by Richard Pryor:



Acid Malachi Crunch I Hate The Itching Acid Batman Hollywood! …
Ali Various Artists Aladdin Soundtrack Prince Ali (Reprise) (…
Being Born 2Pac F/ Above The Law Miscellaneous Words 2 My First Born …
Big Tits Big Tymers How You Luv That - Vol. 1 Big Tymers (Intro) "Big…
Black And Proud Sitting in your room, drinking your perfume Wondering which …
Chinese Restaurant M2m Miscellaneous Pretty Boy (chinese Version) Pretty Boy…
Eulogy Righteous Pigs Stress Related Eulogy We are gathered here to…
Gettin' High Sitting here chillin' with you (Yeah) You're getting close b…
Hospital Manic Street Preachers Gold Against The Soul Roses In The …
I Hope I'm Funny Now, e'rybody wanna be the king of the South When, they…
Just Us This is a very sensitive subject Just the two of us Just…
Monkeys Sesame Street Miscellaneous Rubber Duckie (Little Richard'…
Mudbone SHAGGY Miscellaneous It Wasn't Me (Remix)"(feat. Richard Duc…
Mudbone Goes to Hollywood Joel Billy Songs In The Attic Say Goodbye To Hollywood Bobby…
New Niggers Ooh First time was a great time Second time was a blast Thir…
New Year's Eve Maybe it's much too early in the game But I thought…
Niggers vs The Police Cops put a hurtin′ on yo' ass, man, you know?…
Our Gang 28 DAYS Miscellaneous Do Our Part all I fucking do is com…
Smells Sesame Street Miscellaneous Rubber Duckie (Little Richard's …
So You Wanted To See The Wizard So you wanted to meet the wizard Let me tell you…
The Goodnight Kiss Goodnight kiss in your nightgown Lavender in your bed So i…
Wino Dealing With Dracula Cliff Richard Miscellaneous With The Eyes Of A Child Draw…

The lyrics can frequently be found in the comments below or by filtering for lyric videos.