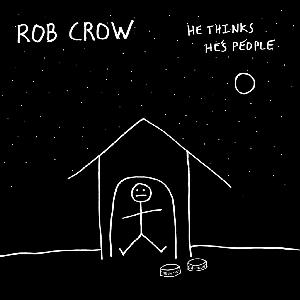 Rob Crow is an exceedingly prolific songwriter who has recorded under his own name, as well as in the bands Pinback, Heavy Vegetable, Thingy, Physics, Optiganally Yours, Goblin Cock, and The Ladies, among others.

Rob Crow's Myspace page: http://www.myspace.com/robcrowreally
Further information on Rob's many projects can be found at http://www.functionbad.com/robcrow
Genre not found
Artist not found
Album not found
Search results not found
Song not found
We have lyrics for 'Scalped' by these artists:



Grinspoon Urge those working, with such machinery To keep their hair …



We have lyrics for these tracks by Rob Crow:



A Subtle Kiss Everything, everywhere Lost, upset, and gone Sitting the…
Bam Bam My toe My foot is in the water My tongue My head is…
Beyond Him Smooth cliffs and concrete walls Smashed dreams in barren s…
Burns My absent friend burns in daylight These severed things Fa…
Catching the Trap Look down He don't like it Blue And I'm falling through…
Chucked Since the day of the decision Eating me inside out How the…
Curtains On Fire I'll see you later, man Nothing feels like this Curtains o…
Dict Taking the safe way, yeah Taking the Angelo's into my mouth…
Finger Here lies A boy who relaxed Next to you On the concrete …
Focus I will always notice Somehow you know Never met you Scan …
Forced Letter That looks really quite exhausting Something over time Rar…
Helicopter I know the point is absent I'm talking to myself There is…
I Hate You Rob Crow Don't leave it out I'm sure they will listen Don't bre…
If Wade Would Call Well in a way it seems that Everything would be so…
Iocane Several days on the poppy side Severed ways I know I…
Jedi Outcast I've been sitting all day Fighting offline enemies Reborn Je…
Kill All the Humans I'm so filled with hate today I wanna cry, but I…
Last Bus From the Che What if the last bus is gone? Should I leg it…
Leveling We haven't played for awhile. Since that day. Puttered out…
Liefeld Samsor's on the corner Rose is all in flames I guess I …
Never Alone And I know that if something should come tear us…
No Sun No table Don't like me No sun Staring at the beach like…
Over the Summer One of the things I never told you guys How every…
Over Your Heart There It's over your heart It's easy to spot It's easy to…
Overtime Oh yeah, it's real frightening To think someone owns everyt…
Ring There's a little ring on it And they won't say why My…
Some Things Open up an old book to a part And I can't…
Sophistructure Thats the thing with things of models and Cut the call…
Sun Froze Said tomorrow I really don't care Then the sun froze Into…
Taste "How could you lie" -The Imbecile Took it upon myself How…
Torrential Too bad somebody left you Shot in the leg Stabbed in the…
Tranked Sifting thru the ashes Breathing in your lives I could hold …
Up They've been saying this all a while They've been saving th…
Wants/Needs Sometimes my wants Make me afraid Guilty pleasure Escape …
When You Lie There is somethin' in your eyes When you lie to yourself A…

The lyrics can frequently be found in the comments below, by filtering for lyric videos or browsing the comments in the different videos below.