Persephone
I will keep this brooding brief
For it is Fate and not just my belief
That keeps you coming back to me
Persephone
I will smolder in this grief
For Time is very fine a thief
But he cannot steal from Destiny
I will stand and I will fight with all my might here on the line between the darkness and the light until, at last, I have thee in my custody
Persephone
Persephone
Return the symphony to this drone
The rainbow to the monochrome
And Love to the damned
What we might be to what I am
Persephone
I will stand and I will fight with all my might here on the line between the darkness and the light until, at last, I have thee in my custody
Persephone
And should the mortals dare design
To keep you ever theirs and never mine
Should they, in the name of Liberty, enslave you to their needs
Your ransom has been paid with seven pomegranate seeds
Persephone
Persephone
Persephone
Contributed by Lincoln V. Suggest a correction in the comments below.
To comment on specific lyrics,
highlight them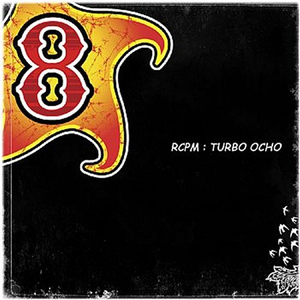 Roger Clyne & the Peacemakers is a rock band from Tempe, Arizona, USA. The band is typically referred to by fans by the abbreviation "RCPM". The Peacemakers' music is known to cross genres, with some songs showing a more Country influence, and others sounding more like a modern pop song.

Roger Clyne's lyrics frequently showcase his Southwestern roots, and frequently imply images of cowboys, Federales, and references to Mexico and places in Arizona, amongst other Southwestern references.
Read Full Bio
Roger Clyne & the Peacemakers is a rock band from Tempe, Arizona, USA. The band is typically referred to by fans by the abbreviation "RCPM". The Peacemakers' music is known to cross genres, with some songs showing a more Country influence, and others sounding more like a modern pop song.

Roger Clyne's lyrics frequently showcase his Southwestern roots, and frequently imply images of cowboys, Federales, and references to Mexico and places in Arizona, amongst other Southwestern references.

After the demise of The Refreshments, a semi-successful rock band of the 1990s whose top radio hit was "Banditos," former frontman Roger Clyne and drummer P.H. Naffah formed a new band that would be called Roger Clyne & the Peacemakers.

The two were joined by former Gin Blossom, Scott Johnson; Steve Larson, former guitarist for another Tempe band, Dead Hot Workshop; and bass player Danny White. They released their first album, Honky Tonk Union in 1999.Honky Tonk Union was released in limited quantities with a bonus live CD, Real to Reel. The next year, they released an extended version of Real to Reel as a stand-alone album.

The musical feel of Honky Tonk Union was a noticeable change from Clyne's previous works with The Refreshments. Whereas The Refreshments had a prominent lead guitar and edgy southwestern rock feel, Honky Tonk Union displayed a heavier country influence along with focusing more on the singer-songwriter aspect of the band.

The Peacemakers' next studio effort, 2002's Sonoran Hope and Madness, explored the deeper themes of returning to the basics of life, of loss and of resurgence. Sonoran Hope and Madness was a tale of the demise of a much-loved way of life.

In 2002, Scott Johnson left the band to rejoin with the Gin Blossoms, leaving the part of lead guitar to Steve Larson.

2004 saw the release of Americano, the band's third, and most streamlined, studio effort. ¡Americano! is a story set not in the dusty Mexican borderlands, like the previous albums, but on a Mexican beach, miles away from the daily grind. This album was conceived and written in a third-world cantina, and canvasses the spectrum of human emotion.

In early 2004, shortly after the release of ¡Americano!, Danny White left the Peacemakers to start his own recording studio in Nashville, Tennessee. He was replaced by Nick Scropos, who was the bassist for another Tempe band, Gloritone. Scropos was slated to join the band when it formed in 1998, but was unable to do so due to his obligation to Gloritone. His playing can be heard on track nine of Honky Tonk Union, Green & Dumb.

In March of 2005, the Peacemakers were asked to play at Billy Bob's Texas, a famous honky-tonk joint that has hosted the likes of Willie Nelson, Merle Haggard, and Pat Green. They quickly turned around and sold a live CD featuring songs from that performance entitled Live at Billy Bob's Texas, which sold well enough to make them the only independent band to have five consecutive top-10 albums on the Billboard Internet Sales Chart.

In April of 2006, the Peacemakers released a four song EP, Four Unlike Before, which is currently available only through iTunes.

The band's fourth studio album, No More Beautiful World, was released on March 20, 2007.

The Peacemakers tour heavily, both as a headlining band and opening for national acts such as Sammy Hagar and John Fogerty.

Twice a year, an ever-increasing following of fans from around the globe descend on the Mexican beach town of Rocky Point (Puerto Peñasco) for their "Circus Mexicus" bash. Circus Mexicus features a four-hour long concert at the Sunset Cantina. The weekend culminates with a "hangover bash" at JJ's Cantina in nearby Cholla Bay on Sunday at which band members mingle with the fans and sign autographs.

The warm waters and ever increasing recreational opportunities motivate many participants to make "Circus Mexicus" a semi-annual pilgrimage of several days.

http://www.azpeacemakers.com/
Genre not found
Artist not found
Album not found
Search results not found
Song not found