Check the scene boppers
Slaughterhouse, still standing
There was a murder last night
And the shit didn't really sit right with me
So I had to tell a story, ohh, baby!
Blood on the walls, street life
America's worst nightmare, ahead by light years
Hip hop's only shining star in the night's air
Right here, don't fight fair, what I write, yeah
Might there, throw 'em off like they Bobby Knight's chair
I been where you tryna be, I'm already hot
All about cake, Betty Crock' and spit ready rock
They know my bar came venom in a bezzie rock
Kicks from Fight Club, outfit from Eddie Brock
I'm going for the kill, focused on a steady plot
John Wilkes the Booth like when he dead aimed his nezzie shot
You listening to hip hop's finest
You rewind this, Slaughterhouse behind this
I like rap, this shit is cool, I'm better than mad niggas
But I'm just as good a crack pitcher as a pad ripper
I say that to say this, don't let mad liquor
Turn me to a bodybag zipper and not a ad-libber
Couple joints ago I was right on that ave with ya
Mad bigger than the catch David Tyree had last winter
I'm not a made-up character, that's a Puerto Rican Brooklynite
With two kids y'all see in them mag pictures
And however I gotta feed 'em I will
All they ever gon' need in life is just, me and my will
Interfere with that it's gon' be more than a beat that I kill
Disrespect with an indirect and you will see if I'm real
Fuck you blood-sucking parasites
I'm bringing the terror right in front of your parents' sight
You parents' eyes and yeah, I wear a pair of pipes
I wear 'em like cellulite on a pair of thighs
I'm Eric Wright, I'm Ruthless, I terrorize
You'll either perish or be paralyzed, I'm a thousand degrees Fahrenheit
I'm even keeping them heaters when we perform
On stage rocking like we from Korn, the people roar
What they don't know it's a secret war
Inside of a rider I'm seeking revenge on the world for bein born!
And the desert eagle is mi amor, she'll fuck you to death
Blow your brains, either or cause she a whore
Allow me to reassure your stripe's worthless
Like a pair of Diadora's when it leaves the Adidas store
Don't be comparing us to rappers
Compare us to the Arabs, this a terrorist attack, uh, boom!
Lord have mercy, we here to destroy everything
You niggas is butter in front a fucking machete swing
Mothafucka I'm fly, I ain't no scary goon
Try me and I guarantee you I'mma see you very soon
Leave a nigga ass out like Prince, take his bitch
Put my Graffiti Bridge right Under Her Cherry Moon
We notorious, pushing them Porsches
Y'all niggas the orphans – us? We the warriors
Ohh, wait a minute boppers
Royce, slow down baby
This rap shit is a workout on my legs
A nigga going hard on his bike but too many dudes is jumping on the pegs
They know when that raw shit get recorded
Either let your speakers enforce it or lay down in a moshpit
Of course it's the bosses, acting like officers
Running in these corporate offices
Hungry looking for a four-course dish no matter what the cost is
Like the world's lawless so we don't know what remorse is
Cause the V need like a thousand horses
Slaughterhouse hoodie on, that's my new couture shit
It's Jumpoff! He be the best
Computers rank me number one, blame the BCS, it's they fault
Ask about your boy, I'm nice with my hands
Maybe that's why, every last thing I write is a jam
Minus the fans, the flights to Japan, I am the man
Anyone who feel they could see me is in dire need of a eye exam
My mind expands wider than the fanbase of a fire band
And what I release from my diaphragm, sticks to you
Like the wrists of Spiderman, fool a average listeners
What you liars can do but you will die a scam
When I die they will retire my entire hand
For years of scripted whoop-ass, making intruders try a can
I guess the moral of the story is Joell's victorious
And everything's all gravy like Notorious
I left a nigga dead cause he said he was ready for I
Let the Beretta give him wings since he said he was fly
I'm in my Chevy riding to "Bar Exam" and "Mood Muzik"
They the closest to "Reasonable Doubt" and "Ready to Die"
Crooked I, watch for snitches and wire devices
My 45th, fire in crisis, lift you higher than prices
All my ice, and on the mic, I am the nicest
Me and my bitch ride for life like Osirus and Isis
Yeah, word to Run-D.M.C. I'm Tougher Than Leather-face
Never threw a gun in the trash but they call me Weapon Waist
It's like you moving from the projects to the Hamptons
The way my hammers be sending bastards to a better place
Let me set it straight, they fans been led astray
Niggas keep gassing with guns with unleaded spray
They don't know they one flow, one medic away
From being taken away from here in the leaded state
I handle all of my serious issues with metal
I stick you so deep in the earth your zipper can tickle the devil
I'm skipping the pick and the shovel, I'm picking you up
And I'm shoving your head in the mud 'til your kickings is level
Pardon I live for the moment, you rhymin I give the atonement
Like the Indians, I scalp and I wig the opponent
But I'm a chief, matter fact I'm a beast
I'm a mothafuckin' Slaughterhouse G, boom!
Lyrics © Sony/ATV Music Publishing LLC, MUSIC & MEDIA INT'L, INC., BMG RIGHTS MANAGEMENT US, LLC
Written by: JACOBY SHADDIX, JERRY HORTON, KANE GREGORY CHURKO, RYAN MONTGOMERY, TOBIN ESPERANCE

Lyrics Licensed & Provided by LyricFind
To comment on specific lyrics,
highlight them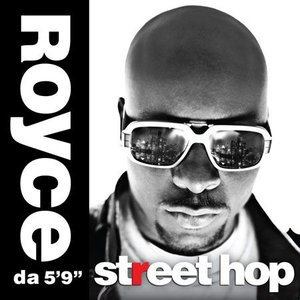 Ryan Montgomery A.K.A. Royce Da 5′9″ - born July 5, 1977 - is a rapper hailing from Detroit, Michigan, United States. In addition to his work as a solo artist, Royce has released material as a member of the "super group" Slaughterhouse (with Joe Budden, Joell Ortiz and Crooked I), with Eminem as one half of Bad Meets Evil, and with DJ Premier as one half of PRhyme.

The name "Royce" came from his R shaped Turkish link chain which was said to have resembled a Rolls Royce logo.
Read Full Bio
Ryan Montgomery A.K.A. Royce Da 5′9″ - born July 5, 1977 - is a rapper hailing from Detroit, Michigan, United States. In addition to his work as a solo artist, Royce has released material as a member of the "super group" Slaughterhouse (with Joe Budden, Joell Ortiz and Crooked I), with Eminem as one half of Bad Meets Evil, and with DJ Premier as one half of PRhyme.

The name "Royce" came from his R shaped Turkish link chain which was said to have resembled a Rolls Royce logo. During high school Royce was one of the shortest players on his basketball team, standing 5′9" at age 18.

Royce signed with Tommy Boy records in 1998 and later was slated to release his debut album Rock City. Though this relationship was premature, Royce ended up leaving the label citing creative differences.

Royce began working with well known Game Recordings who helped get him in front of the right people to negotiate a deal with Columbia Records. Royce's Rock City debut was yet again plagued with delays, during which the album was heavily bootlegged. Though not in their favor, Columbia chose to release Rock City in limited quantity and quickly went out of print by the time Royce left Columbia.

Around this time Royce dropped the underground banger "Boom" with production by Dj Premier. Soon thereafter he joined up with Koch / Game Recordings and released Rock City (Version 2.0) independently.

Most well known for his association with Slim Shady – the two met at a concert while Slim was promoting his Slim Shady EP. The two formed a Duo called Bad Meets Evil, releasing a number of tracks including "Renegades" [Original Version], "Nuttin' to Do", "Scary Movies", "She's the One", and "See You In Hell", which appeared on Eminem's album The Slim Shady LP, titled "Bad Meets Evil".

In 2001 Royce was set to work with Dr Dre's Chronic 2000 project as a ghostwriter. He contributed tracks including "The Message", "The Throne Is Mine", "Stay In Your Place" and the original version of "Xxplosive" titled "The Way I Be Pimpin'".

Royce's association with Dr. Dre ceased when his manager, Kino Childrey spoke to a reporter about Eminem and Dre in the studio. Royce refused to dismiss his manager and long time friend, ending his relationship with Dre.

Royce and Em had a mutual friendship with Proof. Though Royce had bad blood with D12 member, Bizarre, stemming from a earlier freestyle battle with Royce's brother. Misscommunication escalated the beef between the pair, causing it to spiral out of control and include all members of the rap group D12.

In 2002, Royce called Eminem to request to be signed to Shady Records. Eminem declined and soon thereafter signed 50-cent to Shady Records instead.

Royce released several diss tracks including "Shit on U" (over D12's "Shit on You"), taking shots at Bizzare of D12. Royce continued record dis tracks including "We Ridin'", "Death Day", and "Malcolm X". There's speculation that Royce and Em often wrote bars dissing each other subliminally.

From 2002-2003 Royce kept a low profile releasing releasing Build & Destroy, and Build & Destroy: The Lost Sessions Part 1 across the mixtape circuit.

In 2003, Royce's beef with D12 finally reached its tipping point. Royce and Proof and their entourages spilled into the streets of Detroit arguing but the issue dissipated once firearms were drawn. The two rappers spent a night in jail, and settled their beef.

In 2004 Royce released his sophomore effort Death Is Certain on Koch records, as well as two mixtapes from his crew M.I.C. (Make it Count). The crew includes members Royce, Kid Vishis,and June.

2005 marked Royce's third full length album release Independent's Day on Trouble/M.I.C. Records.

Royce Da 5′9″ was sentenced to jail on September 19, 2006 for parole violation for a prior DUI charge. Royce was sentenced to one year in the clink at Oakland County Jail, Pontiac, Michigan. On January 9, 2007, Royce got out of jail on work-release.

Royce has a strong ghostwriting resume including the track "Tell Me" ft. Christina Aguilera for Diddy's album Press Play.

In May 2007, Royce Da 5′9″ released a mixtape called The Bar Exam which features DJ Premier and Statik Selektah on the Wheels of Steel.

In 2008, Royce confirmed that he had officially resolved his longstanding differences with Eminem and celebrated with a reunion concert on July 12, 2008 at Saint Andrews Hall. A mixtape of the reunion concert was soon released thereafter.

Royce also had beef with other industry majors including Mistah Fab, Cashi$, and Joe Budden, Kanye West and the Ruff Ryders.
Genre not found
Artist not found
Album not found
Search results not found
Song not found