Black Sun
Wish i stayed frost and lie
Faraway into a night
There's lay down wait
Deep to the fallen
That you leak your black sun
All the way
Say it loud to the fallen
That i travel cosmic of lights
I dream and catch
Nature darkest side
Far from seas of black sun
All the way
More
Whisper i wish denied
Slowly into the light
Contributed by Xavier G. Suggest a correction in the comments below.
To comment on specific lyrics,
highlight them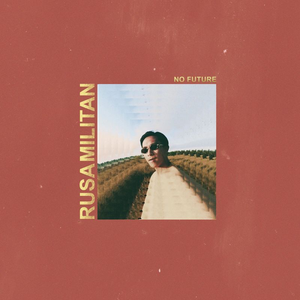 Rusa Militan adalah sebuah band bergenre medieval-folk, heavily influenced oleh band-band seperti The Pentangle, Beach Boys, Bob Dylan, Bimbo, Graham Nash, White Antelope, dan Karmen Dalton. Berdiri sejak 2011, Rusa Militan diisi oleh Mario (Guitar/Vocal), Kentung (Guitar/Vocal), Ucok (Bass/Vokal), Swi (Drum), Aki (Glockenspiel/Keyboard/Pianika), dan Fery (Biola/Akordion), uniknya para personil tersebut datangdari latar belakang musik yang berbeda.
Read Full Bio
Rusa Militan adalah sebuah band bergenre medieval-folk, heavily influenced oleh band-band seperti The Pentangle, Beach Boys, Bob Dylan, Bimbo, Graham Nash, White Antelope, dan Karmen Dalton. Berdiri sejak 2011, Rusa Militan diisi oleh Mario (Guitar/Vocal), Kentung (Guitar/Vocal), Ucok (Bass/Vokal), Swi (Drum), Aki (Glockenspiel/Keyboard/Pianika), dan Fery (Biola/Akordion), uniknya para personil tersebut datangdari latar belakang musik yang berbeda. Rusa Militan sendiri dalam bermusik dan mengisi lirik, banyak menggabungkan unsur pop-folk dengan milieus dari era-era medieval, sehingga memunculkan kesan depresif. Jika berlari lebih dalam lagi kepada lirik yang mereka senandungkan, mereka banyak bercerita tentang perjalanan sebuah era, dari awal hingga akhir, kisah-kisah rakyat, dan kisah-kisah yang dimunculkan dari film fiksi

http://soundcloud.com/rusamilitan
Genre not found
Artist not found
Album not found
Search results not found
Song not found