Dobrij Abend
Russkaja Lyrics
Dobrij vecher
Guten Abend
Good evening ladies and gentlemen
My nachinaem
Wir beginnen
We gonna ska this party yeah!
[Chorus]
Rvetsja ritm iz dushi moej
Devushki davaj stancuem posmelej
[Bridge]
L'etsja ritm rodnoj
Umiljaet menja
Kruzhitsja golova
A na nebe luna
Ulybaetsja mne
Zarjazhaet menja
Jeto russkij
Das ist russisch
This is Russian style we play
Neobyknovenno
Unwahrscheinlich
It's amazing day by day
Ne sdavajsja
Gib nicht auf
Don't give up this skanking race
Eshhe razik
Immer wieder
One more time we ska this place
S uma shodim
Wir gehen verrückt
We go crazy better way
My vas ljubim
Wir euch lieben
We love you, say: Hey! Hey! Hey!
Hochesh' spljashem
Willst du tanzen
Do you wanna dance with me?
Davaj vyp'em
Lass uns trinken
Let's drink vodka, smoke some weeeee...
Contributed by Wyatt V. Suggest a correction in the comments below.
To comment on specific lyrics,
highlight them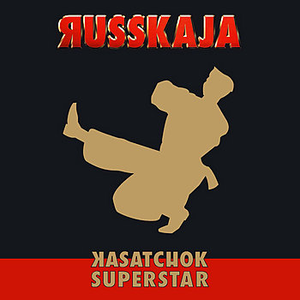 Russkaja is an Austrian Ska-Band from Vienna, Austria, consisting of Georgij Alexandrowitsch Makazaria (vocals / ex-member from stahlhammer), Engel Mayr (guitar), Dimitri Miller (bass, vocals), Mario Stübler (drums) & Hans-Georg "H-G" Gutternigg (trombone, trumpet), Rainer Gutternigg (trumpet) and Ulrike Müllner (violin).
Ex members are Titus Vadon (drums, vocals / ex-member from drahdiwaberl & das balaton combo), Zebo Adam (guitar, vocals / ex-member from hallucination company)
Read Full Bio
Russkaja is an Austrian Ska-Band from Vienna, Austria, consisting of Georgij Alexandrowitsch Makazaria (vocals / ex-member from stahlhammer), Engel Mayr (guitar), Dimitri Miller (bass, vocals), Mario Stübler (drums) & Hans-Georg "H-G" Gutternigg (trombone, trumpet), Rainer Gutternigg (trumpet) and Ulrike Müllner (violin).
Ex members are Titus Vadon (drums, vocals / ex-member from drahdiwaberl & das balaton combo), Zebo Adam (guitar, vocals / ex-member from hallucination company), Antonia-Alexa Georgiew (violin, vocals), Werner Köck (guitar), Manfred Franzmeier (saxophone / member from hot pants road club, ex-member from madrid de los austrias) and Christoph Schödl (drums).
Their music is a rousing mixture of russian folkmusic and ska / ska-punk.
"Russkaja is the exact opposite of Easy Listening music, Russkaja - terror of terrors of all Russian folk music societies - stands for fat Austrian Polka beats. The group members are the most illustrious musicians of the Alpine region, who possess a colourful mix of cultural backgrounds. They pour these various cultural influences into a postmodern version of Russian folk and spread their distinctive music all over Europe. It is sweaty and shouts out loud: Dance Dance Dance! It is a clash of trash metal, world jazz, funky stuff and Frank Zappa-esque Rock. All these things signify: Get down to business!"


There is a word play in the name of the band: RUSSKAJA means 'russian' on russian language, but it also stands for: 'Rus' = Russia - 'Ska' = style of music - 'Ja' = German for: Yes.

Discography:
2006 Dawai, Dawai (EP)
2007 Dope Shit (Single)
2008 Kasatchok Superstar (Album)
2008 More (Single)
2009 Kasatchok Superstar the Song (Single)
2010 Russian Voodoo (Album)
2010 Hammer Drive (Download Single)

www.russkaja.com
www.myspace.com/russkaja
https://www.facebook.com/pages/Russkaja/187544649772
Genre not found
Artist not found
Album not found
Search results not found
Song not found