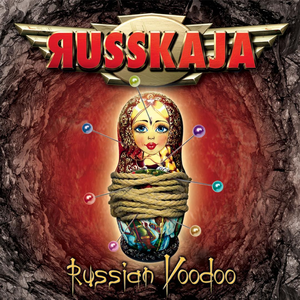 Russkaja is an Austrian Ska-Band from Vienna, Austria, consisting of Georgij Alexandrowitsch Makazaria (vocals / ex-member from stahlhammer), Engel Mayr (guitar), Dimitri Miller (bass, vocals), Mario Stübler (drums) & Hans-Georg "H-G" Gutternigg (trombone, trumpet), Rainer Gutternigg (trumpet) and Ulrike Müllner (violin).
Ex members are Titus Vadon (drums, vocals / ex-member from drahdiwaberl & das balaton combo), Zebo Adam (guitar, vocals / ex-member from hallucination company)
Read Full Bio
Russkaja is an Austrian Ska-Band from Vienna, Austria, consisting of Georgij Alexandrowitsch Makazaria (vocals / ex-member from stahlhammer), Engel Mayr (guitar), Dimitri Miller (bass, vocals), Mario Stübler (drums) & Hans-Georg "H-G" Gutternigg (trombone, trumpet), Rainer Gutternigg (trumpet) and Ulrike Müllner (violin).
Ex members are Titus Vadon (drums, vocals / ex-member from drahdiwaberl & das balaton combo), Zebo Adam (guitar, vocals / ex-member from hallucination company), Antonia-Alexa Georgiew (violin, vocals), Werner Köck (guitar), Manfred Franzmeier (saxophone / member from hot pants road club, ex-member from madrid de los austrias) and Christoph Schödl (drums).
Their music is a rousing mixture of russian folkmusic and ska / ska-punk.
"Russkaja is the exact opposite of Easy Listening music, Russkaja - terror of terrors of all Russian folk music societies - stands for fat Austrian Polka beats. The group members are the most illustrious musicians of the Alpine region, who possess a colourful mix of cultural backgrounds. They pour these various cultural influences into a postmodern version of Russian folk and spread their distinctive music all over Europe. It is sweaty and shouts out loud: Dance Dance Dance! It is a clash of trash metal, world jazz, funky stuff and Frank Zappa-esque Rock. All these things signify: Get down to business!"


There is a word play in the name of the band: RUSSKAJA means 'russian' on russian language, but it also stands for: 'Rus' = Russia - 'Ska' = style of music - 'Ja' = German for: Yes.

Discography:
2006 Dawai, Dawai (EP)
2007 Dope Shit (Single)
2008 Kasatchok Superstar (Album)
2008 More (Single)
2009 Kasatchok Superstar the Song (Single)
2010 Russian Voodoo (Album)
2010 Hammer Drive (Download Single)

www.russkaja.com
www.myspace.com/russkaja
https://www.facebook.com/pages/Russkaja/187544649772
Genre not found
Artist not found
Album not found
Search results not found
Song not found
Hammer Drive
Russkaja Lyrics
We have lyrics for these tracks by Russkaja:



Ajajaj Ai, Ai, Ai, Ai, Feucht Nass Ai, Ai, Ai, Ai, Heisser…
Autodrom Everybody, приходи на автодром Головой тряси под рок-н-ролл …
Barabani Ребята а вот вам байка Про Дуську барабанщицу Не день рожден…
Barada Я всё детство о ней мечтал Вырезал из журналов картинки Я на…
Bojko-Bojko Bojko bojko Tchtobi nam bilo milo Rabotajet brigada Bojko bo…
Change I changed my Vodka for the Whisky that's why I got…
Da Mama Bistro schnell, schnell, rapidomente Время деньги, Geld Proz…
Dawai Dawaj dawaj sinaja wolna Kuda kuda ti nas privela Dawaj dawa…
Do Utra Елена Лордес - До утра Твой капроновый шарф пах мной, Я пол…
Dobrij Abend Dobrij vecher Guten Abend Good evening ladies and gentlemen …
Dope Shit Мы сегодня в поезд сели, мы давно уже хотели оторваться в …
Dope Shit (Radio Edit) Two trailer park girls go round the outside Round the outsid…
Energia Давай, ребята! Willst du mehr oder genügt dir dein Rach …
Get Lucky Like the legend of the phoenix All ends with beginnings Wh…
Go Sputnik Qui est celui qui nous a emmerdé si longtemps? qui jouait le…
Gop Stop Гоп-стоп. Мы подошли из-за угла. Гоп-стоп. Ты много на себя …
Gop-Stop Gop-stop, my podoshli iz-za ugla. Gop-stop, ty mnogo na seby…
Hey Stoj As I walk through the valley of the shadow of…
Istanbul Ослепляет красота потерялся от Босфора где встречаються моря…
Kompania Ты сегодня сделала ошибку Ты ушла от меня, Этот ход твой был…
Love Revolution We stand with an army of open arms Love is all…
More Ech rebjata prosipajtes W puteschestwija puskajtes oj joj jo…
Nikogda Побереги нашу любовь, Ну а я за неё постою, не сдаюсь, Навсе…
No One Is Illegal Kein Mensch ist illegal Sarah was a little girl, a girl…
Ogonki Я нарисую свою мечту И картинку тебе эту подарю Ты на ней…
Radost Moja Встречай родная возвращаюсь я домой Не брит, нога болит но в…
Ras Dwa Tri Я все детство о ней мечтал, Вырезал из журналов картинки, Я …
Roar I used to bite my tongue and hold my breath Scared…
Sorry I′ve been so far away from the glory to learn…
Swoboda Зачем человеку свобода, когда его тянет на дно Пусть говорят…
Tanzi Tanzi Здесь кислорода больше нет Со стен ползёт пот на паркет Для …
Traktor Tractor, tractor is rushing to somewhere, Tractor, tractor w…
Violina Mia Ich wollte mich weiterbilden und orten Symphonien Melodien e…
Wake Me Up Feeling my way through the darknees Guided by a beating hea…
Wolna i Ja В море стою по колено Меня ласкает волна Прибыли вслед за ту…

The lyrics can frequently be found in the comments below or by filtering for lyric videos.