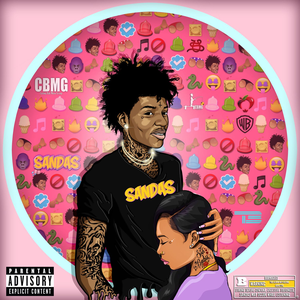 Saaheem Malik Valdery was born in Chicago, Illinois and raised in the city's sou…
Read Full Bio ↴
Saaheem Malik Valdery was born in Chicago, Illinois and raised in the city's south side in the Wentworth Gardens projects. His aunt, TeeBaby, gave him the moniker "SahBabii" at a young age. In early 2010 at the age of 13 his family moved to Atlanta in pursuance of his older brother T3's career in music., the brace-faced warbler from the city's ninth ward whose breakout hit "Pull Up Wit Ah Stick" feels like a euphoric rush of laughing gas. The song has been remixed by T-Pain, Fetty Wap, and Wiz Khalifa, received co-signs from Drake, Young Thug, Metro Boomin, and Lil Uzi Vert, and earned SahBabii a major label deal with Warner Records.

In June 2017, SahBabii would rerelease his "S.A.N.D.A.S" project with some remastering and 3 new bonus tracks. A year later on August 29, 2018, SahBabii would release his "Squidtastic" project which would include the song "Anime World". In October 2018, SahBabii announced via Twitter that his next project titled "Wolverine" would be his last project. Since then SahBabii has gone on to release his EP titled "3P" in February 2019 and his album titled "Barnacles" in July 2020.
Don Quan Intro
SahBabii Lyrics
Jump to: Overall Meaning ↴ Interesting Facts ↴ Line by Line Meaning ↴
Man what the hell goin' on, it's Don Quan, man
I know y'all folk been waitin' on this shit
But y'all ain't gotta wait no more, you know?
First we killed you with the Pimpin' Ain't Easy
Then we killed you with the Glocks and Thots
Now with the SANDAS. Suck a nigga dick or somethin', ya know?
All that type of shit, man, believe it
Overall Meaning
The opening lines of SahBabii's Don Quan Intro are spoken by Don Quan himself, an Atlanta-based rapper and collaborator of SahBabii's. Don Quan announces his arrival and presence on the track, declaring that he knows the fans have been eagerly anticipating this release. The use of the phrase "y'all folk" is a nod to Southern dialect and gives the lyrics a more casual, colloquial feel.
Don Quan goes on to reference SahBabii's previous releases, "Pimpin' Ain't Easy" and "Glocks and Thots," which were both popular songs in the Atlanta rap scene. The use of the word "killed" here is hyperbolic, but reinforces the idea that SahBabii and Don Quan have made a significant impact with their music.
The final lines of the intro are provocative and explicit, with Don Quan telling listeners to "suck a nigga dick or somethin'." This language is intentionally shocking and designed to grab attention, but also hints at the more sexually explicit themes explored in the album as a whole.
Overall, the Don Quan Intro sets the tone for the rest of the album, with its bold, playful language and strong Southern rap influences.
Some interesting facts about the song include:
Interesting Facts
Note: This section uses generative AI, which can be inaccurate.


Line by Line Meaning
Man what the hell goin' on, it's Don Quan, man
Don Quan is here and something big is about to happen
I know y'all folk been waitin' on this shit
Fans have been eagerly anticipating this release
But y'all ain't gotta wait no more, you know?
The wait is over and the music is now available
First we killed you with the Pimpin' Ain't Easy
SahBabii's previous release 'Pimpin' Ain't Easy' was a huge success
Then we killed you with the Glocks and Thots
SahBabii's 'Glocks and Thots' track also had a major impact
Now with the SANDAS. Suck a nigga dick or somethin', ya know?
The new release 'SANDAS' has provocative lyrics that may not be suitable for all listeners
All that type of shit, man, believe it
Expect more of the same from SahBabii and his upcoming projects
Lyrics © Warner Chappell Music, Inc.
Written by: Saaheem Valdery

Lyrics Licensed & Provided by LyricFind
To comment on or correct specific content,
highlight it
Genre not found
Artist not found
Album not found
Search results not found
Song not found