Never loved some one the way that I love you
I always understood and promised you the truth
But you kept walking, and I kept wondering, where we were going
You keep saying change is just around the bend
But I don't think I can believe those words again
When we're on water, it's getting deeper, this ship is sinking
Is this what it feels like to fall from a star
You say you wanna be loved but you don't know who you are
Oh and I've been waiting
Yeah I've been waiting
But I just can't hold on, I can't hold on anymore
I can't be around to watch you do this to yourself
Being here for me just isn't gonna help
And it ain't easy, to know you'll need me, and I won't be here
So darling shed a tear, one more before I go
I hate to break your heart but mine is breaking more
I just can't do this, watch you destroy this, while I still love you
Contributed by Michael L. Suggest a correction in the comments below.
To comment on specific lyrics,
highlight them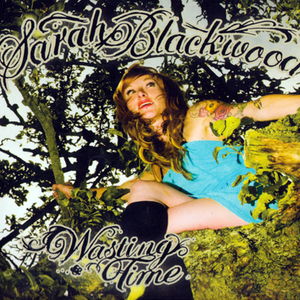 There's another CLIENT Sarah Blackwood, the singer from Dubstar and Client.

SARAH BLACKWOOD grew up listening to her father's rock and roll record collection. When she was twelve years old, her father handed her an acoustic guitar, taught her the basics and the rest, as they say, is history. Her style is influenced by old country and rock music. She's a sweetheart with an acoustic guitar singing about love, demons she has faced, and different times in her life that have brought her down.
Read Full Bio
There's another CLIENT Sarah Blackwood, the singer from Dubstar and Client.

SARAH BLACKWOOD grew up listening to her father's rock and roll record collection. When she was twelve years old, her father handed her an acoustic guitar, taught her the basics and the rest, as they say, is history. Her style is influenced by old country and rock music. She's a sweetheart with an acoustic guitar singing about love, demons she has faced, and different times in her life that have brought her down. These moments faced picked her up and made her create the songs what they are today. Also known as the front-woman for The Creepshow, Sarah has toured all across the world and has honed her live show to an exact and heartwarming science.

Picking up where "Way Back Home" left off, Sarah Blackwood's sophomore solo album "Wasting Time" is an intensely personal collection of beautifully-crafted, roots country songs that also touches on elements of gospel, pop and soul. Where her debut was a stripped down, raw acoustic album, "Wasting Time" raises the bar by adding an incredibly talented roster of players, friends and family. Sarah's one-man band Daniel Flamm (Heartbreak Engines, Sewer Rats) came in from Germany to add vocals, lead guitar, banjo and piano. Producer Gianni Luminati lends a hand with percussion, ukulele, mandolin and bass. Other guest musicians include brother Ian Blackwood, father Mike Blackwood, bandmate Sean "Sickboy" McNab and Lee Williamson on lapsteel.

"Wasting Time" showcases Sarah Blackwood's undeniably passionate and sincerely honest songwriting style that is as touching as it is inspiring.

What the press is saying:

"This is a solid record, one of stark, solitary power. Blackwood excels at writing songs that while infused with pathos, aren't downers, and those that speak to universal experiences without seeming trite." – The Hour

"…all great tracks on an album of acoustic gems." Toronto Music Scene

"There's an untouched feeling to Way Back Home in that it sounds at time like a collection of homemade demos, but really its more like an old, faded photograph capturing Blackwood and her emotions in the rawest form." – Vue Weekly
Genre not found
Artist not found
Album not found
Search results not found
Song not found