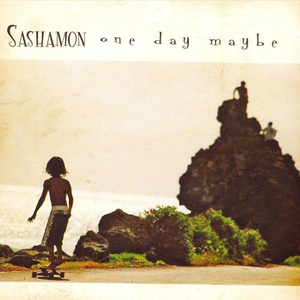 Sashamon- (sa-sha'-mon) - maybe because he grew up on Molokai, Sashamon's music brings a unique peaceful vibe to the island music scene. The public first heard Sashamon's blend of Reggae, Rock, and Hawaiian music on a homemade demo, which has now spread world wide with the support of top Kauai professional surfers.

The popular underground cd found its way to KWHI 92.7 Hawaiian Rhythms, Island Style, and Reggae, on the Big Island of Hawaii. With no press kit or label support
Read Full Bio
Sashamon- (sa-sha'-mon) - maybe because he grew up on Molokai, Sashamon's music brings a unique peaceful vibe to the island music scene. The public first heard Sashamon's blend of Reggae, Rock, and Hawaiian music on a homemade demo, which has now spread world wide with the support of top Kauai professional surfers.

The popular underground cd found its way to KWHI 92.7 Hawaiian Rhythms, Island Style, and Reggae, on the Big Island of Hawaii. With no press kit or label support, "Japanese Squeeze" amazingly became the station's most requested song and stayed on top for two months. Japanese Squeeze was replaced by another Sashamon song "Necta" which continues to be in heavy rotation. This popularity caused Big Island's KAPA 100.3 and KWXX 94.7 to give airplay on their stations.

Sashamon now has radio play on radio around the world. All over Hawaii, U.S, Italy, even Tahiti. there are too many stations to list.. Sashamon has also been featured on the local Kauai television program The Foundation, a Tahitian tow in video, and his music accompanies high performance surfing on Jaime O's movie "Freak Show". and upcoming "Freak Show 2" Many other surf videos featuring Sashamon's music have followed including an Oneill video featuring Rochelle Ballard currently airing on Fuel t.v..
This popularity is encouraging Sasha to pursue a career in music, doing what he loves.
Sashamon became part of Hawaii's musical culture at a young age singing along with ukulele strumming Kupuna (respected elders), while attending elementary school on Molokai's west side. Sasha feels blessed to have grown up on Molokai, a place reminiscent of days when music was still interwoven with family and community.

After high school, Sashamon, born Sasha Makia Spiller-Reiff, received a degree in Music and the Arts from the University of Hawaii. While attending UH, he began to compose and later record his first songs. One Day Maybe, Sashamon's debut album, incorporates many diverse influences that blend to create an original, peaceful and memorable sound. Sasha composed and produced this recording in his home studio on Kauai, playing all the instruments including the ukulele, guitar, bass, keyboard, vocals, and drum sequencer. Sashamon is promoting his new release with performances state wide.
Genre not found
Artist not found
Album not found
Search results not found
Song not found
Peaceful Vibe
Sashamon Lyrics
We have lyrics for these tracks by Sashamon:



Herbal Criminal They lock I up throw away the key Spread fear and…
Jah Roots Send jah roots down Then we gonna grow Send jah roots down…
Japanese Squeeze I love I love my Japanese squeeze I met her in Waikiki …
Japaneze Squeeze I love I love my Japanese squeeze I met her in Waikiki …
Justice My knees feel weak as I'm led from the dock My…
Malia She s a cutie a super hottie She s a sweety…
Merry I know a girl she's so kind She'll bring a smile…
necta I met a girl today I couldn't believe it Birds…
Necta (Butterfly) I met a girl today I couldn't believe it Birds they flew…
Necta Dub Necta (butterfly) Sashamon Zara Larsson Breaks Down "Lush …
Peaceisafiya Pieces a fire Peace is a fire Were pieces a fire Peace if…
Peaceizafiya Peaceizafiy x4 there is a fire, burning inside of ya long…
Rainbow You make me say oooh La la la la You make me…
Rise I'm defensive never questioned I commit to no direction I …

The lyrics can frequently be found in the comments below, by filtering for lyric videos or browsing the comments in the different videos below.