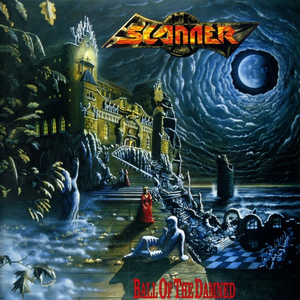 There are multiple artists named Scanner:

1. Scanner is a Power Metal Band from Gelsenkirchen, Germany.
2. Scanner is multimedia artist and sound designer Robin Rimbaud from London, United Kingdom.
3) A German EBM and Synthpop label founded in 1999 by Francesco D'Angelo Spine Of God.



1. Scanner

Was previously known as:
- Reinforce (1977 - 1982)
- then as Lions Breed, a German Metal act that released the 1985 album on the Earthshaker label entitled "Damn The Night") the group changed vocalists and drummers and became Scanner in 1986
Read Full Bio
There are multiple artists named Scanner:

1. Scanner is a Power Metal Band from Gelsenkirchen, Germany.
2. Scanner is multimedia artist and sound designer Robin Rimbaud from London, United Kingdom.
3) A German EBM and Synthpop label founded in 1999 by Francesco D'Angelo Spine Of God.



1. Scanner

Was previously known as:
- Reinforce (1977 - 1982)
- then as Lions Breed, a German Metal act that released the 1985 album on the Earthshaker label entitled "Damn The Night") the group changed vocalists and drummers and became Scanner in 1986, adopting an on stage sci-fi image.

SCANNER appeared in 1987 with the opener track "GALACTOS" on the "DOOMSDAY NEWS" compilation by NOISE RECORDS, Berlin. The group's debut album, "Hypertrace", was produced by Eloy vocalist Frank Bornemann and was released in 1988. Backing vocals for this outing were contributed by Ralph Scheepers (see Primal Fear[[/artist]). The Japanese Release of this album added the exclusive track "Galactos" from the DOOMSDAY NEWS compilation.

In 1991 the second album, "TERMINAL EARTH", had been released the group had parted company with vocalist Michael Knoblich and replaced him with the Yugoslavian born ex-Angel Dust front man S.L. Coe. When personality clashes erupted between Coe and his band mates the vocalist was forced out in 1993.

Guitarist and bandleader Axel Julius (also producer aka Nigel Boston) recruited a new line up for SCANNER to release the "MENTAL RESERVATION" album in 1995 for the MASSACRE RECORDS label and JVC Victor Entertainment, Japan. The band comprised Polish vocalist Haridon Lee, bassist John A.B.C. Smith and drummer D.D. Bucco for this album, although Smith was succeeded by Marc Simon shortly after the record was released.

1997's "BALL OF THE DAMNED" would prove an ambitious affair as the band took on cover version of QUEEN's epic "Innuendo". Ralph Scheepers, by now in PRIMAL FEAR, also appeared once more lending vocals to "Puppet On A String". Touring to promote the album saw headline European dates with support act UNREST before a further round of shows on a package billing with FATES WARNING and OMEN. In summer '97 SCANNER appeared first time at W.O.A., Wacken Open Air, Germany.

SCANNER 's 2002 release was brandishing the new studio album "SCANTROPOLIS".
At this stage the new look band comprised female vocalist Lisa Croft, guitarists Axel Julius and Thilo Zaun, bass player Marc Simon, keyboard player Johannes Brunn and drummer Jan Zimmer. The album closes with an unaccredited version of "Till The Ferryman Dies" recorded live in Stockholm.

In 2003 Greek vocalist Efthimios Ioannidis joined the band and is SCANNER's most constant singer until today's line-up. SCANNER played a lot of shows whole of Europe in the past years and will come up with their 6th album, "THE JUDGEMENT", in January 2015 (Release Date: January the 23rd, 2015, MASSACRE RECORDS).




2. Robin Rimbaud (born in 1964) is an electronic musician who works under the name Scanner due to his use of cell phone and police scanners in live performance. He is also a member of the band Githead with Wire's Colin Newman and Malka Spigel and Max Franken from Minimal Compact.

Rimbaud is also a writer and media critic[citation needed], multi-media artist and record producer. He borrowed his stage name from the device he used in his early recordings, picking up indeterminate radio and mobile phone signals in the airwaves and using them as an instrument in his compositions.

Born in in Southfields, London, Scanner was interested in avant garde literature, cinema and music while growing up. When he was a teenager his family was bereaved when his father was killed in a motorcycle accident.[1] He attended Kingston University in Surrey, earning a degree in Modern Arts (BA). There, he formed a musical project The Rimbaud Brothers with fellow student Tony Rimbaud, releasing cassette editions in the early 1980s, later becoming Dau Al Set with the addition of Chris Staley.
He released Peyrere compilation cassette album in 1986, featuring the work of Nurse with Wound, Derek Jarman, Current 93, Coil and Test Dept. That same year, he composed the soundtrack to a short film A Horse with No Name, directed by Phil Viner, shown at the London Film Festival.[2]
In 1989, he was commissioned to contribute to the Cultural Icons publication (Bloomsbury) edited by James Park, writing many articles on contemporary art, literature, music and dance.
His debut Scanner CD was released in 1992 on Ash International, a subsidiary label of London's Touch Music label. He continued to produce the first dozen releases with Mike Harding of Touch, including Scanner², Mass Observation, Blind, and Runaway Train, a real-time recording of the captivating radio contact between Alfie, controller of the line and Wesley, the driver of a runaway train. Location: New Brunswick, Canada, recorded 9 March 1948.
In 1994, he pioneered one of the first webzines, in the very early days of the internet, I/O/D, in collaboration with Matthew Fuller and Graham Harwood. In 1998, he presented Surface Noise on a London bus, commissioned by Artangel, and won the Imaginaria 99 Award for Digital Arts, ICA London the following year. He re-soundtracked Jean-Luc Godard's Alphaville movie in a series of performances around the world, whilst playfully presenting 16 concerts in one evening using a series of Scanner look-alikes to perform in his absence. For 2003, he installed a permanent installation in Raymond Poincaré hospital in Garches, France as part of the bereavement suite Channel of Flight.[3] In 2004, Tate Modern commissioned Sound Surface in collaboration with Stephen Vitiello as their first sonic arts work. In the same year, he composed Europa 25, an alternative National Anthem for Europe that was freely distributed via 10,000 CDs and a website.
He has continued to collaborate with classical musicians – Michael Nyman for Ars Electronica in Linz, Austria, Musique Nouvelles in Belgium for their 'Play Along' collaborative string quartet, and opera singer Patricia Rozario for a new untitled work in 2007.
From 1994–2000, he set up and "curated" The Electronic Lounge music club at London's ICA, where these monthly sessions presented nights of music in a social environment. Nights included presentations with the record companies Warp Records, Irdial, Ninja Tune, Touch, Mego, Leaf Records and many others.
Since 2000 he has featured on BBC Radio 4, as a commentator on issues relating to popular music on a number of occasions.
Working with choreographer Wayne McGregor, he created Nemesis for Random Dance in 2002, Detritus for Ballet Rambert in 2003, and Qualia for the Royal Ballet in 2004. He continues to work with dance, with new works for Shobana Jeyasingh and Siobhan Davies in 2007. In 2006 he created the sound for Merce Cunningham's E:vent at London's Barbican theatre.
In 2006, he created Night Haunts, a monthly online artwork, working with writer Sukhdev Sandhu and designers Mind Unit. He sound-designed Aitan Errusi's new British horror film Reverb. In 2007 he soundtracked British filmmaker Steve McQueen's film installation Gravesend, at the 52nd Venice Biennial.
In 2008 he was President of Honour at the Qwartz Music Awards in Paris, and scored the musical comedy Kirikou & Karaba in Paris, which was later released on DVD (EMI). He premiered his six-hour performance show, Of Air and Eye at the Royal Opera House London in late 2008, and sound-designed the new Philips Wake-Up Light with Philips Electronics in NL, a lamp to wake you up with natural light and sound.
In 2009 He showed Atlantida, an HD film installation at the Canary Islands Biennial, created in collaboration with filmmaker Olga Mink. In the summer of 2009 he composed the soundtrack to the opening ceremony of the World Swimming Championships in Rome, broadcast in 164 countries, and soundtracked the new Samburg Corby telephone campaign in Italy.
In 2005, he was a contributing curator 'J'en rêve' at Fondation Cartier Paris, and in 2006, jointly curated the video art exhibition 'Mobile' at Espace Landowski Paris.
His BBC radio production of Jean Cocteau's The Human Voice won the Prix Marulic Award and recently, he won First Prize Neptun Water Prize for his installation Wishing Well in Austria, in collaboration with Austrian artist Katarina Matiasek. In 1998, he became 'Professor Scanner' at John Moores University in Liverpool. In 2009 he became Visiting Professor at University College Falmouth UK, and Visiting Professor at Le Fresnoy National Centre for Contemporary Arts in Tourcoing France.
He recently contributed a chapter to Sound Unbound: Sampling Digital Music and Culture (The MIT Press, 2008) edited by Paul D. Miller a.k.a. DJ Spooky. In 2010 Rimbaud working with The Post Modern Jazz Quartet on Blink of an Eye with a very subtle touch, embedding his sounds into those of the New York jazz ensemble seamlessly as critics observed.[5]
In 2013 Rimbaud dueted with Alexandra Strunin on the song "Robot" from her EP called Stranger released on 29 October 2013.
Genre not found
Artist not found
Album not found
Search results not found
Song not found
Lord Barker's Theme
Scanner Lyrics
We have lyrics for these tracks by Scanner:



20th Century Crusade The orange is peeled, rapped are the brains Hopes are all…
Across the Universe Code - P.E.C. - codeword admittance Access to all data conc…
After the Storm Can't you hear, can't you hear our moans, our crying? Dark…
Ball of the Damned They had come far from Been invited to Lord Barker's…
Break the Seal It's the hour, the cypher for rebirth A poisoned arrow is…
Buy or Die Alice has planned her shopping day She takes the bus to…
Conception of a Cure Give me your hand I'll show you a different space Break th…
From the Dust of Ages We're surrounded, there's no escape Landed on a world, atta…
Frozen Under the Sun So many ways to choose for walking Which of this…
Grapes of Fear In the last days of the second world war When human…
Innuendo While the sun hangs in the sky and the desert…
Into a Brave Man's Mind Dawning at the eve The sun melts the horizon Soft winds on…
Judge on the Run Entrance to second main-floor Pulse running high The poi…
Killing Fields They are soldiers too blind too see Fighting for their own…
L.A.D.Y Went to a gay club Sent by a friend of…
Locked Out It''s so serious They destroyed all of us All my comrades th…
Nightmare Welcome to your joyful plotted nightmare Yeah, this cute ho…
Not Alone There'll be times When we'll conquer the sky We'll fly to …
Out of Nowhere Here I am at a standstill No move I'm biding time Desultor…
Puppet on a String Everyone a child of the sun But the gap is wide…
R.M.U We have come, we travelled space through the galaxies From a…
R.M.U. We have come, we traveled space through the galaxies From a…
Retaliation Positive Sirs, now that you?e saved me, I think I must…
Rubberman Course: Straight ahead There's nothing that can stop me now…
Telemania Pictures creep into your living-room Glimmering blue light …
Terminal Earth Our mission is done And our time has come All the stars…
Terrion I see a time A time without hatred and riots Sunrising citie…
The Challenge They live in countries With different names Their works do…
The Law They ride across the mountains Over their God-given land F…
Tollshocked Since we're talking, mainly upright walking Proved true th…
Touch the Light They came down late at night Like rain over the land No…
Upright Liar Human genius rules the world Explores the depth and height …
Warp 7 There was no starlight Now the rays are blazing in my…
We Start It Tomorrow Insanity surrounding me Right beyond these walls Dark co…
Wizard Force Eternal life man all time desire This time I feel like…
Wonder Emptiness inside my purse And in my pockets too Hell, I gu…
Wrong Lane Society Spend my life in misery And stand it going on But recently…
Your Infallible Smile We believed time would relieve all pain Took an oath to…

The lyrics can frequently be found in the comments below or by filtering for lyric videos.