So here am I
A flock of white swans drift slowly by
A ballerina dissolves in my eye
I'm still the girl with the beautiful smile
The apple of my Daddy's eye.
Innocence as soft as summer rain
Bitter sweet, the dull of Novocaine.
Tell everybody I'm elated
Armour plated
Coz nothing penetrates the make up
I'm all grown up
Just killing time.
So why am I
Still building sandcastles in the sky
While I'm losing the will to survive
I lie here watching the days drift slowly by
Raise my head up and wonder why.
Fairytale and daisy chains have died
Promises so sweet deceive me and I.
X 2
Track "Scarlette Feve
Writer(s): Andrew Wright, Karen Louise Barrow

Contributed by Alexis D. Suggest a correction in the comments below.
To comment on specific lyrics,
highlight them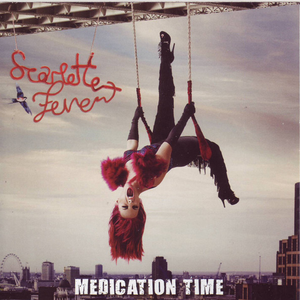 SCARLETTE IN THE STUDIO RECORDING THE NEW ALBUM

Kept very busy writing over the last two months with some exciting collaborators, Scarlette also played some British Festivals and a Smooth Radio Liverpool Docks show on 21st July, before heading USA bound to play for US TV networks and do some more writing with certain under-wraps A-list personnel.

2012 is shaping up nicely, in fact. In April Scarlette released 'The Great Expectations' EP, debuting a new, rawer sound.
Read Full Bio
SCARLETTE IN THE STUDIO RECORDING THE NEW ALBUM

Kept very busy writing over the last two months with some exciting collaborators, Scarlette also played some British Festivals and a Smooth Radio Liverpool Docks show on 21st July, before heading USA bound to play for US TV networks and do some more writing with certain under-wraps A-list personnel.

2012 is shaping up nicely, in fact. In April Scarlette released 'The Great Expectations' EP, debuting a new, rawer sound. Lead track 'Hour Of Sunshine,' co-written with and produced by Julian Emery (Lissie) was remixed by Cenzo Townshend (Snow Patrol) and complemented by a second, live mix produced by Steve Lironi (Bon Jovi). The EP also contained interpretations by Ash Howes (Texas) of live favourites 'Cheatin' Man' & 'Good Day' (both co-written with Andy Wright - Imelda May). Since premiering on NME.com, the video, produced by Dani Jacobs (Moby, Phil Collins/ Texas) has received over 200,000 views on youtube. Check it out HERE

Also in April Scarlette made her first trip to the States, to perform two storming gigs at Music Expo and the Worldwide Radio Summit, both in LA. "It was my first jaunt across the pond," says Scarlette. "Jessie J and Adele performed at last year's showcase, so you never know,'

Scarlette Fever had a busy 2011, too. 'Debut single 'Crash & Burn' sailed straight onto Radio 2's B-list in January, reaching #2 on the Billboard Breakout Club Chart, and winning praise across the media. Since then, her profile has steadily risen, alongside the further radio playlists (including another Radio 2 B-List for recent single, Elated) and national press acclaim everywhere from big-selling tabloids like Daily Mirror to the influential Popjustice website. She toured with Girls Aloud, performed with Robbie Williams, as well as completing a 20 date support with 80s legends Mike & The Mechanics and an autumn leg with Caro Emerald and Roachford.



www.scarlettefever.co.uk
www.myspace.com/scarlettefever
www.twitter.com/scarlettesays
http://www.facebook.com/#!/ScarletteFever
Genre not found
Artist not found
Album not found
Search results not found
Song not found