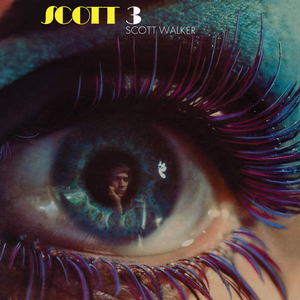 Butterfly is the sixth track on Scott Walkers third album Scott 3.

About …
Read Full Bio ↴
Butterfly is the sixth track on Scott Walkers third album Scott 3.

About the track Walker commented: "I figured that I'd write some little songs. A lot haven't been recorded yet. This was done in the South of France. In the early morning rain on the beach. A great, beautiful girl. Like a butterfly lost in all this vast space. I tried to get close to Debussy or Delius. That fluttering feeling."
Jump to: Overall Meaning ↴ Interesting Facts ↴ Line by Line Meaning ↴
There's a butterfly circling the beach
Searching the rocks where you are
He chooses your hair, and that's where he belongs
For he's lost like a star
Head down, reluctant and warm
You give your thoughts to the sea
Dark rivers your eyes belong to no-one
Like a star
Like a butterfly
Overall Meaning
The song "Butterfly" by Scott Walker is one of the most remarkable tracks in his career. At its core, the song is about a butterfly circling the beach in search of something or someone. The butterfly ultimately chooses the hair of the person the songwriter is addressing and becomes lost like a star. The lyrics are quite simple, but the interpretation is where the beauty of this song lies.
The butterfly can be viewed as a metaphor for someone searching for a deeper meaning in life or trying to find their place in the world. The line "he's lost like a star" speaks to the idea that we are all searching for something in life, and we can feel lost or aimless at times. The person the butterfly chooses represents someone who is unattainable or out of reach. The imagery of the dark rivers in the person's eyes belonging to no one suggests a sense of isolation or detachment from others.
Overall, the song is about the human experience of searching for meaning and connection, and the feeling of being lost and alone in that search. The lyrics are beautifully crafted and leave room for personal interpretation and reflection.
Interesting facts about "Butterfly":
Interesting Facts
Note: This section uses generative AI, which can be inaccurate.


Line by Line Meaning
There's a butterfly circling the beach
A butterfly flying aimlessly over the beach
Searching the rocks where you are
Looking for someone on the rocks nearby
He chooses your hair, and that's where he belongs
The butterfly lands on a person's hair and feels at home
For he's lost like a star
The butterfly is lost and wandering blindly, like a lost star
Head down, reluctant and warm
The person being sung about is shy and warm-hearted, but hesitant
You give your thoughts to the sea
The person is lost in their own thoughts, staring at the sea
Dark rivers your eyes belong to no-one
The person's eyes are deep and mysterious, not belonging to anyone in particular
Like a star
Just like the lost butterfly, the person is also wandering and lost
Like a butterfly
The person is delicate and vulnerable, just like the butterfly
Lyrics © CARLIN AMERICA INC
Written by: SCOTT ENGEL

Lyrics Licensed & Provided by LyricFind
To comment on or correct specific content,
highlight it
Genre not found
Artist not found
Album not found
Search results not found
Song not found