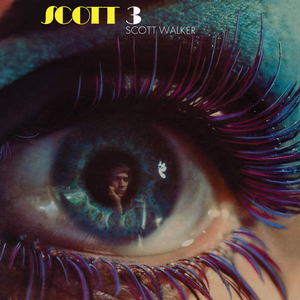 Walker - "A lot to do with my teenage years. We are all flower/hippy now. My t…
Read Full Bio ↴
Walker - "A lot to do with my teenage years. We are all flower/hippy now. My teenage days were in the beatnik era. I was involved in progressive jazz and writers like Jack Kerouac. Hitch-hiking over America. Meeting a lot of people with whom I had ephemeral relationships. A song about meeting people, knowing them about a week, falling in love - and moving on. A very beautiful logical state of mind. Breaking relationships is always a very traumatic experience, it wasn't then."
It's Raining Today
Scott Walker Lyrics
Jump to: Overall Meaning ↴ Interesting Facts ↴ Line by Line Meaning ↴
It's raining today
And I'm just about to forget
The train window girl
That wonderful day we met
She smiles through the smoke
From my cigarette
It's raining today
But once there was summer and you
And dark little rooms
And sleep in late afternoons
Those moments descend
On my window pane
I've hung around too long
Listening to the old landlady's hard-luck stories
You out of me, me out of you
We go like lovers
To replace the empty space
Repeat our dreams to someone new
It's raining today
And I watch the cellophane streets
No hang-ups for me
'Cause hang-ups need company
The street corner girl's
A cold trembling leaf
It's raining today
It's raining today
Overall Meaning
The opening line "It's raining today" sets the mood for this melancholic song by Scott Walker. The song talks about a past love that the singer is trying to forget. He reminisces about meeting a girl on a train, and how they shared a special moment together. However, he is now trying to move on from these memories. The verse "She smiles through the smoke, from my cigarette" shows the simplicity and sweetness of their encounter. The line evokes an image of two strangers sharing a brief moment of intimacy, as they share a smoke together.
The chorus is repeated twice, this repetition reinforces the idea of the singer's melancholy state. The second verse describes a time in the past when the singer was happy and content with his love interest. We can imagine the singer in a small room with his lover, surrounded by darkness and summer warmth. These are the moments that "descend on his window pane," where he relives the past.
As the song continues, the singer acknowledges that he has "hung around too long." He listens to the old landlady's hard-luck stories instead of moving on from his own sadness. He recognizes the need to replace the empty space left by his past lover. He feels the need to find a new partner, to "repeat our dreams to someone new." The final two stanzas suggest a sense of desolation in the singer's life, as he observes the streets through the rain.
Interesting facts:
Interesting Facts
Note: This section uses generative AI, which can be inaccurate.


Line by Line Meaning
It's raining today
The weather is currently rainy
And I'm just about to forget
I am almost ready to forget something
The train window girl
A girl I saw through the window of a train
That wonderful day we met
The day we met was wonderful
She smiles through the smoke
She smiled even though there was smoke in the way
From my cigarette
Which I was smoking at the time
But once there was summer and you
There was a time when there was summer and you
And dark little rooms
We spent time in small, dark rooms
And sleep in late afternoons
We would sometimes sleep during the late afternoon
Those moments descend
Those memories come back to me
On my window pane
As I look out the window
I've hung around too long
I have stayed in one place for too much time
Listening to the old landlady's hard-luck stories
I have been listening to my landlady's stories about her difficulties
You out of me, me out of you
We have separated from each other
We go like lovers
We move on as if we were once lovers
To replace the empty space
To fill the void left by our separation
Repeat our dreams to someone new
We retell our shared hopes and aspirations to another person
And I watch the cellophane streets
I observe the plastic-like, shiny streets
No hang-ups for me
I am free from emotional baggage
'Cause hang-ups need company
People with emotional issues tend to seek out others with similar problems
The street corner girl's
The girl on the corner
A cold trembling leaf
She is shaking, vulnerable, and possibly feeling alone in the rain
It's raining today
The weather is still rainy and possibly adding to the somber tone of the song
It's raining today
The weather is still rainy and possibly adding to the somber tone of the song
Lyrics © BMG Rights Management
Written by: Scott Engel

Lyrics Licensed & Provided by LyricFind
To comment on or correct specific content,
highlight it
Genre not found
Artist not found
Album not found
Search results not found
Song not found