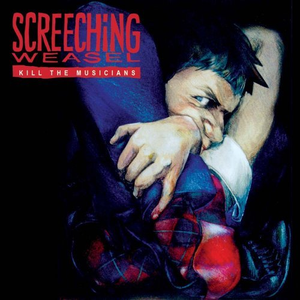 Screeching Weasel is an American punk band from Chicago, Illinois. They were for…
Read Full Bio ↴
Screeching Weasel is an American punk band from Chicago, Illinois. They were formed in 1986 by Ben Weasel (aka Ben Foster who also used to be a columnist for the punk fanzine Maximum Rocknroll) and John Jughead (aka John Pierson). The band gained prominence in the early 1990s after signing to East Bay punk label, Lookout! Records and are cited to be a major influence over many bands playing that style of punk music.

Through the years, the band went through many line-up changes, with Ben and John being the only constant members since the band's inception. Screeching Weasel officially broke up for (roughly) the third - and allegedly final - time on July 6, 2001.
The band did a few surprise shows between 2001-2009.

Ben Weasel reformed the group in March 2009 with a new line-up, and without John Jughead. Ben had released solo albums that were the same just in his name. John finally settled for T-Shirt money for being an original member of the band and a royalties for a handful songs he co-wrote, and let Ben play as Screeching Weasel with the hundreds of song lyrics and music has written.

Former Members include renowned punk rock record producer Mass Giorgini on bass guitar, Dan Panic (born Dan Sullivan) on drums, and Danny Vapid (born Dan Schafer,on guitar or bass, depending on the band's necessity. Dan is currently fronting The Methadones and formerly of Sludgeworth)

Members of Screeching Weasel have gone on to form bands such as: The Methadones, The Mopes, Even in Blackouts, and Sweet Black And Blue.

Screeching Weasel has also included members of Green Day, Sludgeworth, Common Rider, Squirtgun, and Teen Idols.

During one of the band's many break-ups, Weasel and Vapid also formed the Riverdales. Additionally, Ben Weasel released a solo record in 2002 entitled Fidatevi.

In 2004 Ben Weasel rescinded all of the Screeching Weasel and Riverdales masters from Lookout! Records in the wake of long-running financial and personal conflicts. The masters were subsequently licensed to and reissued by Asian Man Records.

On December 7, 2010, it was announced that Screeching Weasel will release a new album on March 15, 2011, the band's first album in eleven years. The album will be titled First World Manifesto and will be released on Fat Wreck Chords. It will contain 14 new songs and is produced by Mike Kennerty of The All-American Rejects. It was announced that the label will also be releasing the back catalogs of Screeching Weasel, the Riverdales, and Ben Weasel.

On March 18, 2011, during Screeching Weasel's South by Southwest Festival performance at the Scoot Inn in Austin, Texas, Foster reached from the stage and slapped a female audience member who had spit on him several times. This sent off a fire storm web frenzy from all of the self -righteous non Screeching Weasel fans. Ben apologized for his actions, but all of the perfect people who never loose there cool were not satisfied.

Ben and his hired band had a falling out. He found out who his true friends and fans were. After over a year of spending time with his family and raising a new baby, he released Carnival of Schadenfreude EP in 2011 with huge interest and has resumed his music career again full swing.
Jump to: Overall Meaning ↴ Interesting Facts ↴ Line by Line Meaning ↴
Goodbye to you and the stupid things you do
Goodbye to you goodbye to everything that you do
Goodbye to you it's always goodbye to you
Overall Meaning
The lyrics to Screeching Weasel's song "Goodbye to You" convey themes of closure and the end of a relationship. The repetition of the phrase "goodbye to you" underscores the finality of the situation, emphasizing the singer's resolve and determination to move on. The phrase "and the stupid things you do" adds a touch of bitterness and perhaps reflects the frustrations and disillusionment one feels at the end of a once-promising relationship. The final "goodbye to everything that you do" suggests a clean break, a dissociation from all the memories and associations of the past.
Overall, the lyrics to "Goodbye to You" capture the challenging emotional terrain of ending a relationship: the bittersweet feelings of fondness mixed with disappointment, the struggle to move on, and the reality of accepting a new chapter in one's life. The repetition of the phrase "goodbye to you" serves as a powerful reminder that life will not just pause after a breakup. Life moves forward, and the singer is determined to move on to the next chapter in his life.
Interesting facts about "Goodbye to You":
Interesting Facts
Note: This section uses generative AI, which can be inaccurate.


Line by Line Meaning
Goodbye to you and the stupid things you do
Farewell to both you and your foolish actions
Goodbye to you goodbye to everything that you do
Parting ways with you and all of your actions
Goodbye to you it's always goodbye to you
Saying farewell to you, as it always seems to be
Lyrics © Sony/ATV Music Publishing LLC
Written by: ZACHARY HOLT SMITH

Lyrics Licensed & Provided by LyricFind
To comment on or correct specific content,
highlight it
Genre not found
Artist not found
Album not found
Search results not found
Song not found