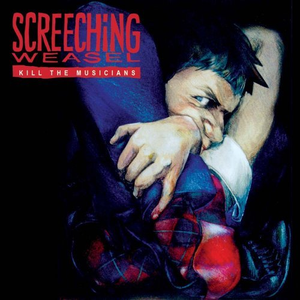 She's Giving Me the Creeps
Screeching Weasel is an American punk band from Chicago, Illinois. They were for…
Read Full Bio ↴
Screeching Weasel is an American punk band from Chicago, Illinois. They were formed in 1986 by Ben Weasel (aka Ben Foster who also used to be a columnist for the punk fanzine Maximum Rocknroll) and John Jughead (aka John Pierson). The band gained prominence in the early 1990s after signing to East Bay punk label, Lookout! Records and are cited to be a major influence over many bands playing that style of punk music.

Through the years, the band went through many line-up changes, with Ben and John being the only constant members since the band's inception. Screeching Weasel officially broke up for (roughly) the third - and allegedly final - time on July 6, 2001.
The band did a few surprise shows between 2001-2009.

Ben Weasel reformed the group in March 2009 with a new line-up, and without John Jughead. Ben had released solo albums that were the same just in his name. John finally settled for T-Shirt money for being an original member of the band and a royalties for a handful songs he co-wrote, and let Ben play as Screeching Weasel with the hundreds of song lyrics and music has written.

Former Members include renowned punk rock record producer Mass Giorgini on bass guitar, Dan Panic (born Dan Sullivan) on drums, and Danny Vapid (born Dan Schafer,on guitar or bass, depending on the band's necessity. Dan is currently fronting The Methadones and formerly of Sludgeworth)

Members of Screeching Weasel have gone on to form bands such as: The Methadones, The Mopes, Even in Blackouts, and Sweet Black And Blue.

Screeching Weasel has also included members of Green Day, Sludgeworth, Common Rider, Squirtgun, and Teen Idols.

During one of the band's many break-ups, Weasel and Vapid also formed the Riverdales. Additionally, Ben Weasel released a solo record in 2002 entitled Fidatevi.

In 2004 Ben Weasel rescinded all of the Screeching Weasel and Riverdales masters from Lookout! Records in the wake of long-running financial and personal conflicts. The masters were subsequently licensed to and reissued by Asian Man Records.

On December 7, 2010, it was announced that Screeching Weasel will release a new album on March 15, 2011, the band's first album in eleven years. The album will be titled First World Manifesto and will be released on Fat Wreck Chords. It will contain 14 new songs and is produced by Mike Kennerty of The All-American Rejects. It was announced that the label will also be releasing the back catalogs of Screeching Weasel, the Riverdales, and Ben Weasel.

On March 18, 2011, during Screeching Weasel's South by Southwest Festival performance at the Scoot Inn in Austin, Texas, Foster reached from the stage and slapped a female audience member who had spit on him several times. This sent off a fire storm web frenzy from all of the self -righteous non Screeching Weasel fans. Ben apologized for his actions, but all of the perfect people who never loose there cool were not satisfied.

Ben and his hired band had a falling out. He found out who his true friends and fans were. After over a year of spending time with his family and raising a new baby, he released Carnival of Schadenfreude EP in 2011 with huge interest and has resumed his music career again full swing.
Jump to: Overall Meaning ↴ Interesting Facts ↴ Line by Line Meaning ↴
she's giving me the creeps the girl i knew is dead she says her armpits are hairy cause it's natural so why does she shave her head? her legs are hairy logs and she's got earings in her face what's with this hippy bullshit anyway? she's giving me the creeps she's dawn quixote you can sell your lsd in a dirt lot now people's park is free the bums that she calls homeless people still aren't eating and the broads that she calls womyn still get raped she's giving me the creeps she wallows in her words semantics mean much more than action in her moronic world i extend my most heartfelt apologies for being white and male without a cause
Overall Meaning
The lyrics to Screeching Weasel's "She's Giving Me the Creeps" paint a vivid picture of the singer's discomfort and frustration with a former friend who has drastically changed. The opening line, "she's giving me the creeps, the girl I knew is dead," suggests that the singer feels like he no longer knows the person his friend has become. He then goes on to describe her physical appearance in detail, pointing out her hairy armpits and legs, as well as her facial piercings. The singer expresses confusion about his friend's embrace of "hippy bullshit," wondering why she claims to value naturalness but still shaves her head.
The second half of the song takes a more overtly political tone, as the singer critiques his friend's beliefs about homelessness and sexism. He sarcastically refers to her as "Dawn Quixote," suggesting that she is naive and idealistic in her views. He notes that while she may believe that selling LSD in a dirt lot is noble, the reality is that people who are homeless still struggle to get by, and women continue to face the threat of sexual violence. The closing lines of the song reveal the singer's bitterness and resentment, as he issues a sarcastic apology for being "white and male without a cause."
Overall, "She's Giving Me the Creeps" is an angry and confrontational song, expressing frustration with both personal and political issues. The lyrics convey a sense of disillusionment with the counterculture of the 1990s, which the singer sees as hypocritical and ineffective.
Some interesting facts about the song:
Interesting Facts
Note: This section uses generative AI, which can be inaccurate.


Line by Line Meaning
she's giving me the creeps
I am uncomfortable around her
the girl i knew is dead
She has changed beyond recognition
she says her armpits are hairy cause it's natural
She justifies not shaving her armpits
so why does she shave her head?
I do not understand her actions
her legs are hairy logs
Her leg hair is very noticeable
and she's got earrings in her face
She has piercings in unconventional places
what's with this hippy bullshit anyway?
I do not agree with her counter-culture beliefs
she's dawn quixote
She has unrealistic, idealistic views
you can sell your lsd in a dirt lot
Drug use is prevalent in her community
now people's park is free
The park has become a place for homeless people
the bums that she calls homeless people still aren't eating
The homeless are still struggling to survive
and the broads that she calls womyn still get raped
Her feminist views do not change the reality of violence against women
she wallows in her words
She talks a lot but does not necessarily take action
semantics mean much more than action in her moronic world
She prioritizes vocabulary and phrasing over actual change
i extend my most heartfelt apologies for being white and male without a cause
He is being sarcastic and does not actually feel sorry for being a white male
Lyrics © O/B/O APRA AMCOS

Lyrics Licensed & Provided by LyricFind
To comment on or correct specific content,
highlight it
Genre not found
Artist not found
Album not found
Search results not found
Song not found