If you think you're guilty
when your wish gets strong
get a new experience
come and cross the line
When the day comes closer
and your passions fade
you're unable to oppose
come and cross the line
Follow me ...
What you ever needed
What you never got
just a promise that I give
you can have it all
Now the day comes closer
and your passions fade
don´t ignore your wishes
come and cross the line
Follow me ...
Lyrics © O/B/O APRA AMCOS
Written by: Ryan Toby, Jason Boyd, Vidal Davis, Andre Harris

Lyrics Licensed & Provided by LyricFind
To comment on specific lyrics,
highlight them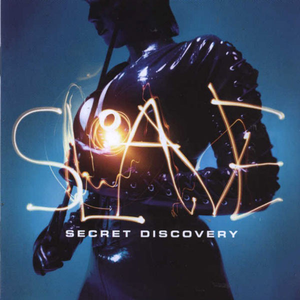 Secret Discovery is a dark rock act from the heart of Germany's Ruhr area, chose that end for themselves towards the close of the last millennium. And parted "as friends", as the saying goes.

Roughly half a decade later, in 2004, that end turned out not to be a permanent one. Secret Discovery were back, with a new prayer up their sleeves. "Pray" was the title of their … let's call it "comeback album", which went down extremely well with the public.
Read Full Bio
Secret Discovery is a dark rock act from the heart of Germany's Ruhr area, chose that end for themselves towards the close of the last millennium. And parted "as friends", as the saying goes.

Roughly half a decade later, in 2004, that end turned out not to be a permanent one. Secret Discovery were back, with a new prayer up their sleeves. "Pray" was the title of their … let's call it "comeback album", which went down extremely well with the public. The band presented themselves more mature in terms of their song-writing, as well as their stylistic elements, mixed by the quintet to develop their very own Secret Discovery sound.

Little wonder, you might be tempted to think, after all Secret Discovery, alongside acts such as Project Pitchfork, Deine Lakaien, Das Ich, Lacrimosa and Goethes Erben, were not only a strong motor for the renaissance of the German gothic scene in the early Nineties, but also forerunners of gothic metal made in Germany, and their 1993 offering, "Into The Void" is still considered a genre classic. The more years that passed, the more the band opened themselves to new ideas and different styles. "Question Of Time" manifested their status on the Mount Olympus of rock, metal and crossover, "Slave" being the final and definitely worthy swansong of this unique act.But why waste time on all this background information?

Secret Discovery have tasted blood again. The success of "Pray" and the thoroughly enthusiastic reactions to their hand-picked gigs motivated the band further, inspiring them to work on their latest release, "Alternate".

"Alternate" is aptly entitled, because Secret Discovery's sonic update alternates, too. Their guitars rock heavily, the keyboards caress Kai Hoffmann's constantly progressing vocals, and then there are those hook lines! Secret Discovery have come up with their very own version of contemporary pop music, and that's a real compliment.
"We're used to falling between the stools, and we don't want to be categorized in a single pigeonhole," frontman Kai Hoffmann explains, adding with a smug undertone: "We've always enjoyed helping ourselves to various genres, to be honest. We're open to different musical directions, and looking at it in a positive way, we may end up creating a new pigeonhole, just for ourselves." Right he is. In terms of their lyrics and their music, "Alternate" is Secret Discovery's coming of age. And what a coming of age!
"Our lyrics are always marked by our own personal experiences, the highs and lows in our lives. Dreams and fears, love or hate can be found in the themes of our lyrics," Kai adds, "and we always strive for a lyrical style that's not overly clear, but subtle instead. There should always be enough room for personal interpretation. Our musical influences still stem from the Eighties, the early days of new wave and gothic, particularly when it comes to our songwriting, but pop acts such as Coldplay, R.E.M. or Placebo have also left their traces." And it's still good to be back, isn't it?

"Oh yes," Kai replies, "'Pray' was important in that it helped us collect our thoughts, musically. In terms of sound, it's a fairly typical Secret Discovery recording, sounding a little like a journey in time through the tracks on our first albums, only in a modern outfit. Looking at it this way, 'Pray' was a statement first and foremost: 'We're back, we still sound like Secret Discovery – we are Secret Discovery!'"

"'Alternate' was different. This time around, it was our aim to develop the overall sound, we wanted to do something that still sounds like Secret Discovery, but is different at the same time; contemporary in true SD style on the one hand, and at the same time different enough to make it impossible to compare to its predecessors. When it came to the songwriting, we freed ourselves of all parameters, it materialized in the process which direction we were going to take. We definitely didn't want any templates to restrict our creativity in any way." Mission accomplished. "Alternate" is Secret Discovery Mark 2006.

Without limits, without pigeonholes, without parameters, more from the gut, with more authenticity and even more amazing hooklines.
Thomas Thyssen (Winter 2005)
Genre not found
Artist not found
Album not found
Search results not found
Song not found