O meu amor sozinho
É assim como um jardim sem flor
Só queria poder ir dizer a ela
Como é triste se sentir saudade
É que eu gosto tanto dela
Que é capaz dela gostar de mim
E acontece que eu estou mais longe dela
Que da estrela a reluzir na tarde
Estrela, eu lhe diria
Desce à terra, o amor existe
E a poesia só espera ver
Nascer a primavera
Para não morrer
Não há amor sozinho
É juntinho que ele fica bom
Eu queria dar-lhe todo o meu carinho
Eu queria ter felicidade
É que o meu amor é tanto
Um encanto que não tem mais fim
E no entanto ele nem sabe que isso existe
É tão triste se sentir saudade
Amor, eu lhe direi
Amor que eu tanto procurei
Ah, quem me dera eu pudesse ser
A tua primavera
E depois morrer
Contributed by Kylie L. Suggest a correction in the comments below.
To comment on specific lyrics,
highlight them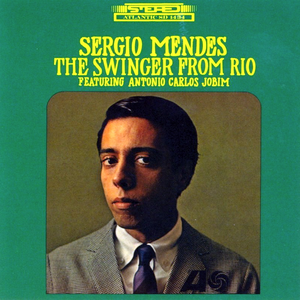 See Sérgio Mendes.

Sérgio Santos Mendes (born Niteroi, 11 February 1941) is a Brazilian musician. Born the son of a physician in Niteroi, Brazil, Mendes attended the local conservatory with hopes of becoming a classical pianist. As his interest in jazz grew, he started playing in nightclubs in the late-1950s just as bossa nova, a jazz-inflected derivative of samba, was taking off. Mendes played with Antonio Carlos Jobim (regarded as a mentor), and many U.S. jazz musicians who toured Brazil.
Read Full Bio
See Sérgio Mendes.

Sérgio Santos Mendes (born Niteroi, 11 February 1941) is a Brazilian musician. Born the son of a physician in Niteroi, Brazil, Mendes attended the local conservatory with hopes of becoming a classical pianist. As his interest in jazz grew, he started playing in nightclubs in the late-1950s just as bossa nova, a jazz-inflected derivative of samba, was taking off. Mendes played with Antonio Carlos Jobim (regarded as a mentor), and many U.S. jazz musicians who toured Brazil.

Mendes formed the Sexteto Bossa Rio and recorded Dance Moderno in 1961. Touring Europe and the United States, Mendes recorded albums with Cannonball Adderly and Herbie Mann and played Carnegie Hall. Mendes moved to the U.S. in 1964 and cut two albums under the Brasil '65 group name with Capitol Records and Atlantic Records. When sales were tepid, he replaced his Brazilian born vocalist Wanda Sa with the distinctive voice of Chicago native Lani Hall (who learned Mendes' Portuguese material phonetically) and switched to Herb Alpert's A&M label and released Sergio Mendes and Brasil '66. (Hall would later marry Alpert). The album ultimately went platinum based largely upon the success of the single Mas Que Nada and the personal support of Alpert, with whom Mendes toured regularly. Though his early singles with Brasil '66 (most notably Mas Que Nada) met with some success, Mendes really burst into mainstream prominence when he performed the Oscar nominated Burt Bacharach/Hal David song "The Look of Love" on the Academy Awards telecast in March 1968. Brasil '66's version of the song quickly shot into the top 10, eclipsing Dusty Springfield's version from the soundtrack of the movie, and Mendes spent the rest of 1968 enjoying consecutive top 10 and top 20 hits with his follow-up singles, "The Fool on the Hill" and "Scarborough Fair." Though he continued to enjoy adult contemporary chart successes with Brasil '66 through 1971, he would not experience the mainstream chart hits he enjoyed in 1968 until his comeback album in 1983 generated the biggest single of his career, "Never Gonna Let You Go." However, from 1968 on, Mendes was arguably the biggest Brazilian star in the world, enjoying immense popularity worldwide and performing in venues as varied as stadium arenas and the White House, where he gave concerts for both President Johnson and President Nixon.

Mendes' career in the U.S. stalled in the mid-70s, but he remained very popular in South America and Japan. (This disparity became a Seinfeld in-joke.) His two albums with Bell Records in 1973 and 1974, followed by several for Elektra from 1975 on, found Mendes continuing to mine the best in American pop music and post-Bossa writers of his native Brazil, while forging new directions in soul with collaborators like Stevie Wonder, who wrote Mendes' R&B-inflected minor hit, "The Real Thing." In 1983, he rejoined Alpert's A&M records and enjoyed huge success with a self-titled album and several follow-up albums, all of which received considerable adult contemporary airplay with charting singles. By the time Mendes released his Grammy-winning Elektra album Brasileiro in 1992, he was the undisputed master of pop-inflected Brazilian jazz. The late-1990s lounge music revival brought retrospection and respect to Mendes' oeuvre, particularly the classic Brasil '66 albums. He has released over thirty-five albums, and still plays his bossa nova heavily crossed with jazz and funk. His newest album, Timeless released in 2006, featured Chali 2na of Jurassic 5, will.i.am of Black Eyed Peas, Q-Tip, Justin Timberlake, and Pharoahe Monch.

(Text taken in whole from the Wikipedia article at http://en.wikipedia.org/wiki/Sergio_Mendes on March 30, 2006)
Genre not found
Artist not found
Album not found
Search results not found
Song not found