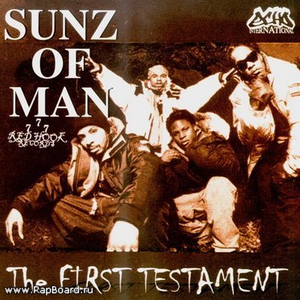 Shabazz the Disciple (born David Collins) is an emcee from the Red Hook Houses of Red Hook, Brooklyn. He is mostly associated with the Wu-Tang Clan. He was discovered by the RZA prior to the release of the Wu's debut album Enter the Wu-Tang as he was a founding member of the Sunz of Man, back then they were known as Da Last Future and entirely produced by Supreme. He even gets a shout out on the intro to "Clan In Da Front".

After hooking up with the Wu-Tang
Read Full Bio
Shabazz the Disciple (born David Collins) is an emcee from the Red Hook Houses of Red Hook, Brooklyn. He is mostly associated with the Wu-Tang Clan. He was discovered by the RZA prior to the release of the Wu's debut album Enter the Wu-Tang as he was a founding member of the Sunz of Man, back then they were known as Da Last Future and entirely produced by Supreme. He even gets a shout out on the intro to "Clan In Da Front".

After hooking up with the Wu-Tang, Shabazz made two guest appearances on the first Gravediggaz album 6 Feet Deep in 1994, and then he signed to the GZA Entertainment management agency. He remained an official member of Sunz Of Man until just before the group released its debut LP The Last Shall Be First; his best-known solo track "Death be the Penalty" was originally intended to be a Sunz of Man track on the B-side to their single "Soldiers of Darkness," but the other members were so impressed with his contribution he was given the track for himself. This track was met with mixed emotions mainly because many felt it was extremely self righteous and incredibly hypocritical.

In the mid-90s Shabazz released a handful of singles, such as "Death be the Penalty", "Crime Saga", "The Lamb's Blood" and "Street Parables", in anticipation of his planned 1998 debut LP which was scrapped after GZA/Genius' GZA Entertainment label folded. Due to that deal folding, Shabazz's Wu affiliation (along with the affiliation of his close friend Killah Priest, also a GZA Entertainment refugee) began to wane. Around this 1996/1997 period, Priest and Shabazz both began to clash with RZA, and both had since all but cut their Wu-Tang ties. After unsuccessful attempts by the pair to create new post-Wu Tang crews (Priest proposed a crew called the Maccabeez which would include himself, Shabazz and Timbo King among others, while Shabazz proposed a group including himself and Priest called the Sunz Of Thunder) they both effectively went their separate ways, recording solo projects and in Shabazz's case recording as Celestial Souljaz with his cousin Freestyle (of non-Wu Tang crew The Arsonists). Shabazz is also known for being an influence on the late Big Pun.

In recent years, Shabazz has began to rediscover his Wu-Tang roots and performed on a Killa Beez tour as well as doing shows in Europe with Killah Priest (who has also recently been repairing his links with the Wu-Tang). After the death of Poetic, he has been rumored to be part of a new incarnation of Gravediggaz though Prince Paul has stated that a revival of the group is unlikely. He also announced in early 2003 that he has returned to Sunz Of Man as an official member.

In 2003, Shabazz finally released his solo debut "The Book of Shabazz (Hidden Scrollz)", the album featured his past singles "The Lamb's Blood," "Crime Saga," "Street Parables," and "Organized Rime Part 2," as well as the single "Red Hook Day" b/w "Thieves in da Nite (Heist)." Two years later he returned with The Passion of the Hood Christ in mid-2006.

In 2008, Shabazz formed the group T.H.U.G. Angels with fellow Sunz of Man member Hell Razah and producer Ayatollah. The group's debut, Welcome to Red Hook Houses, was released July 8, 2008, on Babygrande Records.
Genre not found
Artist not found
Album not found
Search results not found
Song not found
We have lyrics for 'Sunz Of Man Court' by these artists:



Sunz of Man Yeah, Scientific Shabazz, the Holy Psychiatrist Coming down…



We have lyrics for these tracks by Shabazz the Disciple:



Blasphemy [Chorus] Blasphemy they whisper in the dark of blasting me L…
Concious of Sin Yo, I was in the game And when you dealing with…
Cremate 'Em [Intro] Ashes, ashes, ashes, ashes, ashes, ashes, ashes, ash…
Cremate Em [Intro] Ashes, ashes, ashes, ashes, ashes, ashes, ashes, ash…
Crime Saga [Verse One] Yo! Shorty was used to being jiggy But then he…
Death Be the Penalty Intro: Yeah The once lost disciples now found Bound toget…
Ghetto Apostles featuring Bless Freestyle Poetic [Intro: Shabazz T…
Hip Pop [Chorus: repeat 2X] Hip pop, they tap dance to sell a…
Oasis [Chorus: Repeat 2X] We came a long way up from fighting…
Organized Rime Pt. 2 (Chorus: repeat 2X) Yo god, I'm tryna stack and get a…
Red Hook Day [Verse One] Yo it was all a dream, me and my…
Son Rise [Chorus 2X: Shabazz the Disciple] We making solid power mov…
Street Parables (Chorus - repeat 2X) Bear witness! as I exorcise my exorcis…
The Lamb & Blood [Chorus] Leviathan got the ghetto in the death hold You bett…
The Lamb's Blood [Chorus] Leviathan got the ghetto in the death hold You bett…
Thieves In Da Nite [Verse 1] Uses to stalk like a hawk pon the sidewalk…

The lyrics can frequently be found in the comments below or by filtering for lyric videos.