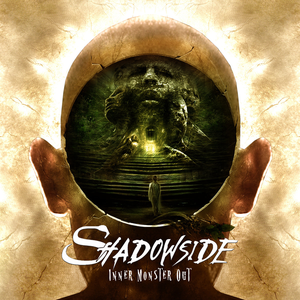 Power, energy, intensity. Shadowside can be defined by their and passion for Rock and courage to take risks and pursue goals and dreams. Featuring Dani Nolden, one of the most unique and strong female voices ever heard and strong musicianship, they combine the four members' influences of Hard Rock, Thrash and Heavy Metal to create songs with strong hooks, heavy guitars, catchy melodies and a vigorous performance with a hint of modern.

Even though the four metallers have different origins (Lithuanian
Read Full Bio
Power, energy, intensity. Shadowside can be defined by their and passion for Rock and courage to take risks and pursue goals and dreams. Featuring Dani Nolden, one of the most unique and strong female voices ever heard and strong musicianship, they combine the four members' influences of Hard Rock, Thrash and Heavy Metal to create songs with strong hooks, heavy guitars, catchy melodies and a vigorous performance with a hint of modern.

Even though the four metallers have different origins (Lithuanian, German, Portuguese and Italian), they were born and raised in Brazil and started activities in 2001 the sunny beach of Santos with the release of an independent EP, followed by a national tour that included opening for bands like Nightwish and Primal Fear.

The hype generated about the band created very high expectations for their official debut full length Theatre of Shadows, released in 2006, an instant national success. They were chosen to support Helloween in their Brazilian tour in 2006. Since then, they have been on the road frequently, having toured Spain twice, USA five times and packed venues in Brazil. Other artists they have performed with are Iron Maiden, Kittie, Divine Heresy, Daath, Temple of Brutality (featuring David Ellefson of Megadeth) and Sepultura.

August 2009 saw the release of Dare to Dream, Shadowside's second album, in Brazil only. The band took a big risk and dared to go for a raw and direct sound. The idea was immediately accepted and embraced by the fans and the album immediately hit position 4 in the Roadie Crew album charts (the most important Brazilian Metal magazine), only below Heaven and Hell, Iron Maiden and Blaze Bayley.
Shadowside is currently being described by the media as "the best band Brazilian band in activity" (Novo Metal website) and as the band that rescued attitude in Rock music (Roadie Crew Magazine). Dare to Dream also received high praise, being picked album of the year by the vast majority of the press in Brazil, top 3 albums by nearly every website and magazine in the country, voted by readers of the Portuguese magazine Horns Up! as the best Brazilian band and by readers of Roadie Crew as best female singer and top 3 overall, top 3 albums, top 3 bands, top 10 guitarists and top 10 live concerts.

Dare to Dream was released worldwide released in June 2010. The rising stars of the Brazilian Metal and Rock music scenes, Shadowside's last album title reflects what they always knew they should do: Dare to Dream. The band said goodbye to 2010 after an almost 2 months long tour with legendary rock band W.A.S.P. through Europe and entered the studio again in early 2011 to record new material, titled Inner Monster Out produced and mixed by Fredrik Nordström (Arch Enemy, Evergrey, Dimmu Borgir, Bring me the Horizon and many more). The raw energy on all the 11 tracks show a band that are not afraid to try and grow even more mature after every release, despite the young average age – late 20's – of the band members.
Genre not found
Artist not found
Album not found
Search results not found
Song not found
We have lyrics for 'A.D.D' by these artists:



Chris Webby Yeah. Put your bottles of Adderall in the air. This is for…
Nora I wonder how much is to much, What will it take…
Spiderbait I'm bouncing round like a jumping bean A gymnast on pseudoe…
System of a Down We fought your wars with all our hearts You sent us…
System Of A Down (S.O.A.D) We fought your wars with all our hearts You sent us…
System of a Down [wWw.Mp3World.iR] We fought your wars with all our hearts You sent us…
System Of A Down㘀 We fought your wars with all our hearts You sent us…
Ten Foot Pole Mommy, what does hyper mean? Teacher says I'll never read …
The Pretty Reckless I'm liking the color, I'm liking the bold And I've got…
The Unseen ADD Disorder ADD Bored To Death ADD Disorder ADD Bored to…
Unseen ADD Disorder ADD Bored To Death ADD Disorder ADD Bored to…
Vanilla Ice Through-out my dream these hands are tied You wear your mas…



We have lyrics for these tracks by Shadowside:



A Smile Upon Death Angel he claims he once felt No trace of it is…
A.D.D. Oblivion shields the world around Voices all fade away The…
Angel With Horns Guilty free I will degrade and tease I'm your sparkle, mak…
Baby In The Dark Whenever you feel there's no reason to trust That people ai…
Believe In Yourself Tell me why You keep yourself in fear All of us Must do…
Dare to Dream Your life is shit, you feel betrayed You're down with…
Gag Order Once more I open up the door A group of people…
Habitchual Feeling the need to do it One more time again Temptation r…
Hideaway Hideaway Hide before you fade away Hideaway Before they t…
Highlight A poor desperate man doesn't know what to do doesn't know …
I'm Your Mind You can hide nowhere I'll be always there When you're abou…
Illusions You're in the place where The day and the night Meet each…
In the Name of Love In deepest joy I take thee I promise love for eternity I'l…
In The Night I'm a threat to all your hopes and dreams A danger…
Inner Monster Out Walking down streets in the night Searching for clues (I d…
Kingdom Of Life You're not alone, you do have someone To love and to…
Last Thoughts Mother - I hear you screaming in despair Father - I…
Life Denied Where was I when all my friends were bleeding? When my…
Memories When it feels I've crossed the line and went back…
My Disrupted Reality Where are you? Gone again after a smile Who and what are…
Nation Hollow Mind Watch the kid die and be horrified Those monsters, they dra…
Queen Of The Sky Here I stand I see the stars so far away as slowly…
Ready or Not I'm trying to tell you I have gone so far The stories…
Red Storm A blood curtain is on my window thanks to greed death…
Shadow Dance As the sun goes up and comes the morning the shadows start…
Time to Say Goodbye I'm still in this darkened room Nothing else but me…
Tonight Xome on. wake up, my friend Enjoy your last day on…
Vampire Hunter In the dark starts their kingdom Blood's their food, they'r…
Waste of Life We don't know right from wrong We cannot discuss rationally…
We Want A Miracle We Want A Miracle Look aorund you is this a good place…
Whatever Our Fortune Blasted, destroyed, all brought to ashes Blackness in the s…
Wings of Freedom Late at night Coming home after a hard day And no one…

The lyrics can frequently be found in the comments below, by filtering for lyric videos or browsing the comments in the different videos below.