California Here i come
Shocking Blue Lyrics
Got a long long way to go
Over her dusty roads
Take my old brown suitcase
And leave at the break of day
I'm not afraid of the distance
Some time on my side
Hear me singing my song
California here I come
When the sun's going down silence is the only sound
Oh restless are the nights when nobody's around
I'm not afraid of the distance
Some time on my side
Hear me singing my song
California here I come
Day after day I'm going over her dusty roads
How long will this go on
Until I'm there where I belong
But now troubles are over
I wipe off the dust on my boots
Hear me singing my song
California now to come
California now to come
Contributed by Adeline L. Suggest a correction in the comments below.
To comment on specific lyrics,
highlight them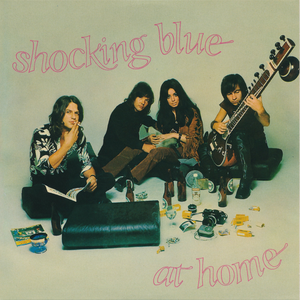 Shocking Blue was a rock band from The Hague, The Netherlands that existed from 1967 to 1974. Fronted by singer, Mariska Veres, and with guitarist/songwriter, Robbie van Leeuwen, as its creative force, the band enjoyed international chart success and are one of the most successful bands ever to come out of The Netherlands.

Shocking Blue's by far biggest hit was Venus, which went to #1 on the U.S. Billboard Hot 100 in February 1970. 'Venus' returned to the top of the U.
Read Full Bio
Shocking Blue was a rock band from The Hague, The Netherlands that existed from 1967 to 1974. Fronted by singer, Mariska Veres, and with guitarist/songwriter, Robbie van Leeuwen, as its creative force, the band enjoyed international chart success and are one of the most successful bands ever to come out of The Netherlands.

Shocking Blue's by far biggest hit was Venus, which went to #1 on the U.S. Billboard Hot 100 in February 1970. 'Venus' returned to the top of the U.S. charts in 1981 as part of the Stars on 45 Medley and was also successfully covered by artists such as Greece's Olympians (1970), Bananarama (1986), Japanese singer Yoko Nagayama (1986).

Nirvana covered the song Love Buzz for their debut album Bleach in 1989, and it was released as their first single. The British Group The Prodigy also sampled Love Buzz for their song 'Phoenix' on their 2004 album Always Outnumbered, Never Outgunned.

Before 'Venus' the group had only had two minor Dutch hits in 1969: Long Lonesome Road and Send Me A Postcard. In 1970 two more hits followed: Mighty Joe and Never Marry A Railroad Man, the latter almost provoking a strike by workers on the London Underground when posters advertising the single in the Underground stations were put on display.

Shocking Blue had several more hits in The Netherlands and beyond. The group started to dissolve in 1973 when Van Leeuwen called it quits. Singer Mariska Veres left the group to start a solo-career in 1974 and Shocking Blue folded.

Mariska Veres died on December 2nd, 2006, after a short battle with cancer. She was just 59 years old.


Members

The initial line-up consisted of
Robbie van Leeuwen (guitar, sitar and backing vocals) (1967–1973)
Fred de Wilde (vocals, 1967–1968)
Klaasje van der Wal (bass guitar, 1967–1972, deceased in 2018)
Cor van der Beek (drums) (1967–1974, deceased in 1998)
Later members were
Mariska Veres (vocals, 1968–1974, deceased in 2006)
Leo van de Ketterij (nl) (guitar, 1970–1971)
Martin van Wijk (guitar, 1973–1974)
Henk Smitskamp (nl) (bass guitar, 1972–1974)
Also
Wim Voermans
Jan Pijnenburg (nl)
Michael Eschauzier
André van Geldorp (nl)
Charles Pesch

Discography

Albums
1967 Shocking Blue (Polydor) also known as Beat with Us (German title) #31 US
1969 At Home (Pink Elephant)
1970 Scorpio's Dance (Pink Elephant) also known as Sally Was A Good Old Girl (Japanese title)
1971 Third Album (AKA Shocking You, Pink Elephant)
1972 Inkpot (Pink Elephant) – The official music of Mark Six
1972 Live in Japan (Pink Elephant)
1972 Attila (Pink Elephant) also known as Rock in the Sea (Japanese title)
1972 Eve and the Apple (Same as Attila with one different track, Polydor)
1973 Ham (Pink Elephant)
1974 Dream on Dreamer (Same as Ham, but with 3 different songs and 6 alternate versions, Polydor)
1974 Good Times (Pink Elephant)

Singles
Year Title US UK AUS NED NOR GER FRA NZ BEL JPN
1967 Love is in The Air / Fix Your Hair Darling - - - - - - - - - -
1968 Lucy Brown is Back in Town / Fix Your Hair Darling - - - 21 - - - - - -
1968 Send Me a Postcard / Harley Davidson - - - 10 4 - 4 - - -
1969 Long and Lonesome Road / Fireball of Love 75 - - 17 - - 6 - - -
1969 Venus / Hot Sand 1 3 1 3 1 2 1 1 - 15
1969 Mighty Joe / Wild Wind 43 45 43 2 - 6 8 - - -
1970 Never Marry a Railroad Man / Roll Engine Roll 102 - 40 1 5 10 1 4 19
1970 Hello Darkness / Pickin' Tomatoes - - - 4 - - - - 12 -
1971 Shocking You / Waterloo - - - 10 - - 1 - 21 -
1971 Serenade / Sleepless at Midnight 110 - - - - - - - - -
1971 Blossom Lady / Is This a Dream - - - 2 - - - - 3 -
1971 Out of Sight, Out of Mind / I Like You - - - 6 6 - - - 5 -
1972 Inkpot / Give My Love to The Sunrise - - - 5 - 21 1 - 4 -
1972 Rock in the Sea / Broken Heart - - - 14 - - 3 - 21 -
1972 Eve and the Apple / When I was a Girl - - - 15 - - 1 - 18 -
1973 Let Me Carry Your Bag / I Saw You in June - - - - - - 2 - - -
1973 Oh Lord / In My Time of Dying - - - 14 - - - - 6 -
1974 This America / I Won't be Lonely Long - - - - - - - - 16 -
1974 Dream on Dreamer / Where The Pick-Nick Was - - - - - - 4 - - -
1974 Good Times / Come My Way - - - - - - - - - -
1975 Gonna Sing My Song / Get It On - - - - - - - - - -
1980 Louise / Venus - - - - - - - - - -
1986 The Jury and The Judge / I am Hanging on to Love - - - - - - - - - -
1990 Venus '90 (UK Only) - 75 - - - - - - - -
1994 Body and Soul / Angel - - - - - - - - - -
Genre not found
Artist not found
Album not found
Search results not found
Song not found