No hungrier than a piece of wood for nourishment and love.
Your comfort wouldn't do me good, no intervention from above.
I alone have cast the spell of greed and evil lust.
Now searching for the wishing well to bring me God and trust.
I gave birth to a rage within.
I don't know where my life has gone.
I had doubts I could ever win.
I took solace in the great unknown.
I had to stop and begin again.
I had to overturn every stone.
I have slept in the wild wind.
I'm coming home.
Contributed by Andrew L. Suggest a correction in the comments below.
To comment on specific lyrics,
highlight them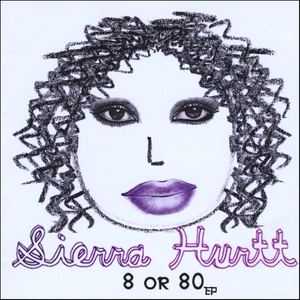 "It all starts with an emotion," explains songwriter/vocalist/producer Sierra Hurtt of the creative process that results in her timeless, passionate songs. With the release of her debut EP, 8 or 80, in 2009, Hurtt emerged as a fresh, new voice on the international scene. Establishing herself as one of the most versatile new voices in music today, she infused acoustic soul with pop sensibilities, while blending flavours from all of her favourite genres – latin, fado, celtic, jazz and rock – into an enticing cocktail.
Read Full Bio
"It all starts with an emotion," explains songwriter/vocalist/producer Sierra Hurtt of the creative process that results in her timeless, passionate songs. With the release of her debut EP, 8 or 80, in 2009, Hurtt emerged as a fresh, new voice on the international scene. Establishing herself as one of the most versatile new voices in music today, she infused acoustic soul with pop sensibilities, while blending flavours from all of her favourite genres – latin, fado, celtic, jazz and rock – into an enticing cocktail. Delivered with her signature honey-tinged vocals, it proved to be a powerful combination. Her first single, Rooftops, features backing vocals from another musical family member, sister Gabrielle Hurtt as well as soul sensation, Vivian Green. The track earned her worldwide critical acclaim and garnered her fans in all four corners of the globe. Hurtt, however, is no stranger to the business.

Born just outside Philadelphia, Hurtt recalls being surrounded by music at an early age. "My father has had a pretty successful career as a songwriter and producer, so I was fortunate to be immersed in a lot of creativity when I was a child." With "cousins" like Sister Sledge and "uncles" like powerhouse vocalist and songwriter Bunny Sigler, not to mention her own father, Phil Hurtt, one would think her destiny as a musician was pre-determined. But Hurtt initially chose a different path. "Although I was always somehow involved with music, I went the theater route for a while. I loved acting, but in the end it was the music that flowed through my veins."

After a brief residency in England, Hurtt returned to Philadelphia and met guitarist Ross Landy. The duo formed Euclid Street, a musical chameleon that, all told, performed and/or recorded with as many as 13 contributing musicians, including Chuck Treece (McRad, Bad Brains) and Kevin Hufnagel (Dysrhythmia). While in the band, Hurtt honed her songwriting skills; discovering quickly that she didn't fit into any particular genre. "It was frustrating at times, because people either wanted me to be a soul singer or to be Tracy Chapman. I had to deal with a lot of confusion because I didn't fit into a neat, little box."

Hurtt found that the solution was to continue writing songs that could speak to listeners across genres. "I write what I know, or at least what I, as a human being, can empathize with; love, loss, the journey of life." Her lyrics are what draw the listener in and surprise many critics; poignant, but simple. She writes songs that everyone can relate to, without sounding cliché, with melodies that are instantly familiar.

2010 saw Sierra reveal a new side to her personality when she released Imaginarium; an EP of remixes from 8 or 80 done by various DJs and producers she'd met over the previous two years. "I have been truly humbled by the international response to my songs. To be able to work with these guys has been nothing short of amazing, truly."

Hurtt is spending the Summer of 2011 working on new songs for her first full-length CD, due out later in the year. She finds herself collaborating, once more, with people she's met through the successes of 8 or 80 and Imaginarium. "I'm writing in the way that I love, while also using musical vocabulary and phrasing that is fresh for me. I love learning new styles, new languages. I'm really enjoying the process and the songs. People seem to really appreciate the honesty in what I do. I am humbled by the support I am receiving."
Genre not found
Artist not found
Album not found
Search results not found
Song not found