Come Around Again
Signum Lyrics
Never planned it this way
Never thought I'd see the end of this
Fantastic dream.
See you turn towards me,
Place your lips on mine,
Just one last kiss,
Before you leave.
always something there
In the back of my mind
Haunting me,
Pulling me down.
Going round on empty,
Promises you made to me,
Oh what a fool.
It's come around again,
I'm falling to the sound of my heart
I'm pieces
Oh no
The feeling's just the same,
When love is ending,
There is nothing like this pain.
And it's come around again.
It's come around again
It's come around again
Lyrics © Sony/ATV Music Publishing LLC, Warner Chappell Music, Inc.
Written by: PASCAL MINNAARD, RONALD HAGEN, ANITA KELSEY

Lyrics Licensed & Provided by LyricFind
To comment on specific lyrics,
highlight them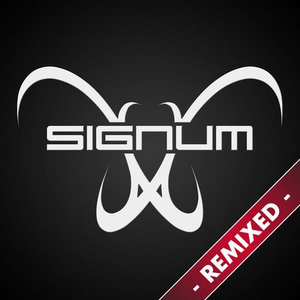 There is more than one artist under the name of Signum

1. Signum from Netherlands
2. Signum from Serbia
3. SignuM from Lithuania (rock band)

Signum is the combination of two talented producers in the European music industry. They are Pascal Minnaard, (age 29) and Ronald Hagen (also age 29). Both live in Zoetermeer, a little city nearby Hague, their home base in Netherlands.

Pascal & Ron first met each other in high school. This was the place where they found out that they had the same interest in making music
Read Full Bio
There is more than one artist under the name of Signum

1. Signum from Netherlands
2. Signum from Serbia
3. SignuM from Lithuania (rock band)

Signum is the combination of two talented producers in the European music industry. They are Pascal Minnaard, (age 29) and Ronald Hagen (also age 29). Both live in Zoetermeer, a little city nearby Hague, their home base in Netherlands.

Pascal & Ron first met each other in high school. This was the place where they found out that they had the same interest in making music, and started to do some work together. Although they lost contact later, they both continued making music.
During that time, Pascal got a record contract at the Dutch label/agency BPM Dance. He made his first track there, under his own name on the label 4-Play (Inside a Rainbow). For his second release ("Flow of Knowledge", "The Other Side", "Adapter"), he started working under the name Signum, under the label "Jinx" from former company BPM Dance.

At this time Pascal met up with Ron again. Ron also signed up with BPM Dance and they started producing together again, not knowing that this will turn out to be a huge success. When they released their first track together, in 1997, under the JINX label, called "What you got for me", the record became a huge club anthem. And with it's re-release in 2001 (on TidyTrax) it even got the nr. 36 position in the UK Top40!!!! "What you got 4 me" turned out to be, what you now call, a true "Trance Classic".

In the mean time, they did a remix for "Travel" called "Bulgarian", which also did well in the club charts and was well received by a lot of Dj's.

Under their own names, Ron Hagen & Pascal M, they did other releases, such as "Forever", "Take U There" and "On Stream".

British producer/DJ Scott Mac was interested in working with Signum. So they teamed up, and out of that collaboration came "Coming On Strong", which also became a huge club hit. This established their name as Trance producers.

After that, they were frequently asked for a lot of remixes, such as:

Lost Tribe - "Game Master" (Hooj Choons)
Blank & Jones - "After Love"
ATB - "9pm (Till I come)" (Ministery of Sound)
KayCee - "Escape" (Additive)
Straydog (Dj Tiesto) - "Mirror" (Black Hole)
Alice Deejay & DJ Jurgen - "Better off Alone" (Violent Records)
Yves the Ruyter - "To the Rythem" (Bonzai)
Spacebrothers - "Shine" (Manifesto)

And many more...



After finishing all these remixes they started focusing on their own productions. They came back with "Solar Level" and after that even stronger with "First Strike", which received support from many leading DJ's/producers including, Armin van Buuren, Ferry Corsten, Dj Tiesto, Marco V, John 00 Flemming and many more!

This hit was soon followed by some more, "Cura Me", "Second Wave" & "Third Dimension" , which where all released on Jinx.
(All tracks were frequently played in sets of the worlds leading Trance Dj's). They also produced another massive track called "The Wrong Shake" under the alias "D-Factor" which was also being hammered by all the Top DJ's.

Pascal & Ron thought that the time was right to play their own tunes in front of crowds, and started focusing on a DJ career.
In July 2001 they made their U.K. debut with a three hour set at Gatecrasher. Since this impressive debut they've played in U.K.'s best clubs, such as, "Godskitchen", "Gatecrasher", "Passion", "Slinky" and of course not forgetting the great festivals, "Global Gathering", "Homelands", & "Summer Sound System". Since this debut they've visited and set crowds on fire in many countries, such as: Australia, Spain (Ibiza, Mallorca), Japan, UK, Ireland, Canada, Africa, Swiss, Germany, Malaysia.

2003 was the year that BPM Dance stopped existing as a record company, and Ron & Pascal needed to find a new record company. They didn't need to search for long, because a new company was founded in June 2003: ARMADA MUSIC. Armin van Buuren, Maykel Piron and David Lewis joined their forces to combine label management, publishing and artist management.

"Push Through" was the first release of Signum, on the new label called "A State Of Trance" named after Armin's immensely popular radio show, and the beginning of a new period. "Push Through" was very well received by the public as well as the DJ's, and has reached a couple of nr. 1 positions in Dance Charts worldwide.

In 2004 Signum teamed up with vocalist Anita Kelsey, and out of that collaboration came "Come Around Again", a beautiful vocal trancer. Ron & Pascal described it as the track they've always wanted to make. Shortly after that release "The Timelord" saw the light of day and again they had done it, a massive trance that was played by almost every trance DJ, "The Timelord" was selected as Future Favourite on Armin's radio show, again reached several nr.1 position in Dance Charts worldwide and even ended at the nr. 14 spot in the Dutch Year board, being one of the best tracks that year!

Remixing wise, they've given Delerium - "Truly", Laura Turner - "Soul Deep", Misja Helsloot - "First Second", Dj Danjo & Rob Styles - "Duende" the Signum makeover, and with a lot of success...

2004 was also the year that Ron & Pascal decided to re-release "First Strike" & "Second Wave". Still, there was a really big demand for the original tracks, but to release them again without something extra wasn't an option, so the invented the "Signum Signal" guise, which was more tech-trance oriented.

The year 2005, is already a promising year for Pascal & Ron, they've visited Australia and New Zealand, for the Two Tribes Tour 2005 (along with The Prodigy, Armand van Helden, Rank 1, MIKE and many more), with a massive success and response.

They remixed the track "Serenity" of the nr. 3 DJ in the world, none other than Armin van Buuren, which will also be the official anthem for the Sensation White 2005 party.

Signum's sound of Trance, Techno, Tech-Trance, and Progressive have won many admirers all around the World!
We can say that Signum are becoming one of the most favourite DJ's of the Trance crowd. And you'll be seeing and hearing a lot of them and so their rise to the top is just beginning...

(original text from their official site, signum-djs.com, with some grammar editing...)
Genre not found
Artist not found
Album not found
Search results not found
Song not found