Nothing's Gonna Change My Love for You
Simone Kopmajer Lyrics
If I had to live my life without you near me
The days would all be empty
The nights would seem so long
With you I see forever oh so clearly
I might have been in love before
But it never felt this strong
Our dreams are young
And we both know they'll take us
Where we want to go
Hold me now
Touch me now
I don't want to live without you
Nothing's gonna change my love for you
You ought know by now how much I love you
One thing you can be sure of
I'll never ask for more than your love
Nothing's gonna change my love for you
You ought know by now how much I love you
The world may change my whole life through
But nothing's gonna change my love for you
If the road ahead is not so easy,
Our love will lead the way for us
Like a guiding star
I'll be there for you if you should need me
You don't have to change a thing
I love you just the way you are
So come with me and share the view
I'll help you see forever too
Contributed by Abigail B. Suggest a correction in the comments below.
To comment on specific lyrics,
highlight them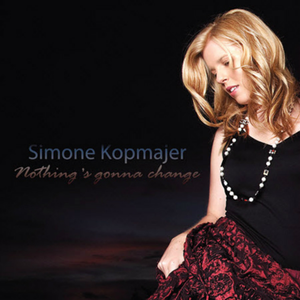 Nothing's Gonna Change My Love for You
Simone Kopmajer is a young jazz singer from Austria, who made her US debut in 2000.

Kopmajer grew up in a family of musicians and began singing in her father's band when she was 12. At the same time she studied piano, though singing remained her first love. Early on, she entered and won various talent contests and even made appearances on television in her native country, Austria. As a young performer, she twice toured the Netherlands with the "Euro Big Band" and later appeared in several international jazz festivals.
Read Full Bio
Simone Kopmajer is a young jazz singer from Austria, who made her US debut in 2000.

Kopmajer grew up in a family of musicians and began singing in her father's band when she was 12. At the same time she studied piano, though singing remained her first love. Early on, she entered and won various talent contests and even made appearances on television in her native country, Austria. As a young performer, she twice toured the Netherlands with the "Euro Big Band" and later appeared in several international jazz festivals.

Influenced by some of the great American vocalists like Frank Sinatra, Ella Fitzgerald, and Jon Hendricks, Kopmajer has developed into a true jazz singer who uses a wide variety of rhythms and excels in her very individual style of scatting.

Kopmajer received her Masters Degree from the University for Music and Dramatic Arts in Graz, Austria where she had the opportunity to work with such jazz luminaries as Mark Murphy, Sheila Jordan, Michele Hendricks, Jay Clayton, and the New York Voices.


http://www.simonekopmajer.com
Genre not found
Artist not found
Album not found
Search results not found
Song not found