Ñapa Es
Ska-P Lyrics
Hablo de españa y me lleno de emocion
Y es que te llevo muy dentro del corazon
Castanuelas, toros y verbenas
Mi espana, la tierra del honor
Esta es la espana del felipe y del aznar
La españa democratica del gal
La españa de la estafa immobiliaria
La delincuencia en la alta sociedad
Politicuchos que se inflan a robar
Los asesinos hoy vuelven a torear
Espana, el pais de la patrana
De trapicheros, pelotazos y demas
Y aqui no pasa nada, nos comemos la tostada
Ni siquiera te levantes del sofá
Vaya decepción en la manifestación
Solamente han ido los antidisturbios
Si, jesulin, españa es asi, la tierra donde yo naci
Si, jesulin, españa es asi, que sepas que vamos a por ti
Y son curritos que no pueden ni currar
Negociaciones dignas de un nehandertal
Trabajadores paguando los errores
Como siempre, al que no tiene hay que explotar
Somos europa, no nos podemos quejar
Hemos entrado en el gran capital
Imperialismo que devora tu nevera
Y la vaselina en el culo bien "unta"
Y aqui no pasa nada, nos comemos la tostada
Ni siquiera te levantes del sofa
Vaya decepcion en la manifestacion
Solamente han ido los antidisturbios
Si, jesulin, españa es asi, la tierra donde yo naci
Si, jesulin, españa es asi, que sepas que vamos a por ti
Ohhhhooohohoohoo
Contributed by Jake H. Suggest a correction in the comments below.
To comment on specific lyrics,
highlight them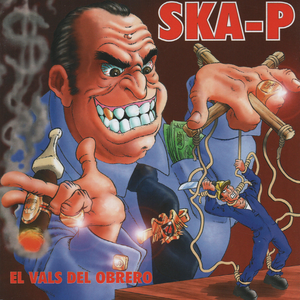 Ska-P is a Spanish ska punk group formed in Vallecas (a neighborhood of Madrid, Spain) in 1994. Most of their songs feature an infectious and energic vibe and feature lyrics about non-conformity, criticism of capitalism and racism, and their defense of equal justice, plus taking part in various multicultural, alternative and anti-globalization festivals. Their song "Cannabis", supporting and defending the legalization of said substance, launched them to certain popularity in Spain and parts of Mexico and South America.
Read Full Bio
Ska-P is a Spanish ska punk group formed in Vallecas (a neighborhood of Madrid, Spain) in 1994. Most of their songs feature an infectious and energic vibe and feature lyrics about non-conformity, criticism of capitalism and racism, and their defense of equal justice, plus taking part in various multicultural, alternative and anti-globalization festivals. Their song "Cannabis", supporting and defending the legalization of said substance, launched them to certain popularity in Spain and parts of Mexico and South America. They also have followers in the UK, The Netherlands, Belgium, Italy, Switzerland, France, Germany, Portugal, and other European countries.

After a wildly successful tour across South America in late 2005, the band decided, in their own words, to "stop for a while". Some of their members went on to form side band projects such as No Relax and The Locos. As time went by without further notices, many Ska-P fans feared the band had been gone for good. On late April 2008 and for the rejoice of their worldwide fans, they announced their return as a band on their official site.

Their new album, "Lágrimas y gozos", was released the 7th of October 2008 and its first single is called "Crimen sollicitationis". The band is going to perform various shows around South America and Europe in November and December.

Official website: http://www.ska-p.net
Genre not found
Artist not found
Album not found
Search results not found
Song not found