Solamente Por Pensar
Ska-P Lyrics
Jump to: Overall Meaning | Line by Line Meaning
Ska-P
Hí llega un coche oficial
Con su bandera nacional
Medidas de seguridad
Polica Nacional
Al otro lado acción
Es una manifestación
Son antiglobalización
Cada día somos mäs, cada día somos más
Ya está bien, hay que matar la bestia
Despertad de nuestra indiferencia
El poder corrompe las conciencias
Únete, aún queda resistencia
La cumbre ya terminó
Ya ha comenzado el mogollón
Hay más monos que en el zoo
Protegiendo al criminal
Es evidente la opresión
La policía disparó
Carlo Giuliani pagó
La violencia policial de un estado criminal
Ya está bien, hay que matar la bestia
Despertad de nuestra indiferencia
El poder corrompe las conciencias
Únete, aún queda resistencia, resistencia
El pasado 20 de Julio del año 2001
Fue brutalmente asesinado nuestro compañero Carlos Giuliani
Por la policia fascista Italiana
Solamente por revindicar un reparto
Mas equitativo de la economia mundial
Solamente por adquirir conciencia
Solamente por poner voz a la sin voz
Solamente por pensar, solamente por pensar
Solamente por pensar
Ya está bien, hay que matar la bestia
Despertad de nuestra indiferencia
El poder corrompe las conciencias
Únete, aún queda resistencia, resistencia
Hey ho, no calles, hey ho, no te calles
Hey ho, no calles, hey ho, no te calles
Hey ho, no calles, hey ho, no te calles
Hey ho, no calles, hey ho, no te calles
No, no te calles, no te calles
No, no te calles, no te calles
No
Solamente por pensar
Overall Meaning
Ska-P's song "Solamente por pensar" is a call to action against the corruptive powers of authority and the violent suppression of dissent. The lyrics describe a scene of police oppression, where a national flag-waving official car arrives at a peaceful anti-globalization protest. The police, who are supposed to ensure security, become violent towards the protestors. The violence culminates in the murder of Carlo Giuliani, a protestor who was shot by the police. In such a world, Ska-P urges listeners to awaken from their indifference and resist the oppressive powers. The repeated chant in the song, "Ya está bien, hay que matar la bestia" (Enough is enough, we must kill the beast), is an exhortation to fight against the corrupt ruling class and their violent apparatus of the state.
The song has a particular focus on the 20th of July in 2001, when their comrade Carlo Giuliani was killed by fascist Italian police, during a protest for a fairer distribution of global wealth. Through this, they criticize the violent nature of the state, insisting that it's not only Giulani who has suffered from actions of the oppressive state authorities but also the millions of cases in which the government has suppressed people's voices against their decisions that were ultimately not for the people's benefit. The lyrics also point out the importance of resisting despite the oppression, and the message is that it is not enough to remain complicit in a corrupt system. For Ska-P, the only solution is to unite against the "beast" of oppression, to resist the corruptive powers of authority, to awaken from indifference, and to bring about positive change in society.

Line by Line Meaning
Hí llega un coche oficial
Here comes an official car
Con su bandera nacional
With its national flag
Medidas de seguridad
Security measures
Polica Nacional
National Police
Al otro lado acción
On the other side, action
Es una manifestación
It's a protest
Son antiglobalización
They are antiglobalization
Cada día somos mäs, cada día somos más
Every day we are more, every day we are more
Ya está bien, hay que matar la bestia
Enough already, we must kill the beast
Despertad de nuestra indiferencia
Wake up from our indifference
El poder corrompe las conciencias
Power corrupts consciences
Únete, aún queda resistencia
Join, there is still resistance
La cumbre ya terminó
The summit is over
Ya ha comenzado el mogollón
The commotion has already started
Hay más monos que en el zoo
There are more monkeys than at the zoo
Protegiendo al criminal
Protecting the criminal
Es evidente la opresión
The oppression is evident
La policía disparó
The police shot
Carlo Giuliani pagó
Carlo Giuliani paid
La violencia policial de un estado criminal
The police brutality of a criminal state
El pasado 20 de Julio del año 2001
On July 20th, 2001
Fue brutalmente asesinado nuestro compañero Carlos Giuliani
Our comrade Carlo Giuliani was brutally murdered
Por la policia fascista Italiana
By the Italian fascist police
Solamente por revindicar un reparto
Only for demanding a fair distribution
Mas equitativo de la economia mundial
Of the world economy
Solamente por adquirir conciencia
Only for acquiring consciousness
Solamente por poner voz a la sin voz
Only for giving voice to the voiceless
Solamente por pensar, solamente por pensar
Only for thinking, only for thinking
Hey ho, no calles, hey ho, no te calles
Hey ho, don't be silent, hey ho, don't be silent
No, no te calles, no te calles
No, don't be silent, don't be silent
Lyrics © Universal Music Publishing Group
Written by: ALBERTO JAVIER AMADO HUETE, JOSE ANTONIO LOPEZ PANCORBO, JOSE MIGUEL REDIN REDIN, LUIS MIGUEL GARCIA PLANELLO, RICARDO DELGADO DE LA OBRA, ROBERTO GANAN OJEA

Lyrics Licensed & Provided by LyricFind
To comment on or correct specific content,
highlight it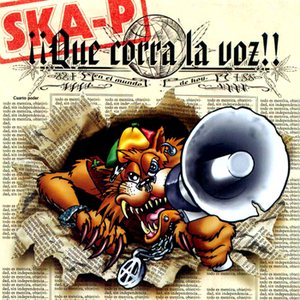 Ska-P is a Spanish ska punk group formed in Vallecas (a neighborhood of Madrid, Spain) in 1994. Most of their songs feature an infectious and energic vibe and feature lyrics about non-conformity, criticism of capitalism and racism, and their defense of equal justice, plus taking part in various multicultural, alternative and anti-globalization festivals. Their song "Cannabis", supporting and defending the legalization of said substance, launched them to certain popularity in Spain and parts of Mexico and South America.
Read Full Bio
Ska-P is a Spanish ska punk group formed in Vallecas (a neighborhood of Madrid, Spain) in 1994. Most of their songs feature an infectious and energic vibe and feature lyrics about non-conformity, criticism of capitalism and racism, and their defense of equal justice, plus taking part in various multicultural, alternative and anti-globalization festivals. Their song "Cannabis", supporting and defending the legalization of said substance, launched them to certain popularity in Spain and parts of Mexico and South America. They also have followers in the UK, The Netherlands, Belgium, Italy, Switzerland, France, Germany, Portugal, and other European countries.

After a wildly successful tour across South America in late 2005, the band decided, in their own words, to "stop for a while". Some of their members went on to form side band projects such as No Relax and The Locos. As time went by without further notices, many Ska-P fans feared the band had been gone for good. On late April 2008 and for the rejoice of their worldwide fans, they announced their return as a band on their official site.

Their new album, "Lágrimas y gozos", was released the 7th of October 2008 and its first single is called "Crimen sollicitationis". The band is going to perform various shows around South America and Europe in November and December.

Official website: http://www.ska-p.net
Genre not found
Artist not found
Album not found
Search results not found
Song not found