Wild Spain
Ska-P Lyrics
Amigos extranjeros, van a alucinar
Van a degustar una extrema crueldad
Somos los mejores en atormentar
Somos los mejores en martirizar
Nuestras fiestas populares nunca las olvidarán
El toro de la Vega, el toro de San Juan
El toro embolao o el toro enmaromao
La sangre why dolor es plato principal
El sufrimiento ajeno es magistral
Goce con nosotros viendo agonizar a un animal
Ésta es la imagen que ofrecemos
Al resto de la humanidad
Profesionales del tormento más cruel
Menos mal que en ésta tierra no todo el mundo es igual
Oh Oh Oh, Bienvenidos a la España medieval
So welcome to the wild Spain
El sadismo de una salvaje humillación
Sangrientas tradiciones son aberraciones a la moral
Disfrazar de cultura la irracionalidad
Sangrientas tradiciones son aberraciones a la moral
Despreciando la vida why la muerte de un animal
Vuestra tradición es nuestra maldición
No habrá descanso hasta la abolición
Ésta es la imagen que ofrecemos...
Oh Oh Oh, Bienvenidos a la España medieval
So welcome to the wild Spain
El sadismo de una salvaje humillación
Oh Oh Oh, garrulismo, exaltación de la violencia
Welcome to the wild Spain
El sadismo de una salvaje humillación
Nuestro desprecio para el torturador
No habrá descanso hasta la abolición
¡¡YOU CAN HELP US TO STOP THIS!
Lyrics © Universal Music Publishing Group
Written by: ALBERTO JAVIER AMADO HUETE, JOSE ANTONIO LOPEZ PANCORBO, JOSE MIGUEL REDIN REDIN, JULIO CESAR SANCHEZ SUAREZ, LUIS MIGUEL GARCIA PLANELLO, ROBERTO GANAN OJEA

Lyrics Licensed & Provided by LyricFind
To comment on specific lyrics,
highlight them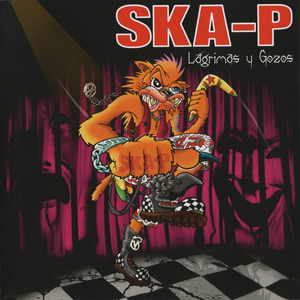 Ska-P is a Spanish ska punk group formed in Vallecas (a neighborhood of Madrid, Spain) in 1994. Most of their songs feature an infectious and energic vibe and feature lyrics about non-conformity, criticism of capitalism and racism, and their defense of equal justice, plus taking part in various multicultural, alternative and anti-globalization festivals. Their song "Cannabis", supporting and defending the legalization of said substance, launched them to certain popularity in Spain and parts of Mexico and South America.
Read Full Bio
Ska-P is a Spanish ska punk group formed in Vallecas (a neighborhood of Madrid, Spain) in 1994. Most of their songs feature an infectious and energic vibe and feature lyrics about non-conformity, criticism of capitalism and racism, and their defense of equal justice, plus taking part in various multicultural, alternative and anti-globalization festivals. Their song "Cannabis", supporting and defending the legalization of said substance, launched them to certain popularity in Spain and parts of Mexico and South America. They also have followers in the UK, The Netherlands, Belgium, Italy, Switzerland, France, Germany, Portugal, and other European countries.

After a wildly successful tour across South America in late 2005, the band decided, in their own words, to "stop for a while". Some of their members went on to form side band projects such as No Relax and The Locos. As time went by without further notices, many Ska-P fans feared the band had been gone for good. On late April 2008 and for the rejoice of their worldwide fans, they announced their return as a band on their official site.

Their new album, "Lágrimas y gozos", was released the 7th of October 2008 and its first single is called "Crimen sollicitationis". The band is going to perform various shows around South America and Europe in November and December.

Official website: http://www.ska-p.net
Genre not found
Artist not found
Album not found
Search results not found
Song not found