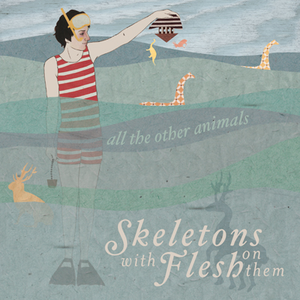 Skeletons With Flesh On Them are a four-piece indie-rock group from Seattle, WA consisting of Scott Roots (vocals, guitar), Neal Flaherty (guitar), Adam Grant (bass), and Devon Stewart (drums, backing vocals). Skeletons formed in late 2005 when Scott and Neal met through a mutual friend. Lucas Smith and Devon joined shortly thereafter following a posting in The Stranger. Adam joined in late 2009, replacing Lucas Smith. In 2007, Skeletons recorded a six song EP
Read Full Bio
Skeletons With Flesh On Them are a four-piece indie-rock group from Seattle, WA consisting of Scott Roots (vocals, guitar), Neal Flaherty (guitar), Adam Grant (bass), and Devon Stewart (drums, backing vocals). Skeletons formed in late 2005 when Scott and Neal met through a mutual friend. Lucas Smith and Devon joined shortly thereafter following a posting in The Stranger. Adam joined in late 2009, replacing Lucas Smith. In 2007, Skeletons recorded a six song EP, The Fish Don't Mind with the help of Jared Fiechtner (producer) and Jeremy Park (engineer). Working with Jeremy again, the Skeletons released the LP "All the Other Animals" in March of 2009.
Genre not found
Artist not found
Album not found
Search results not found
Song not found
We have lyrics for 'Take Me Down' by these artists:



(David) Let me take you down To my little place of creation,…
Abtmelody I've got a diamond for a heart My eyes glow in…
Alabama Fly away with me tonight Take me on a one-way flight…
Andi Starr Take me down to your healing waters. Take me down to…
Bamboo Take me down Gimme the score Tell me I'm gone Tell me I'm…
Black Cards (featuring Bebe Rexha) I'm falling to pieces But I need this Yeah, I need this You'…
Black Symphony I am feeling dizzy I can′t see straight I have lost…
Carrie Manolakos LIFT THESE BROKEN EYES SHOW ME PARADISE FILL MY LUNGS WITH A…
Charlie A'Court Step out of the shadow Come out of the dark I wanna…
Chris Mills Well I never thought I'd arrive at a place so…
Clouseau Straight out of nowhere Like a thief in the night You stol…
Dusty Duke 1/ You know the same old story One boy and a guitar Chasing…
Eclipse take me down 6 underground the ground beneath your feet laid…
Ellis Paul I'm a one man line at the twenty-four hour store I'm…
F.A.T. I never said I could be The guy you once saw…
Gary Clark Jr. When this train rolls down the track I'm not coming back Got…
Great White Hey there little rocker Oh yeah you know you're looking goo…
Group 916 Take Me Down!!! I can't see the sun, But I can feel it's ra…
Hannah and The Heartbreak Down so low Took me where I didn't want to go Heart…
Holly Williams It's a dead end road, and I'm fully aware You got…
Hollywood Music Tear a star from out the sky and the sky…
Joshua Armstrong Trouble bound We hit the town And I'll never forget…
Kate Ryan How many times did I say I wouldn't fall again How many…
Kelly Willis I don't believe a word you're saying And I know the…
KUURO feat. Bianca Got your hands on me Every time I touch, there′s a…
Mad Dog Loose Efficiency you miss it You mistify and twist it You roll it…
Markus Riva Tell me how it feels to be gone disappear for…
Me and My Toothbrush You're the one from the moment I saw you My heart…
Paradise Lost You aren't what I love You aren't what I need You aren't…
Pete Murray Got my bags with me Rocket-ship sails Guess I'm flying to th…
Phil Collins Take that look of worry I'm an ordinary man They don't tell…
Rhino Bucket I'm not one to brag, but I used to be…
Ryan Caraveo I got the sunshine in my eyes, I′m cheesing I'm not…
Slowdive Take me down, oh take me through I miss the ground,…
T.N.T. Hey girl I'm a secret to you A face in the…
Tarish Prakash You look so distracted Did you loose your fight These scars …
THE CHERRY COKE$ Take me down take me down 涙も出ない 僕は時の荒野を彷徨う 明日からはどこへ行こうか? 帰る場…
The Pretty Reckless Been waitin' at these crossroads Forever and a day On a guy…
The Smashing Pumpkins Take me down, to the underground Won't you take me down,…
The Warning So here we are - just you and me Love's refugees…
Tina & The B-Sides B Mac You gotta hold me down Baby won't you come around? Hop…
Tina and the B-Sides Oh, take all of me, take all of me Just the…
TNT Hey girl I'm a secret to you A face in…
TNT (NOR) Hey girl I'm a secret to you A face in the…
Various Artists Oh yea oh yea (it's you're turn now kid) Bad boy [Choru…
Venturia TAKE ME DOWN Words and music by Charly Sahona I walk…
Williams Holly It's a dead end road, and I'm fully aware You got…
WoodJu & CoMa Мне не холодно Таю я От тепла Ты моя К небу…
Wutam & J-Break The week gets longer every day I get beat down every…
·Æ¶û.¿ÂÁÖ˹(Phil Collins) Seems I've lingered too long in the darkness Unlock the door…

The lyrics can frequently be found in the comments below or by filtering for lyric videos.