Butterflies and their friends
They all laugh and they pretend
To be dead as night, dead as night in the noontime
Pesky birds they build their nests
With ribbons tied around their chests
You ask them how they're going; they seem just fine
I'm a time bomb
Steer away from
Steer away from me, girl
My body is numb; anaesthetised
Chubby and dead; I get surprised
When I touch my arm to find that it's not there
This anhedonia is like flies
Aimed at wisps of bee-line skies
Just beating against the glass and going nowhere
I'm an atom
Split in two from
Head to toe - an explosion
Steer away from
Steer away from
Steer away from me
In the clouds lives an old man
With crooked fingers, arthritic hands
All bent from turning the rusted wheels of time
He looks down, lifts his eyebrow
My whole life seems to take a bow
Like a jester juggling adolescent paradigms
I'm the Hindenburg
You're an iceberg
Let's get together and make the grass grow
Steer away from
Veer away from
Steer away from me
Contributed by Grayson O. Suggest a correction in the comments below.
To comment on specific lyrics,
highlight them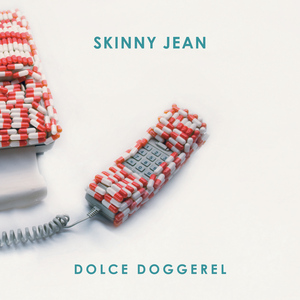 Brisbane's well-favoured proto-pop princes Skinny Jean return from a year in the studio to give their city a sneak preview of their highly anticipated forthcoming album The Diving Saucer Returns from a World Where the Sun Never Shines.

In twelve months of deepening obscurity, Skinny Jean begot three children: a boy, a girl, and an album. In all the resplendent wankery the band admits to represent, they have chosen a title as elongated as it is indicative.
Read Full Bio
Brisbane's well-favoured proto-pop princes Skinny Jean return from a year in the studio to give their city a sneak preview of their highly anticipated forthcoming album The Diving Saucer Returns from a World Where the Sun Never Shines.

In twelve months of deepening obscurity, Skinny Jean begot three children: a boy, a girl, and an album. In all the resplendent wankery the band admits to represent, they have chosen a title as elongated as it is indicative. The Diving Saucer Returns from a World Where the Sun Never Shines heralds the captivating return of the four-piece.
Contrasting analogue production with shiny new electronic appendages, they have slowly crafted a work that is both warm and slick. In typical Skinny Jean fashion, the album showcases songs that deeply contrast each other. After the nation-wide critical acclaim that their first album Dolce Doggerel generated, the band has sought to eclipse that full-length attempt from 2009.

They spent twelve long months in exotic Moorooka at Stephen Bartlett's Docking Station studios. Amid the bleak metropolitan setting a diverse array of songs gestated. The songs were recorded directly to tape through analogue gear and mastered to vinyl. Using this production aesthetic, the band quickly discovered the positive effect recording to tape had on their sound and performances.
Skinny Jean will imminently be releasing the first 3 cuts from The Diving Saucer Returns from a World Where the Sun Never Shines online and marking the occasion with their comeback show on August 4, 2012 at the Visy Theatre, New Farm.

Time: 8pm
ContactBREC: 1300
Genre not found
Artist not found
Album not found
Search results not found
Song not found