they want to socialize you
they want to purify you
they want to dignify, analyze and terrorize you
this is love and you can't make it
in a formula or shake me
i'm your monster i'm not like you
all your life is written for you
(look out they want what you know
steal a kid break a heart steal the show
peel back the skin see what's there
i'll never show you what's in here)
you're life is good for one thing
you're messing with what's sacred
they want to simplify your needs and likes
to sterilize you
this is love and you can't make it
in a formula or break me
i'm your monster i'm just like you
all my life is right before you
(don't need you to explain the pain
i can prove to you it's all fake
she's dead but she can stand she can walk
call the doctor miracle she can talk)
call the doctor
this is love and you can't break it
in a formula or make me
i'm no monster i'm just like you
all my life is right before me
(this is not really me at all
stunt girl daring twirls watch me fall
carbon copy same body different hearts
can't tell anymore the real parts)
Contributed by Addison N. Suggest a correction in the comments below.
To comment on specific lyrics,
highlight them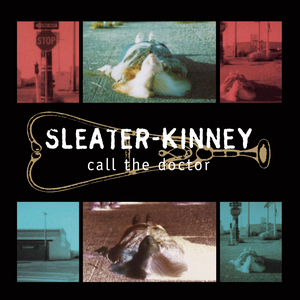 Sleater-Kinney (/ˌsleɪtərˈkɪniː/ SLAY-tər-KIN-ee) is an American rock band that formed in Olympia, Washington, in 1994. The band's current lineup features vocalists/guitarists Corin Tucker and Carrie Brownstein, following the departure of longtime drummer Janet Weiss. Sleater-Kinney came out of the riot grrrl movement, formed from the ashes of the bands Heavens to Betsy and Excuse 17. Today they are recognized as a key part in the American indie rock scene.
Read Full Bio
Sleater-Kinney (/ˌsleɪtərˈkɪniː/ SLAY-tər-KIN-ee) is an American rock band that formed in Olympia, Washington, in 1994. The band's current lineup features vocalists/guitarists Corin Tucker and Carrie Brownstein, following the departure of longtime drummer Janet Weiss. Sleater-Kinney came out of the riot grrrl movement, formed from the ashes of the bands Heavens to Betsy and Excuse 17. Today they are recognized as a key part in the American indie rock scene. The band is also known for its feminist and left-leaning political views. They went on hiatus in 2006, working on several other projects, and reunited in 2014.

Discography:
1995 - Sleater-Kinney (Chainsaw)
1996 - Call the Doctor (Chainsaw)
1997 - Dig Me Out (Kill Rock Stars)
1999 - The Hot Rock (Kill Rock Stars)
2000 - All Hands on the Bad One (Kill Rock Stars)
2002 - One Beat (Kill Rock Stars)
2005 - The Woods (Sub Pop)
2015 - No Cities to Love (Sub Pop)
2019 - The Center Won't Hold (Mom+Pop)
Genre not found
Artist not found
Album not found
Search results not found
Song not found