Jump to: Overall Meaning | Line by Line Meaning
When people ask me what love's all about
There's one thing I can say
Some people believe just what I'm putting down
Understand your troubles away
[Chorus:]
You got to do this thing we're feeling
You got to know just what I'm meaning
You gotta believe just what I'm handing
Understanding, understanding
Yeah, alright alright
Hey hey
You see I love this life I lead
And I want to love it with you
But people you don't understand
Just what I'm putting down
There's no more I can do
[Chorus]
Yeah, alright, come on
Just don't lose it
Come on children, I want to hear you one more time
[Chorus]
You know what I'm singing about
My baby's gonna care, gonna make it alright
With a little understanding
We can make it through the night, yeah
Baby, baby give me some
You know I got to have some
All you know we need is just a little understanding
You can talk to me baby
Tell me what's on your mind
With a little understanding
Everything will be just fine
Overall Meaning
The Small Faces' song "Understanding" deals with the idea of love and how it can help people overcome their troubles. The lyrics encourage the listener to try to understand the feelings of others, and to approach life with a positive attitude. When the singer is asked about love, they explain that it's all about understanding, and that by understanding the troubles of others, we can all connect on a deeper level. The chorus encourages the listener to embrace these ideas and believe in them fully, as a way to improve their lives and the lives of those around them.
The second verse of the song takes on a more personal tone, as the singer expresses their love for their own life and their desire to share it with others. However, the singer realizes that not everyone will understand them, no matter how hard they try. Despite this, the chorus is repeated as a way to reinforce the idea that understanding and positivity can overcome any obstacle.
Overall, the song is a call to action for listeners to approach life with understanding and kindness. It's a reminder that even in tough times, love and understanding can help us get through the challenges we face.

Line by Line Meaning
When people ask me what love's all about
When people inquire about the nature of love
There's one thing I can say
I have one answer to give
Some people believe just what I'm putting down
Some individuals accept what I'm expressing
Understand your troubles away
By comprehending, you can alleviate your anxieties
You got to do this thing we're feeling
You must embrace this sentiment
You got to know just what I'm meaning
You must comprehend what I'm signifying
You gotta believe just what I'm handing
You must trust what I'm offering
Understanding, understanding
Understanding is essential
You see I love this life I lead
I cherish my current existence
And I want to love it with you
I want to experience it with you
But people you don't understand
However, individuals cannot comprehend
Just what I'm putting down
Exactly what I'm saying
There's no more I can do
There's nothing else I can attempt
Yeah, alright, come on
Affirmative, let's proceed
Just don't lose it
Simply don't relinquish your grasp on it
Come on children, I want to hear you one more time
Let's go, I desire to hear it once more
You know what I'm singing about
You understand the concept of my song
My baby's gonna care, gonna make it alright
My sweetheart will provide care and resolve the issue
With a little understanding
By simply understanding
We can make it through the night, yeah
We can persevere until morning arrives
Baby, baby give me some
Dearest, share some with me
You know I got to have some
You know I need it
All you know we need is just a little understanding
All we necessitate is comprehension
You can talk to me baby
You can communicate with me, honey
Tell me what's on your mind
Inform me of what's troubling you
With a little understanding
By merely comprehending
Everything will be just fine
Everything will improve
Lyrics © Universal Music Publishing Group
Written by: RONNIE LANE, STEVE MARRIOTT

Lyrics Licensed & Provided by LyricFind
To comment on or correct specific content,
highlight it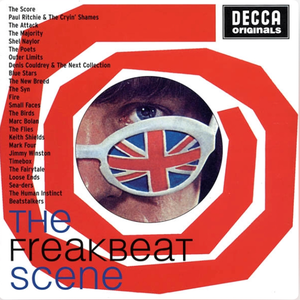 Small Faces were an influential British mod/psychedelic band of the 1960s, led by Steve Marriott and Ronnie Lane with Kenney Jones and Ian McLagan (who replaced original organist Jimmy Winston). The Small Faces were all genuine East End mods . They were signed to Decca records initially and enjoyed major success across Europe between 1965 and 1967 with classic singles like "All or Nothing" and "Sha-La-La-La-Lee" before moving to a new label.

By late 1967
Read Full Bio
Small Faces were an influential British mod/psychedelic band of the 1960s, led by Steve Marriott and Ronnie Lane with Kenney Jones and Ian McLagan (who replaced original organist Jimmy Winston). The Small Faces were all genuine East End mods . They were signed to Decca records initially and enjoyed major success across Europe between 1965 and 1967 with classic singles like "All or Nothing" and "Sha-La-La-La-Lee" before moving to a new label.

By late 1967, the band had felt constricted financially & creatively by manager Don Arden (father of Sharon Osbourne), and were lured by Rolling Stones' publicist Andrew Loog Oldham into signing with his new Immediate label. They soon recorded more expansive psychedelic sounding material including hit pop tunes like "Lazy Sunday" which was included with their UK number one classic concept album Ogdens Nut Gone Flake and "Itchycoo Park" which was their only stateside charting single.


The demise of the Small Faces arrived on New Years Eve 1968, when Steve Marriott walked off stage at The Alexandra Palace in London. Marriott felt that despite the success of the group, he was still not being taken seriously as a musician. He went on to achieve major status in the U.S.A with Peter Frampton in Humble Pie. The others continued as the Faces, opting to drop the "Small" after one LP as new recruits Rod Stewart and Ronnie Wood towered above their new band mates. Drummer Kenney Jones later joined The Who after the death of their drummer Keith Moon. As years went on, Marriott kept recording various lineups as Humble Pie but became somewhat of a caricature and casualty of rock excess. Tragically, Steve Marriott died in a house fire in 1991 and Ronnie Lane followed him in 1997 after a long battle with Multiple Sclerosis. Keyboardist Ian McLagan has continued to tour and record with his own band as well as with artists like Billy Bragg, The New Barbarians ( a group composed of Ian, Ron Wood, Keith Richards, Stanley Clarke, and Billy Cobham), and The Rolling Stones. According to announcements at the shows on the New Barbarians tour, the proceeds of the live gigs were going to pay Ronnie Lane's medical expenses associated with Ronnie's struggle with Multiple Sclerosis.

The Small Faces remain one of British rock's most important legacy acts, with their membership having links to so many other acts. Amongst the many bands they influenced were The Jam, Ramones, Oasis and X.

There are a number of locations around London linked to the Small Faces, many to be found in the East End where they grew up.

The J60 Music bar in Manor Park, an instrument shop where Steve Marriott first met Ronnie Lane
http://www.musicpilgrimages.com/articl/4012.php

Little Ilford park, also located in Manor Park, inspired the track Itchycoo Park, Steve and other kids in the East End used to play in this park when they grew up.
http://www.musicpilgrimages.com/articl/4002.php

In 1968 the Small Faces recorded a video for their track Lazy Sunday, Steve sings in his native East end accent and the video was shot in the East End using Kenney Jones parents' flat in Havering Street. The video ends with a shot of the nearby Thames.
http://www.musicpilgrimages.com/articl/4014.php
Genre not found
Artist not found
Album not found
Search results not found
Song not found